A lesser black-backed gull was among the 53 animals admitted to the von Arx Wildlife Hospital at the Conservancy of Southwest Florida this past week. Other admissions include an eastern mole, a ruddy turnstone, a white ibis, an American coot and a peninsula cooter.
The gull's rescuer instantly knew the bird was unwell, so she immediately captured and transported the bird to the von Arx Wildlife Hospital for care.
Gull Passes Away Due to Red Tide
The gull was weak, slightly underweight, barely able to hold its head up, did not have a full blink and was unable to stand – all symptoms associated with red tide. Hospital staff placed the gull on oxygen in an animal intensive care unit to allow it to calm down after the stress of capture and transport. A short while later, staff provided an antibiotic, fluids, Chinese herbs, eye medication to prevent ulcers, a vitamin supplement and returned the gull to the animal intensive care unit to rest.
The gull's condition deteriorated rapidly and sadly, the gull did not survive.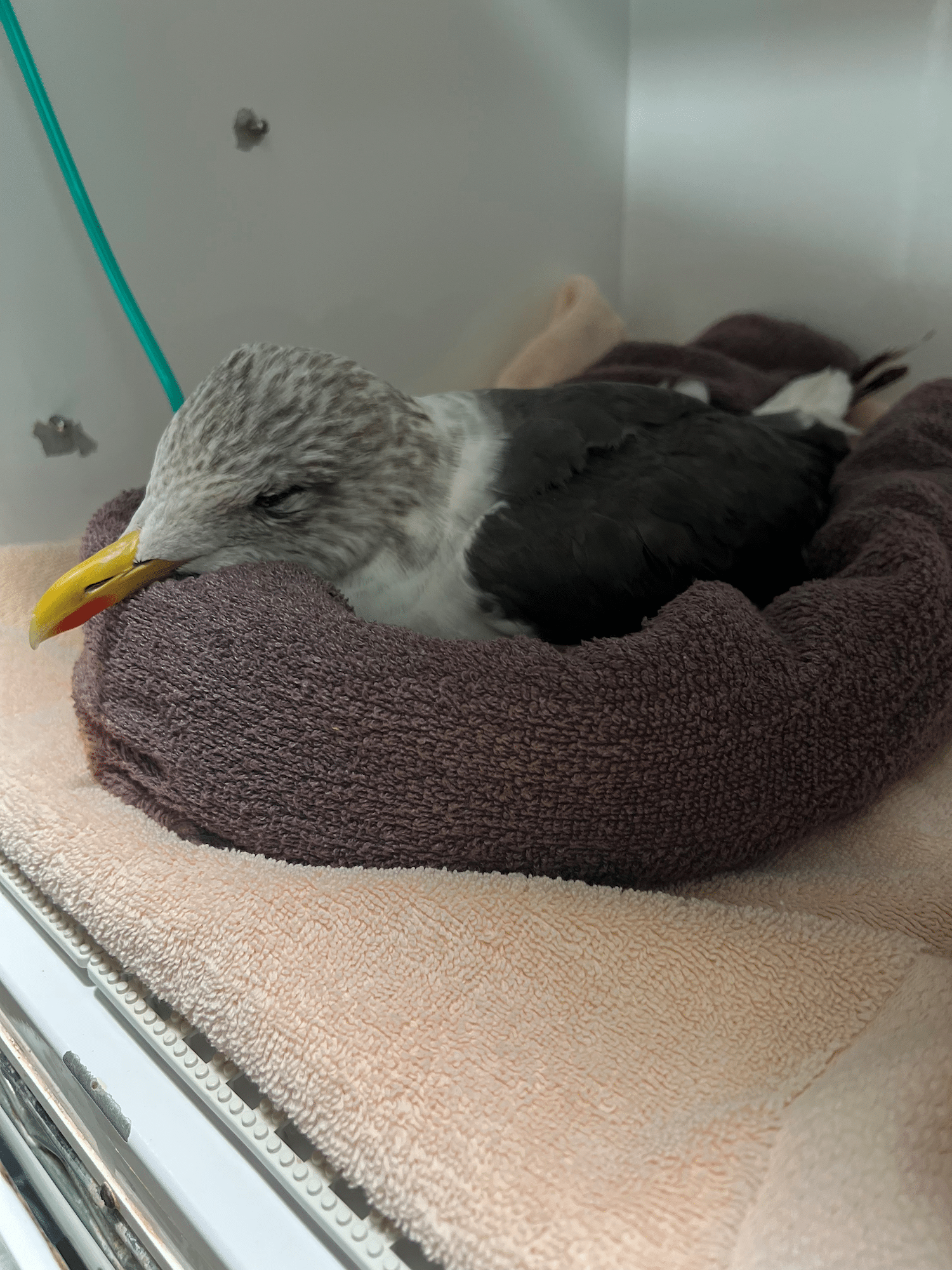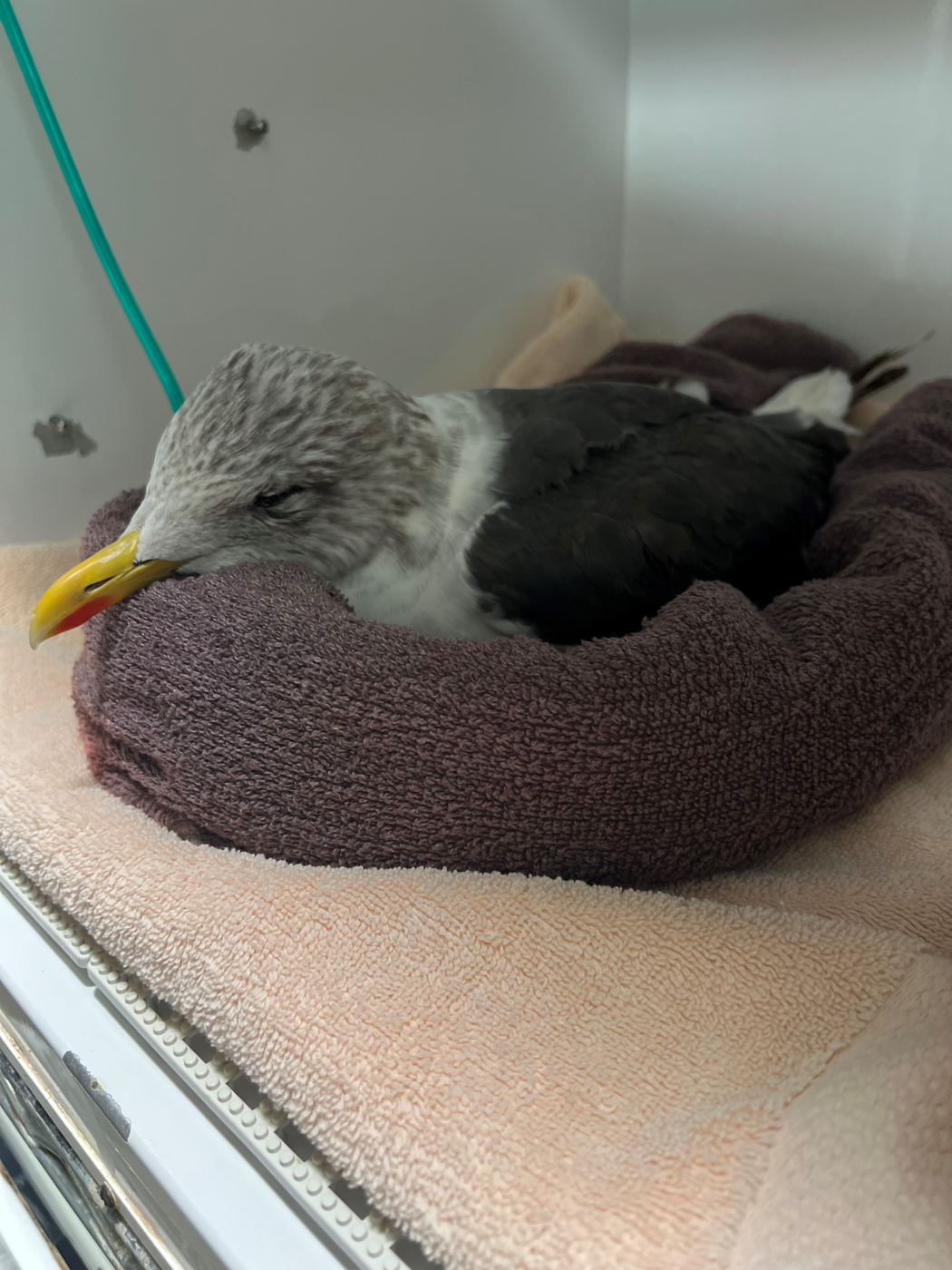 The lesser black-backed gull was one of several shorebirds admitted last week suffering the effects of red tide. A common tern, two double-crested cormorants and a ruddy turnstone were also admitted.
These birds, as well as many other shorebirds call the beaches in Southwest Florida their home. It is difficult to see these birds so sick, struggling to survive. One positive aspect to all of these admissions is that people who encountered the birds offered immediate assistance and brought the birds to the von Arx Wildlife Hospital for care.
Wildlife Tips
When visiting the beach, please take a towel and a box with you in case you find a bird in distress. Having the proper equipment makes rescuing less stressful. Most of the birds suffering from red tide are unable to stand or fly, so all that is required is covering the bird's head and body with a towel then gently picking it up one hand on each side of its body, securely holding the wings in place, then, set the bird in the box.
There is no need to remove the towel if the bird is only lightly covered. It will still be able to breathe and the darkness from the towel may help calm the bird. Do not offer any food or water, immediately bring the bird to the von Arx Wildlife Hospital for care.
Being prepared for a rescue is one way to help locals with wildlife and learning to share the beach with wildlife is crucial to their survival.
Local beaches see intense numbers of people this time of year and these same beaches are home to many species of birds. Some birds have migrated hundreds of miles and need to rest and gain strength. Be mindful if you are walking the beach. Avoid disturbing flocks of resting birds by walking around the flocks, not though them. Walking through flocks of resting birds forces them to fly and expend precious energy. Birds already in a weakened condition do not have any extra energy to waste. 
Just as important, please, don't allow kids to harass birds when visiting the beach. Teach children to respect wildlife and educate them about the harm they are causing when they chase birds and throw rocks and sand. These simple acts of kindness can have a true impact on the well-being of local wildlife.
Recent Releases
A gopher tortoise, a clapper rail, five eastern cottontails, a common gallinule, a painted bunting, an osprey, three red-shouldered hawks, three raccoons, a marsh rabbit, two laughing gulls, a grey squirrel, an eastern screech owl, two Virginia opossums, two peninsula cooters and a Florida red-bellied turtle were released this past week.
Opportunities to Help
Visit our website to learn about opportunities to get involved. Pease consider volunteering, if you are unable to give of your time as a volunteer, become a member or donate. Donations are tax-deductible and make a tremendous impact on our ability to procure needed supplies. Your support will help the Conservancy continue to protect Southwest Florida's water, land, wildlife and future. 
Joanna Fitzgerald is director of the von Arx Wildlife Hospital at the Conservancy of Southwest Florida, 1495 Smith Preserve Way, Naples, Florida 34102. Call 239-262-2273 or see conservancy.org.