A magnificent frigatebird and a northern cardinal were among the fifty-five animals admitted to the von Arx Wildlife Hospital at the Conservancy of Southwest Florida this past week. Other admissions include a sanderling, a blue-winged teal, a marsh rabbit, four gopher tortoises and four Florida red-bellied turtles.
Young Frigatebird Tangled in Fishing Line
A Collier County Sheriff Officer rescued the magnificent frigatebird after finding the frigatebird flailing in the water off Marco Island, entangled in fishing line. The injured frigatebird arrived at our facility just after 8 p.m.
The young frigatebird had a single fishhook embedded in the right side of its head near its eye; the same hook pierced through the skin near the bird's left shoulder effectively leaving the bird incapacitated with its head stuck to its wing. The frigatebird was soaking wet, exhausted, had an increased respiratory effort and dull mentation. A radiograph confirmed the frigatebird had a dislocated shoulder most likely caused as the bird struggled to free its head and wing from the fishhook. Due to the severity of the wing injury, humane euthanasia was the only treatment option.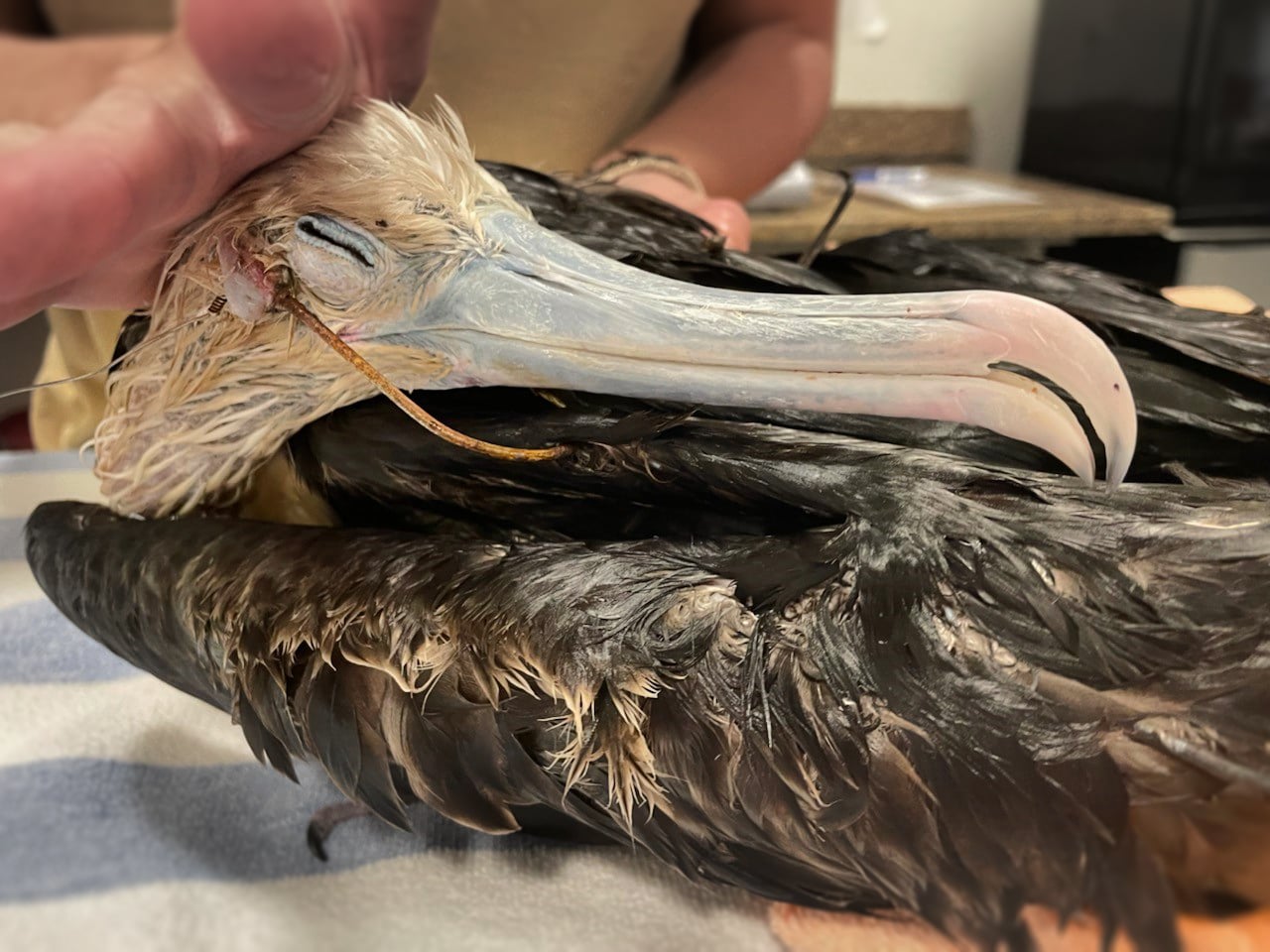 How to Keep Wildlife Safe While Fishing
While it is unknown how the frigatebird was entangled, this loss of life was preventable. If you participate in angling activities, take precautions to avoid injuring nearby birds. Check to ensure no birds are flying by as you cast your line and never leave baited fishing poles unattended.
If you accidentally hook a bird, stay calm and don't cut the line. Slowly reel the bird in and cover its head and body with a towel, covering the head calms the bird making it easier to handle. Carefully push the hook through to expose the barb. Cut the barb and gently back the barbless hook out. Bring the bird to the wildlife hospital if the hook is deeply embedded or has been ingested.
Be responsible, always place used and unwanted fishing tackle in appropriate trash receptacles. If you miscast and your line becomes entangled in surrounding vegetation, retrieve the monofilament debris. Hooks and line left in the environment can be deadly to unsuspecting wildlife.
Many fishing websites discuss best practices for catch and release fishing, the most common being the use of barbless hooks. Barbless hooks are easier to extract if you accidentally hook an animal or other non-target species. Barbless hooks also allow for quicker release and lower fish mortality. 
Northern Cardinal Doing Well Despite Car Accident
The female northern cardinal was found in the road unable to fly after being struck by a vehicle in Bonita Springs. The rescuer was concerned for the cardinal because the bird had been on the hot pavement, so she offered the cardinal water before transporting it to the von Arx Wildlife Hospital for care.
A physical exam showed the cardinal had an increased respiratory effort and signs of neurological trauma. The cardinal was agitated when handled, yet overall was in good body condition despite having a previous injury to the right foot that had healed on its own. Staff placed the cardinal on oxygen in an animal intensive care unit to rest.
Within several hours, the cardinal was alert and although she tired easily, she was attempting to fly around the intensive care unit. Staff moved the cardinal to a recovery enclosure in the bird room that allowed the cardinal enough space to perch and flit around yet small enough to not overexert herself. The cardinal's stamina increased over the course of three days allowing staff to move her to an outdoor recovery space for continued exercise and reconditioning.
If you find an animal in distress, take action if the animal's life is in immediate danger (domestic pet attack, car strike, drowning). If you are unsure if an animal needs help, call the Wildlife Hospital for guidance. Hospital staff can determine the appropriate course of action. Never offer food or water to an animal that is sick, debilitated or orphaned as this can cause further health issues.
Special Recognition
Thanks to Dan Byers from Cabana Dan's Beach Rentals on Vanderbilt Beach in Naples. Dan also manages Camp Cocohatchee, a campground that hosts organized youth groups. Dan allowed hospital staff to release a gopher tortoise found on a busy road south of Camp Cocohatchee. Accessing safe release sites can be difficult so help from community members is sincerely appreciated.
Recent Releases
A Florida box turtle, a Virginia opossum, a grey squirrel, four eastern cottontails, a red-bellied woodpecker, a mourning dove, an eastern screech owl and a Florida softshell turtle were released this past week.
Opportunities to Help
There are many ways to get involved and support the Conservancy. Become a member, donate and visit our website at www.conservancy.org. Learn about the Conservancy's work to protect Southwest Florida's water, land, wildlife and future.
Joanna Fitzgerald is the Director of the von Arx Wildlife Hospital at the Conservancy of Southwest Florida, 1495 Smith Preserve Way, Naples, Florida 34102. Call 239-262-2273 or see conservancy.org