A raccoon was among the sixty three animals admitted to the von Arx Wildlife Hospital at the Conservancy of Southwest Florida this past week. Other admissions include an American kestrel, a yellow-billed cuckoo, an osprey, a pied-billed grebe, a hispid cotton rat and a gopher tortoise.
Young Raccoon with Head Stuck in Jar
A concerned citizen called the von Arx Wildlife Hospital after seeing a young raccoon huddled under her parked car. The raccoon's head was stuck in a plastic jar.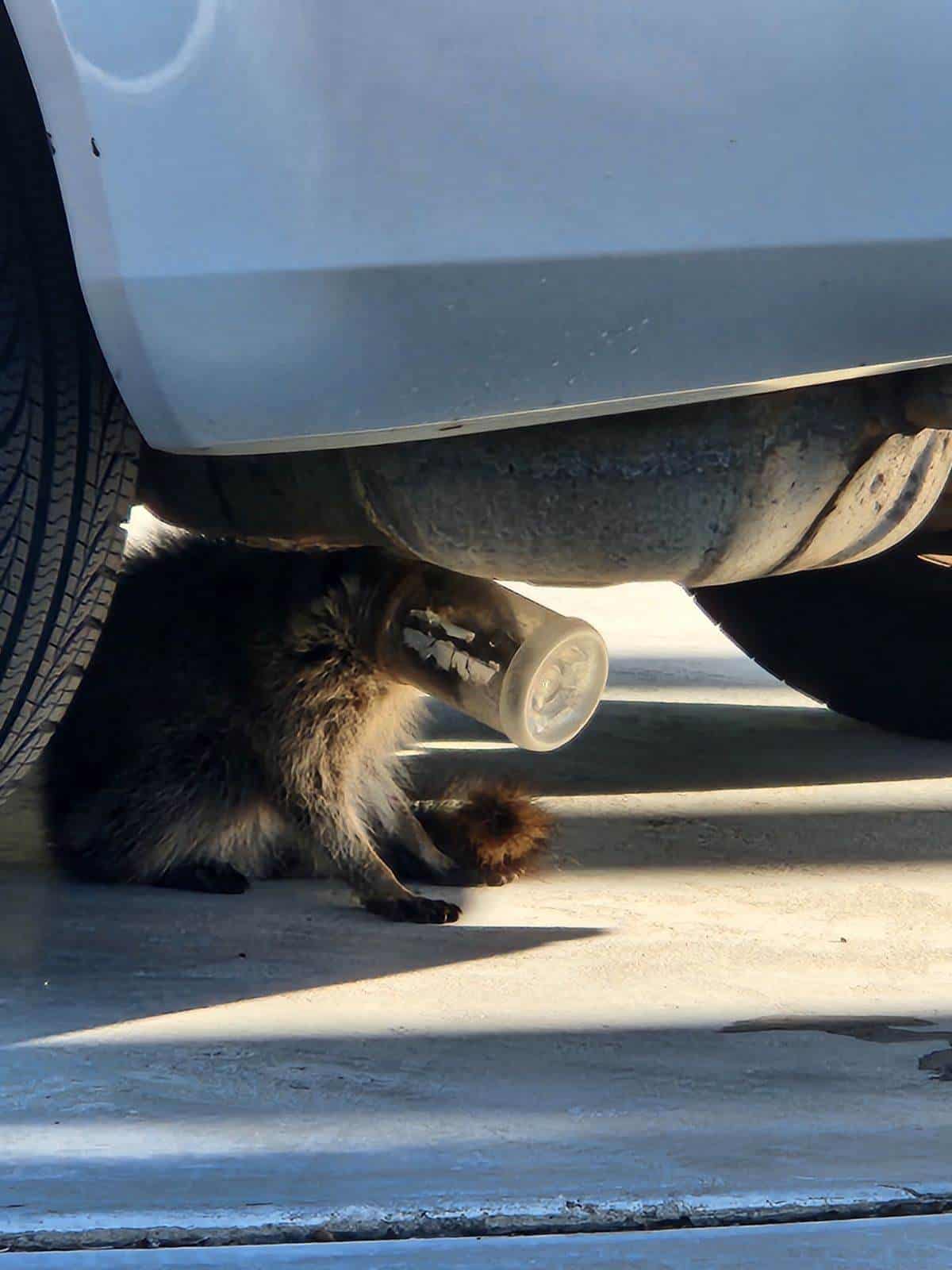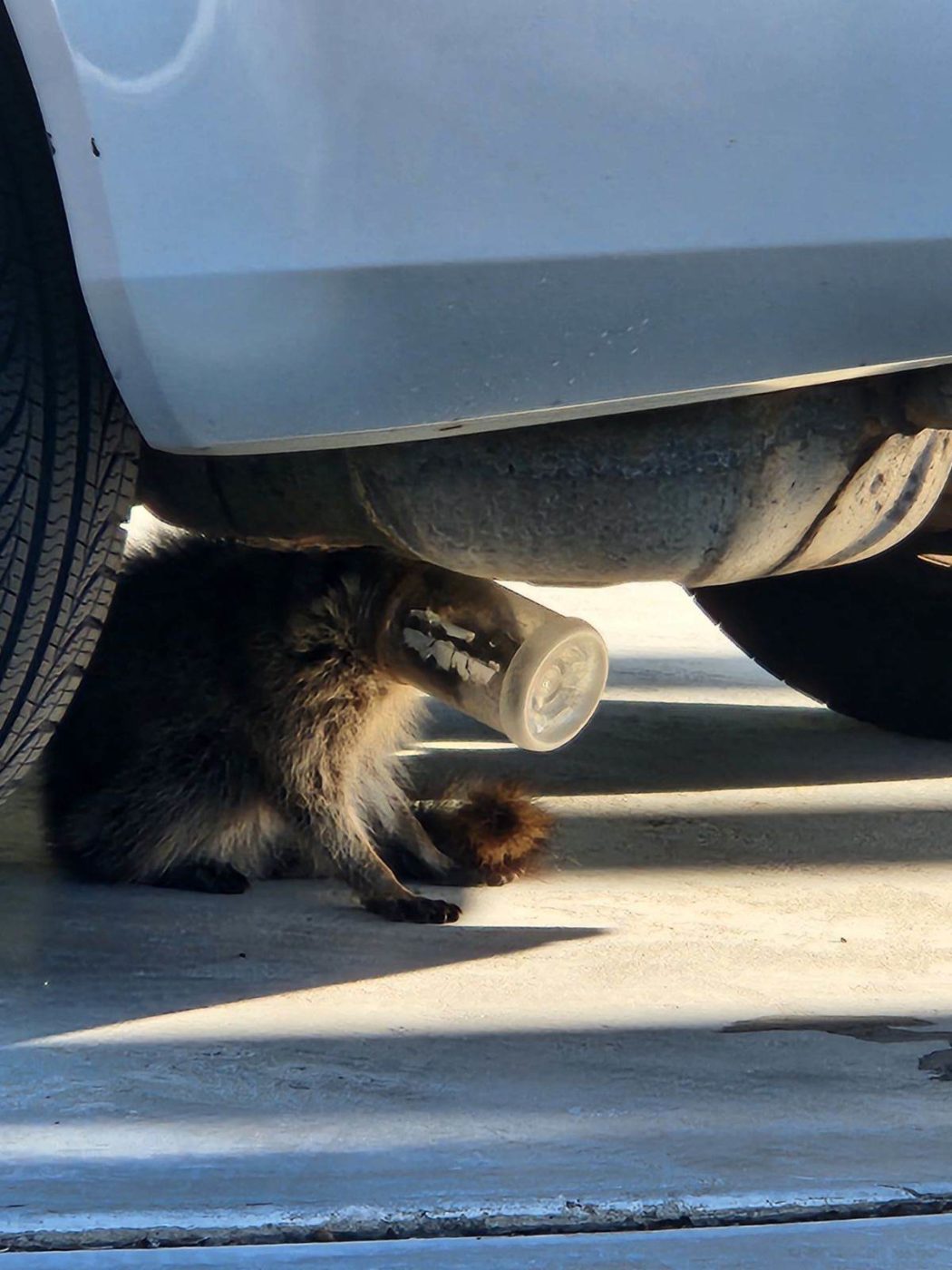 The caller was unable to capture the raccoon, so two hospital staff members went to rescue the animal once the morning patient treatments at the hospital were completed. Hospital staff brought a catchpole anticipating the rescue could be difficult if the raccoon was reactive or spooked when approached. The extra precautions weren't necessary because the raccoon was weak, disoriented and could be easily caught with a net.  
The raccoon looked disoriented when the jar came off; a clear indentation was noticeable around her skull where the jar had been stuck. A physical exam performed during admission showed the raccoon was thin and dehydrated. Staff settled the raccoon in a small recovery space in the ICU area of the hospital to rest and provided a diet and water. A status check on the raccoon a few hours later showed the raccoon had eaten and was resting comfortably in a "den" inside her enclosure.
Diagnostic tests revealed the raccoon needed treatment for internal parasites. The raccoon will be released once she returns to a normal weight and regains strength.
It is common for raccoons to raid trashcans searching for food, especially a young one such as the one we rescued. Raccoons have a strong sense of smell and if they poke their head into a jar to lick leftover food, their head can easily get stuck. Once the jar is on the animal's head, it is nearly impossible for them to free themselves. If the struggling animal goes unnoticed, it may die of starvation or dehydration.
These situations are avoidable and preventable. These simple acts can save an animal's life.
Always keep garbage and recycle bins securely closed and in an area that wild animals can't access.
Many creatures (raccoons, opossums, bears) that raid unsecured trash bins are nocturnal, so don't put bins out at the curb until garbage day.
Never litter and pick up any trash you see lying around.
Recent Releases
A broad-winged hawk, a black-throated-blue warbler, five eastern cottontails, a yellow-rumped warbler, a gray catbird, three red-eyed vireos, a Florida softshell turtle, a red-shouldered hawk, a royal tern, a fish crow, ten grey squirrels, an eastern screech owl, an ornate box turtle and a double-crested cormorant were released this past week.
Opportunities to Help
There are many ways to support the Conservancy. Become a member, donate and visit our website to see the many engaging volunteer opportunities at the Conservancy of Southwest Florida – Wildlife Hospital, Horticulture, Discovery Center Docent, Dock Master, and Boat Captain. Volunteers are essential to our success and by offering your time, talent and skills, you can support the Conservancy's work to protect Southwest Florida's water, land, wildlife and future.
Joanna Fitzgerald is director of the von Arx Wildlife Hospital at the Conservancy of Southwest Florida, 1495 Smith Preserve Way, Naples, Florida 34102. Call 239-262-2273 or see conservancy.org