The von Arx Wildlife Hospital is located and part of the Conservancy of Southwest Florida. Open 365 days a year from 8am to 8 pm. Call 239-262-2273 for wildlife assistance. We are located at 1495 Smith Preserve Way in Naples, FL.
An eastern cottontail was among the 114 animals admitted to the von Arx Wildlife Hospital at the Conservancy of Southwest Florida this past week. Other admissions include a common ground dove, a pileated woodpecker, a chimney swift, an eastern bluebird, a yellow-bellied slider and a raccoon.
The eastern cottontail was admitted after being struck by a vehicle. The rabbit was dazed when admitted, had increased respiratory effort and was favoring her front left leg that had a severe laceration. Staff cleaned the wound, provided pain medications and placed the rabbit in an animal intensive care unit on supplemental oxygen.
It was apparent the rabbit needed her wound sutured, but her condition upon arrival posed a risk that she would not survive surgery.
The following morning the rabbit was alert, reactive and exhibiting behavior one would expect from a rabbit. With her condition stabilized, the vet felt it was safe to anesthetize the rabbit to suture her wound.
Radiographs taken while under anesthesia showed the rabbit had a fractured radius mid-shaft and on her lower spine near her tail; the spinal fracture was not causing any neurological deficits.
The radiograph also revealed a well-developed fetus.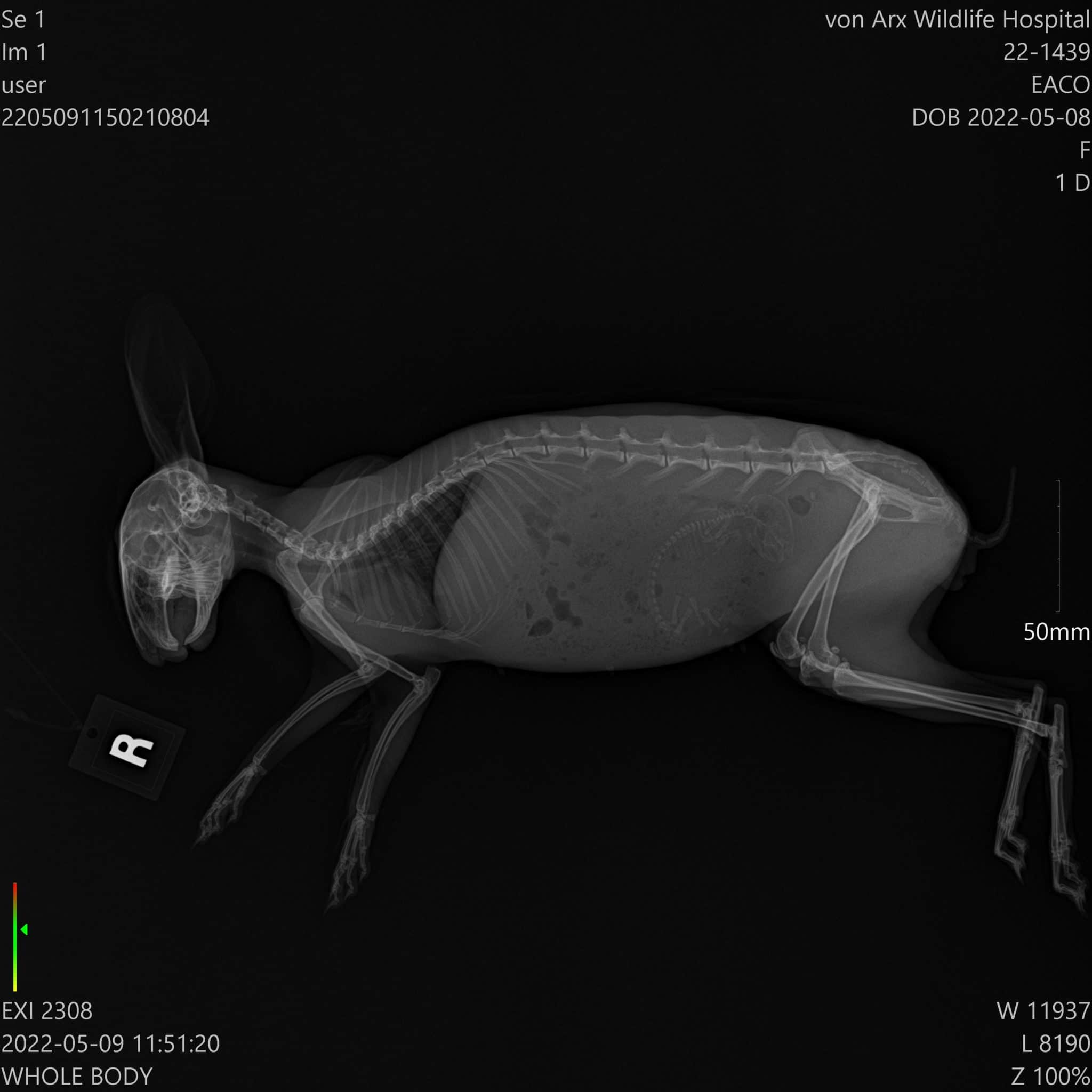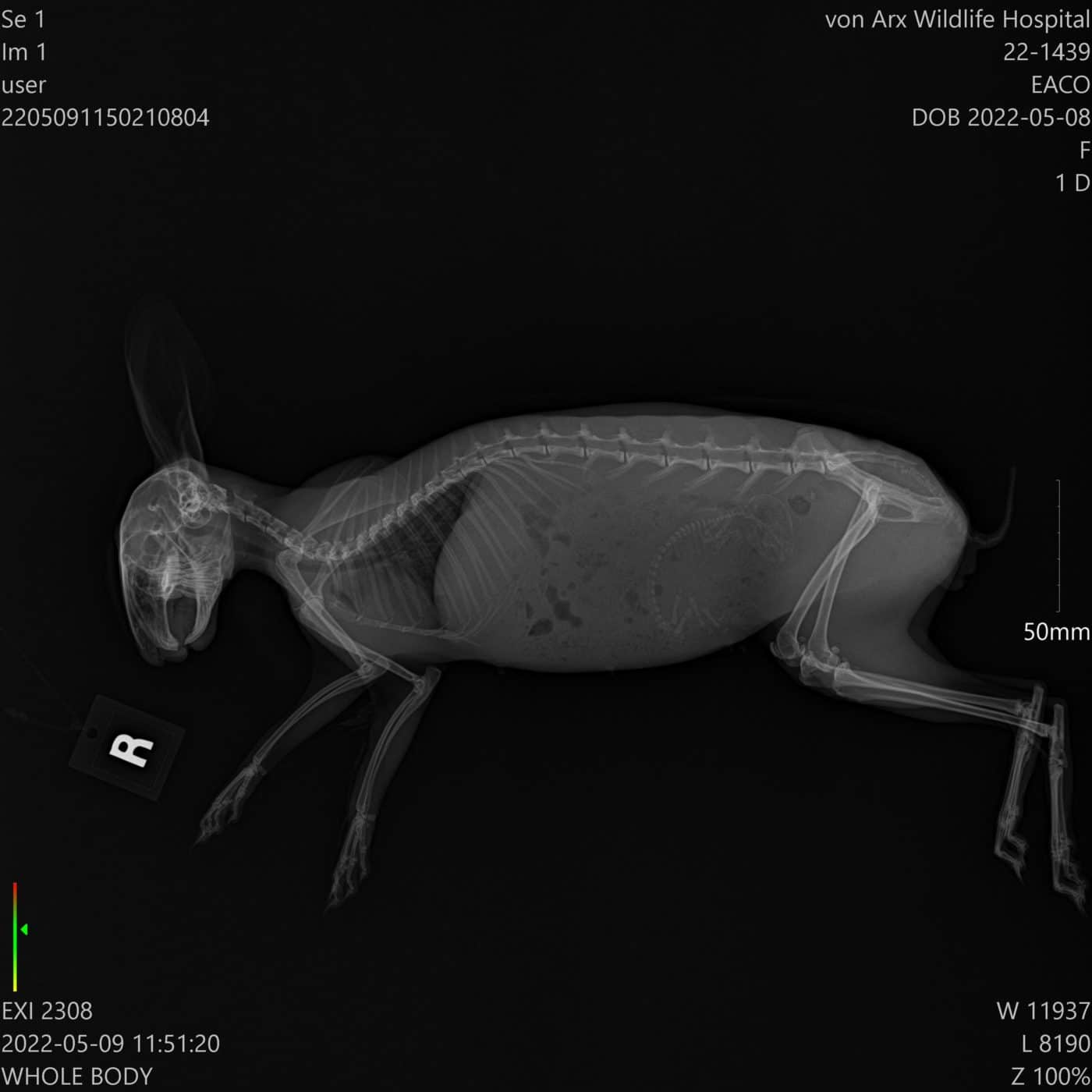 Once the wound was sutured, the rabbit was placed in a large recovery enclosure that would allow for minimal handling.
The goal is to give the rabbit time for her fractures to heal and space to give birth and raise her baby if she goes into labor prior to release. Hands off care is the best approach for such a high stress creature.
Thankfully, a Good Samaritan stopped to help this rabbit; she unknowingly saved two lives with her kind actions. 
Please, if you find an injured animal, offer assistance. Wild animals feel pain and suffering just as like our dogs and cats do. Always call the wildlife hospital (239-262-2273) for information if you find an animal in distress, but are unsure of how to help. 
Recent Releases
A Florida red-bellied turtle, a red-bellied woodpecker, a royal tern, a yellow-bellied slider, two eastern cottontails, four common grackles, a brown thrasher, two gopher tortoises, a mourning dove, eight northern mockingbirds, an eastern bluebird, twelve Virginia opossums, a raccoon, an eastern screech owl and a crested caracara.
Annual Wildlife Baby Shower
The von Arx Wildlife Hospital is hosting our 7th annual Wildlife Baby Shower to raise awareness and support for the hospital's youngest, most delicate patients. The virtual Wildlife Hospital Baby Shower is Saturday, June 4.
Opportunities to Help
Visit the Conservancy website to see a list of all the amazing volunteer opportunities at the Conservancy of Southwest Florida. With our busy summer baby season now upon us, we need volunteers more than ever! We have several shifts and different opportunities available for volunteering; go to our website, complete the application and get involved! Your volunteer time, memberships and donations are truly vital in helping us continue our work to protect Southwest Florida's water, land, wildlife and future.
Joanna Fitzgerald is Director of the von Arx Wildlife Hospital at the Conservancy of Southwest Florida. Call 239-262-2273 or see conservancy.org.