The von Arx Wildlife Hospital is part of and located at the Conservancy of Southwest Florida. Please call 239.262.2273 for native wildlife assistance.
A broad-winged hawk was among the thirty-five animals admitted to the von Arx Wildlife Hospital at the Conservancy of Southwest Florida this past week. Other admissions include a blue jay, a blue-gray gnatcatcher, a common grackle, a Connecticut warbler, a gopher tortoise and a Brazilian free-tailed bat
Broad-winged Hawk
The broad-winged hawk was admitted early one evening after being found on the ground, unable to fly at the Naples Botanical Garden.
Hospital staff performed a physical exam and noted the hawk was dull, but responsive to handling, had an increased respiratory effort, was in fair body and was reacting defensively. The exact cause of illness was undetermined. The hawk received pain medication and was placed in an animal intensive care unit on supplemental oxygen. A behavior check performed later that evening showed the hawk's respiratory rate and effort were normal and the bird was resting calmly.
The following morning, hospital staff added Chinese herbs and electrolytes to the hawk's treatment plan.
The hawk was quite active yet appeared to be favoring its left wing.
Staff moved the hawk to a larger recovery enclosure in the bird room and offered the hawk a rodent diet. The hawk's condition remained stable over the course of several days, yet the hawk would not eat on its own. Currently, the staff is hand feeding the hawk twice daily while still encouraging the hawk to eat on its own.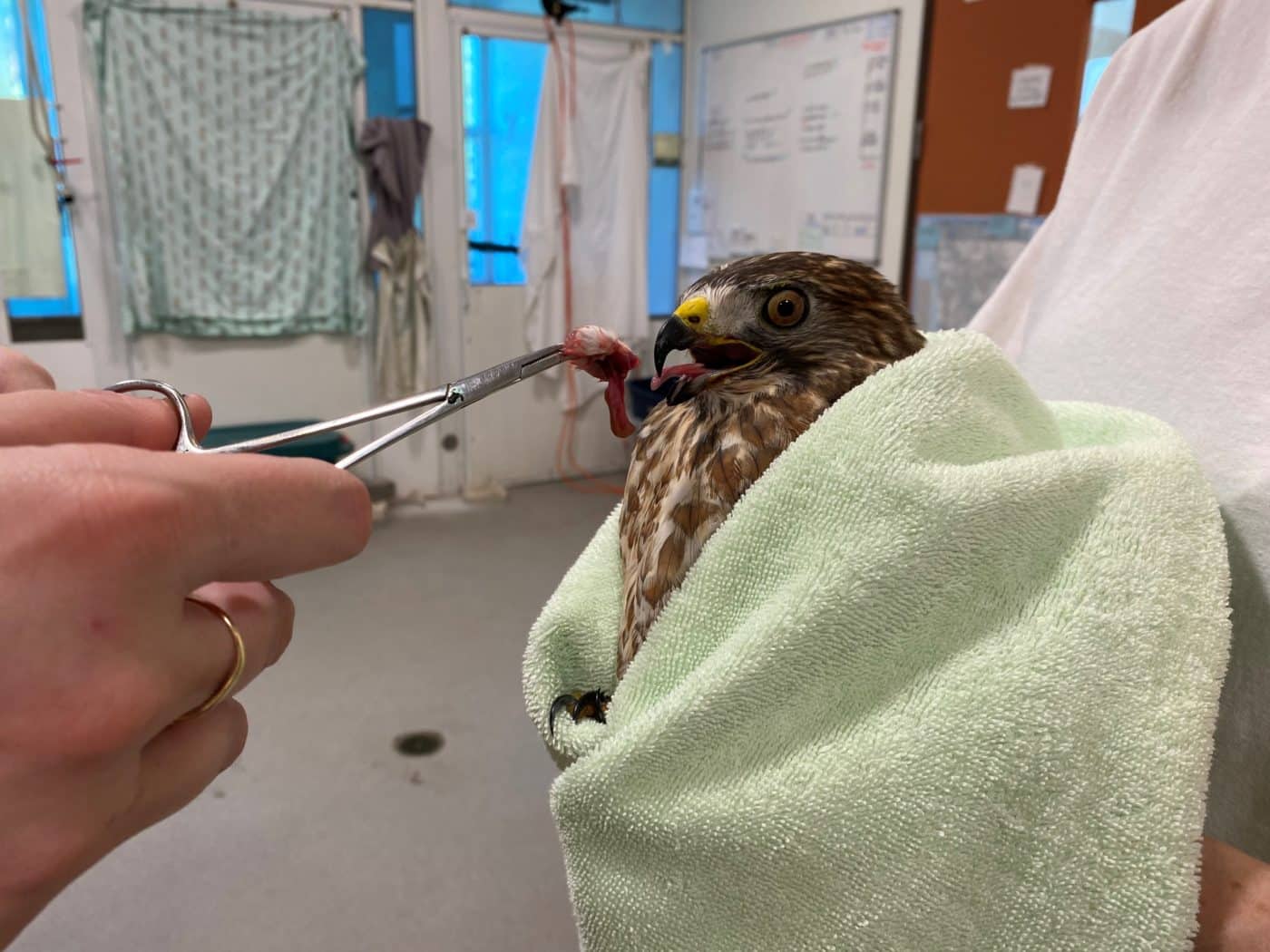 Receiving prompt medical treatment is essential for any sick, injured or orphaned animal. Fortunately, staff at the Naples Botanical Garden has a strong working relationship with Conservancy staff and they brought the hawk to our facility for immediate medical attention. Please, if you see an injured, sick or orphaned animal, offer assistance. If you are unsure of how to help, call the wildlife hospital for assistance.
Recent Releases
An anhinga, four eastern cottontails, a great blue heron, a red-shouldered hawk and four double-crested cormorants were released this past week. The recent cold weather caused a brief hiatus in releases until our more normal weather temperatures returned.
Opportunities to Help
There are many ways to support the Conservancy; become a member, donate and visit our website at www.conservancy.org/support-us/volunteer to see the many engaging volunteer opportunities at the Conservancy. Volunteers are essential to our success; by offering your time, talent and skills, you support the Conservancy's work to protect Southwest Florida's water, land, wildlife and future.
Joanna Fitzgerald is director of the von Arx Wildlife Hospital at the Conservancy of Southwest Florida, 1495 Smith Preserve Way, Naples, Florida 34102. Call 239-262-2273 or see conservancy.org.