The U.S. Army Corps of Engineers (Corps) and Collier County are providing additional opportunities for public engagement in the Collier County Coastal Storm Risk Management (CSRM) feasibility study. The CSRM is a study, initiated by the Corps, to assess storm risk issues in Collier County and provide solutions to reduce storm surge flooding and storm impacts.
Meetings were held April 2023, however, due to the overwhelming interest expressed by the community, three additional meetings are now scheduled at various locations throughout Collier County on June 21 and 22, 2023. While all meetings are in-person, there will also be a Zoom option and/or televised option to view some of the meetings. In addition, the Corps extended the formal comment period for the CSRM to June 29, 2023.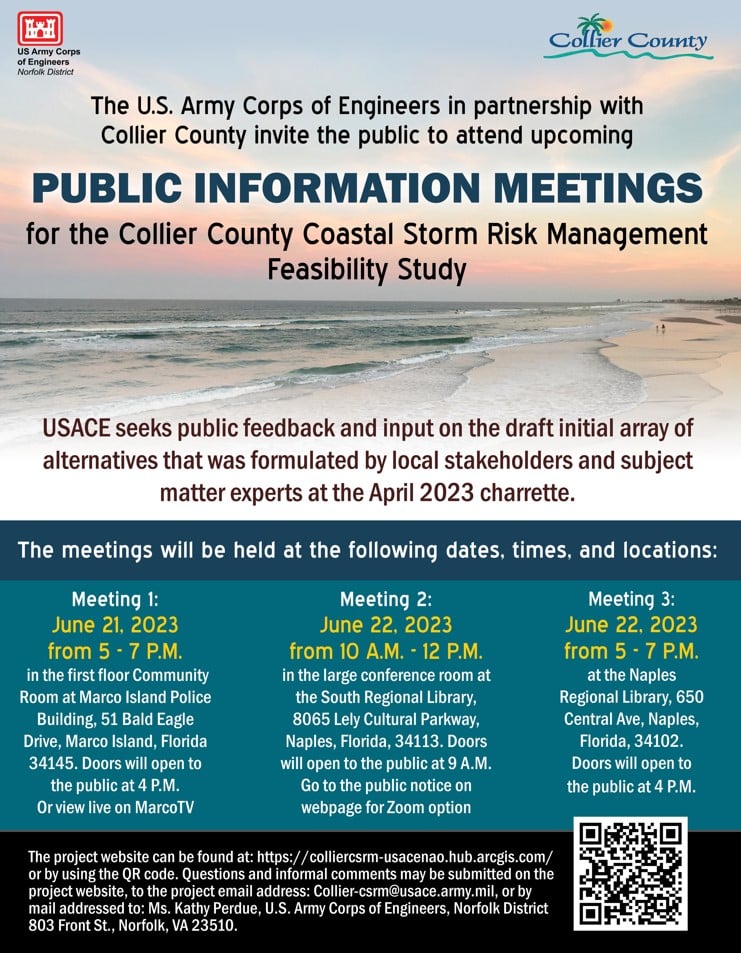 At this month's meetings, the Corps will provide new information regarding an "initial array of alternatives" to reduce flood risk, which were created based on public input provided at April 2023 stakeholder charrettes and public meetings. The Corps and the County are actively seeking public input on the new array of alternative plans. While the County is still at the beginning of the three-year study process, these initial meetings are the most important for influencing the type of plan that the Army Corps will present to Collier County, so we encourage you to get involved now. Ultimately, Collier County will have the final say as to whether to accept any storm risk plan from the Army Corps.
At the culmination of the April 2023 meetings, the Corps acknowledged that there was significant public support for the use of nature-based solutions to reduce risk, over a reliance on large structural measures, such as massive flood walls and surge barriers. The Conservancy was glad to hear this, and we will continue to advocate for the prioritization of nature-based solutions, such as mangrove restoration, oyster reefs, and dunes, throughout the remainder of this current study.
Below is information regarding the upcoming meetings and where you may submit comments and here is the link to our webpage on the CSRM study. The Conservancy staff looks forward to seeing you there!