As development and mining continue to push further east into the rural interior of Lee County, the impacts to wildlife and listed species are reaching a critical tipping point, especially for the survival and recovery of the endangered Florida panther.
Thank you to everyone who responded to our action alert opposing the Troyer Mine project's 404 application and asking the Florida Department of Environmental Protection (FDEP) for a public meeting. The public notice period closed on August 7, 2022 and we will update you if a public meeting is scheduled.
Unfortunately, the Troyer Mine is only one of three major projects proposed for eastern Lee County.  Kingston and FFD are massive residential developments also going through permitting and located in the vicinity of Troyer.  Taken together, the impacts of these projects pose serious risks to the fate of the panther.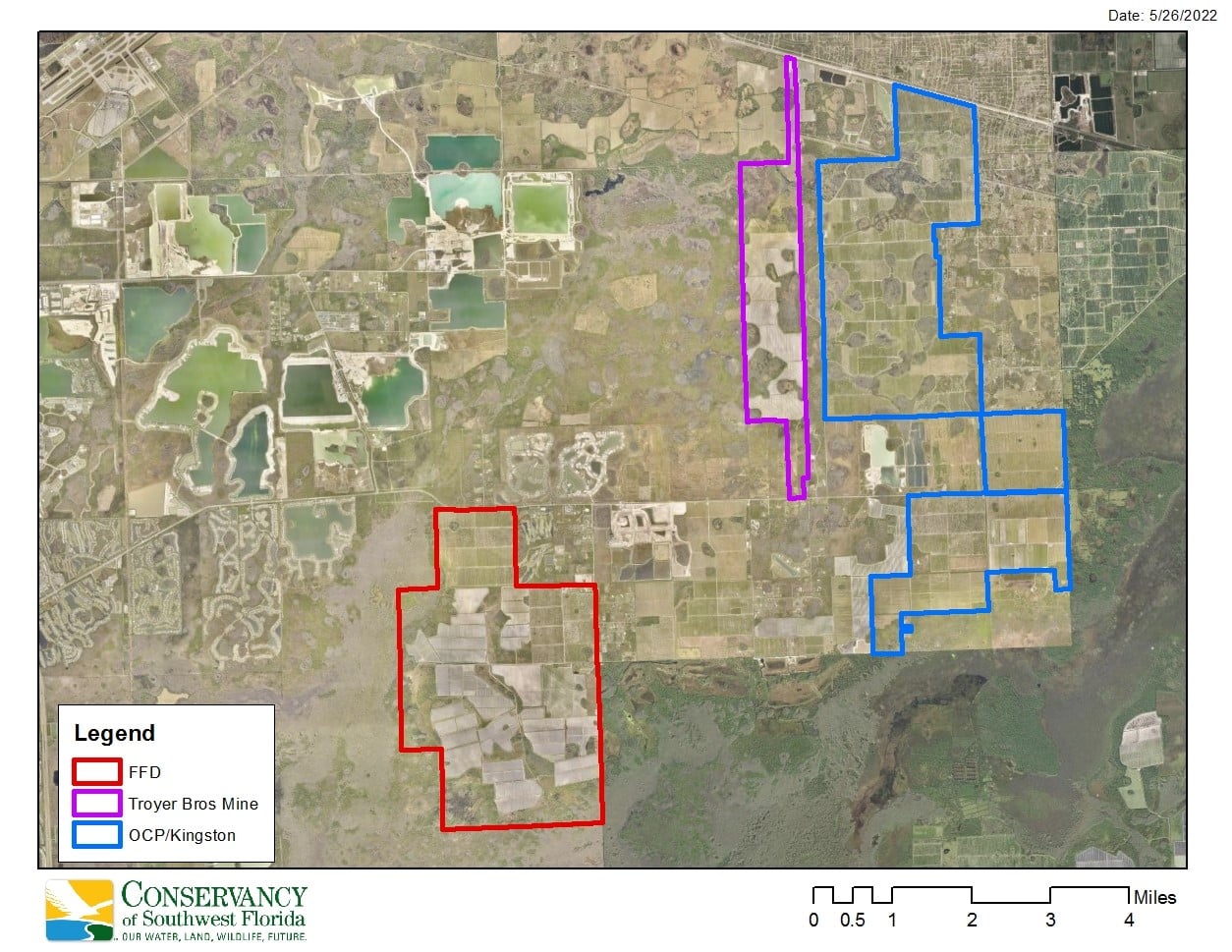 In order to gain a comprehensive understanding of the potential impacts on panther "Adult Breeding Habitat" from Troyer Mine, Kingston, and FFD, the Conservancy hired panther habitat expert Dr. Robert Frakes to run the landscape-scale panther habitat model, which was described in Frakes, et al, 2015[1], on these projects. The model gives us a greater understanding of the conditions of panther habitat before the projects and what the landscape would look like if the projects were to be permitted.
What are the impacts of Troyer Mine, Kingston, and FFD on "Adult Breeding Habitat"? As shown below, approximately 7,400 acres (about 30 sq km) of "Adult Breeding Habitat" for the panther will be eliminated if these developments are permitted. However, this is not the end of the bad news. The effects of these projects go well beyond the loss of habitat.
These parcels are located in areas where panther movement currently occurs and are essential for connecting panther habitat within eastern Lee and into both Hendy and Collier Counties.  These projects, if developed, will sever connectivity and render remaining habitat areas less viable for the panther. 
Here are a few examples of findings based on Dr. Frakes' analysis:
Troyer Mine is the major current east-west link for panthers to access habitat east of that project site. Allowing Troyer Mine to move forward will have direct and indirect impacts on panther habitat and corridor connections.
Kingston (formerly known as Old Corkscrew Plantation) contains a large amount of "Adult Breeding Habitat" and development would fragment connectivity to Corkscrew Regional Ecosystem Watershed (CREW) and other sensitive lands to the south and east.
The FFD development would pinch an already constrained movement corridor where the only existing constructed panther underpass on Corkscrew Road is in place.
The Frakes et al., 2015 publication that originally developed the "Adult Breeding Habitat" model concludes that "protection of the remaining breeding habitat in south Florida is essential to the survival and recovery of the subspecies and should receive the highest priority by regulatory agencies."[2] In other words, the loss of these lands would make the survival and recovery of the Florida panther more difficult.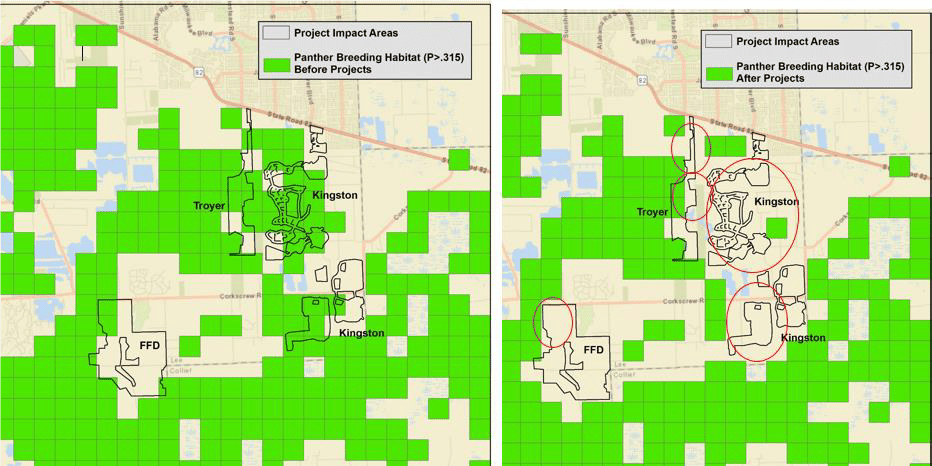 All three of these projects have applications in for section 404 wetland permits with FDEP. Troyer Mine was the first to go to Public Notice, taking it a step closer to a permitting decision. We are extremely concerned that to date, neither FDEP, nor the wildlife agencies have addressed these direct, indirect, and cumulative losses proposed by Troyer Mine, Kingston, and FFD. 
Therefore, the Conservancy will continue to utilize the best available science in our review of these project applications and in our advocacy and outreach to the permitting agencies. 
Stay tuned for future action alerts on these projects, and if you do not receive alerts, please sign up at https://conservancy.org/our-work/policy/take-action/.
---
[1] Frakes et al., 2015. Landscape Analysis of Adult Florida Panther Habitat. PLoS ONE 10(7): e0133044.
doi:10.1371/journal.pone.0133044. Enclosed with this letter.
[2] Frakes et al., 2015. Landscape Analysis of Adult Florida Panther Habitat. PLoS ONE 10(7): e0133044.
doi:10.1371/journal.pone.0133044. P. 16.