A glass lizard and two grey squirrels were admitted to the von Arx Wildlife Hospital at the Conservancy of Southwest Florida this past week. Other admissions include a blue jay, an eastern screech owl, an osprey, a limpkin, a striped mud turtle and three eastern cottontails.
Glass Lizard Breaks Its Tail
Late one evening while out on a walk, von Arx Wildlife Hospital volunteers Sydney Vaught and Jack Moore noticed a glass lizard that looked injured. The lizard was inactive and its tail was partially missing. Glass lizards get their nickname because of their tendency to break/drop off their tails when caught or threatened by a predator. The tail wiggles around after it drops off, which can distract the predator long enough for the lizard to escape. Sydney was willing to rescue the lizard but she had her dogs with her and couldn't risk helping the lizard since the dogs were incredibly eager to get to the lizard.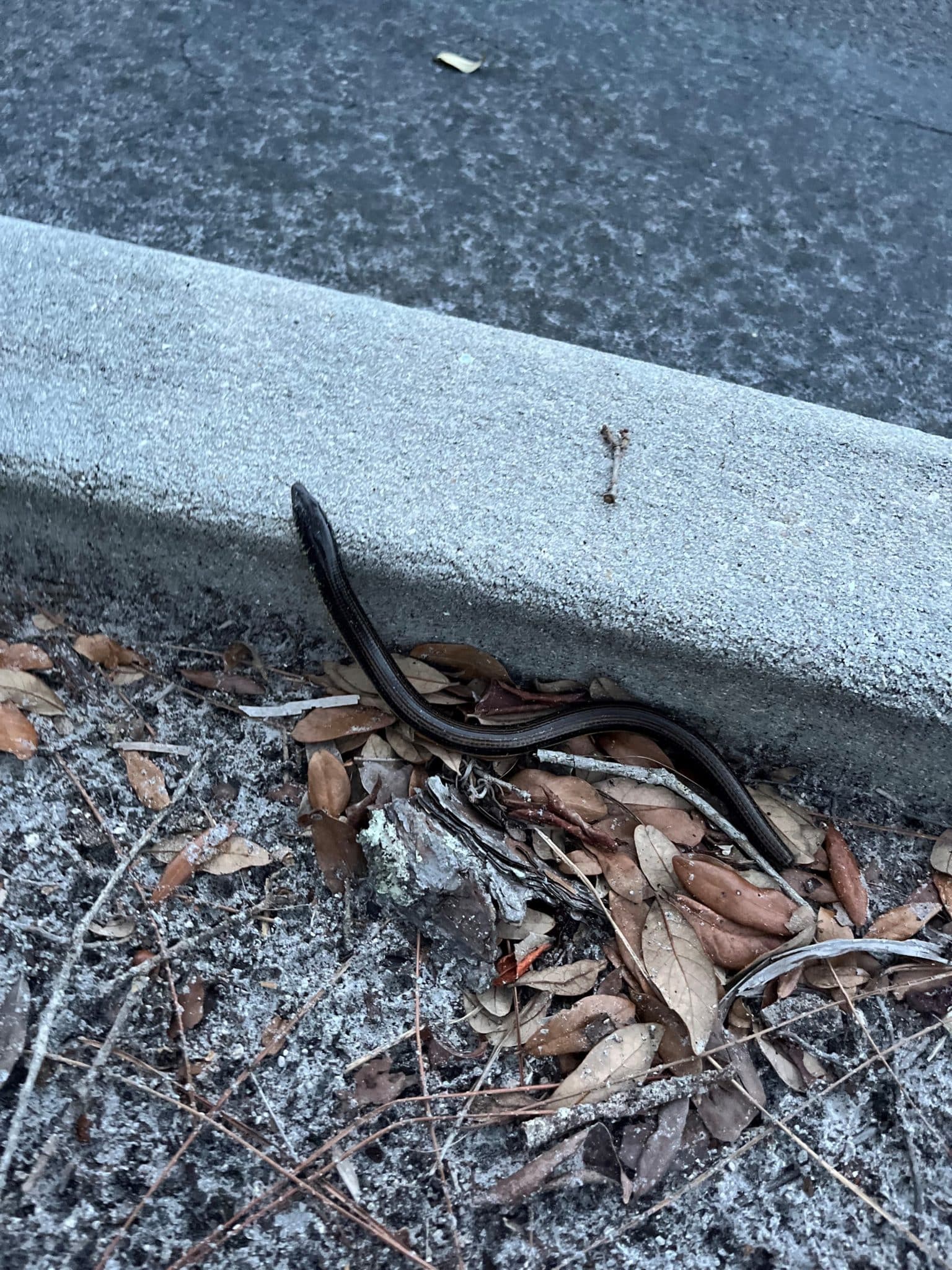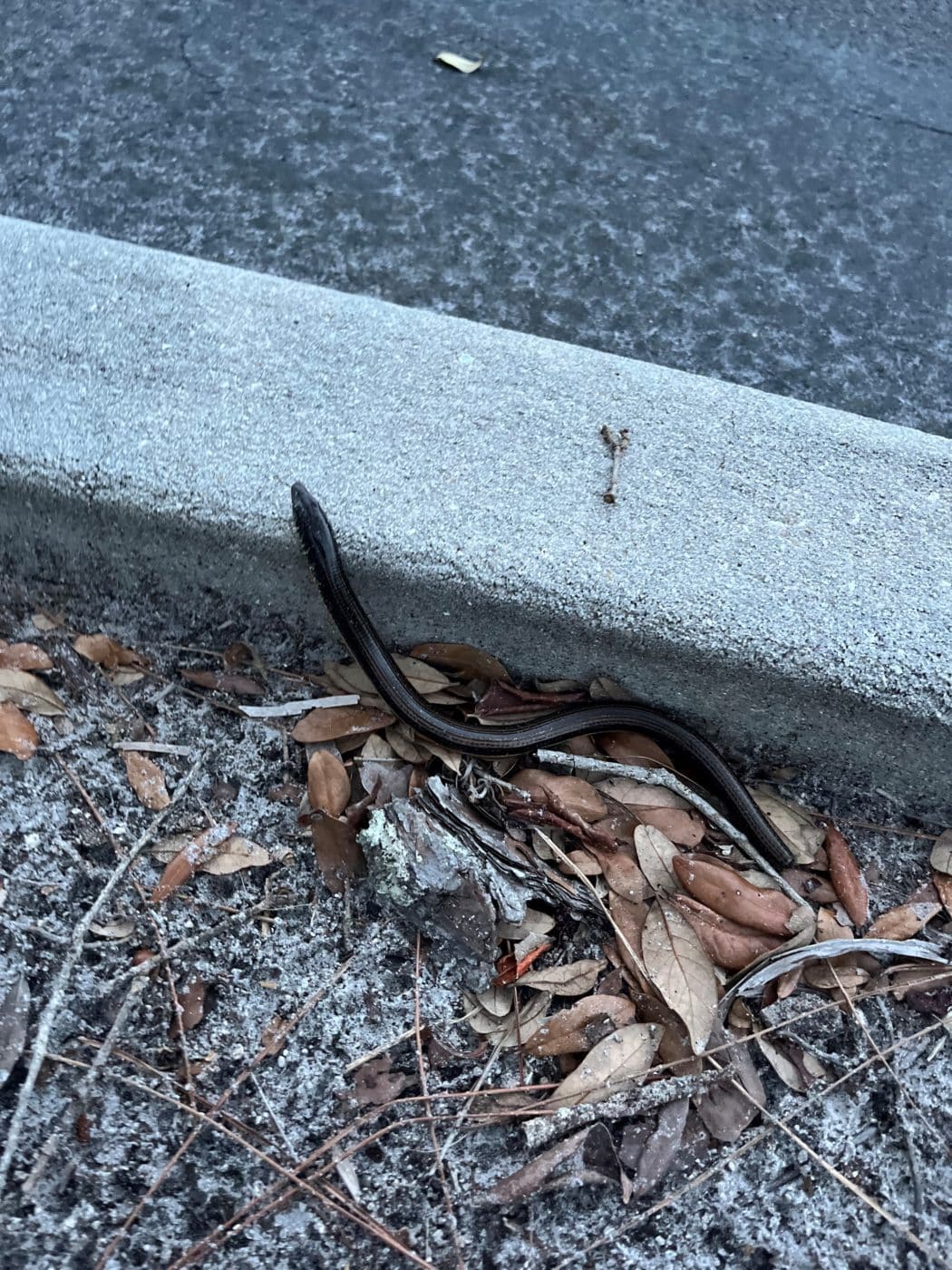 A hospital staff member was leaving work for the night and was able to swing by, contain the lizard and bring it back to the von Arx Hospital for care. Although the fracture site on the tail was not fresh, the lizard was dull and unresponsive when handled. Staff settled the lizard in an animal intensive care unit in the reptile room and allowed the lizard time to rest.
The following morning the lizard was alert, responsive and behaving like a healthy glass lizard. Staff monitored the lizard throughout the day, no additional health concerns were noted and the lizard was cleared for release the following day. Not every animal needs intensive care; often times, supportive care and time to rest is all an animal needs to recover. Please, if you find an animal you believe is in distress and needs help, call the wildlife hospital for guidance. We can determine the appropriate course of action.
Grey Squirrels Kept as Pets
A woman found a baby grey squirrel in August. She didn't know what to do with it, so she looked online for information on how to raise the orphan in her home. The woman's neighbor found a young grey squirrel after Hurricane Ian passed through and took it to her because she knew her neighbor was already raising the squirrel she found back in August.
Last week, an intern at the von Arx Wildlife Hospital went to a job interview at a local vet clinic. During the interview, our intern mentioned her work at the wildlife hospital and the interviewer turned out to be the woman with the two squirrels. Our intern told the woman she needed to bring the squirrels to our facility, which she did the following day.
The two squirrels were alert and active, but the squirrel found in August was incredibly overweight. The information the woman found online was inappropriate so the two squirrels were receiving a diet that was nutritionally unbalanced. Another concern was they treated the squirrels as pets so the squirrels were unafraid of people and had no fear of the family pets.
Hospital staff settled the two squirrels in a large outside recovery enclosure where the squirrels can climb tree branches and actively forage for food. The diet staff is providing is nutritionally balanced. Being outdoors away from constant human activity provides the squirrels a quiet, natural setting and allow them time to revert to normal, wild squirrel behavior including being fearful of humans.
Wild creatures do not make good pets. All wild animals have very specific nutritional and husbandry requirements that are difficult to replicate in a captive situation.
If the squirrels do not revert to normal wild behavior, including a fear of humans, cats and dogs, they will not be releasable. Just as important, please know it is illegal to take most species of wild animals from the wild with the intent to care for or keep them as a pet without obtaining the appropriate state and federal permits.
If you find an animal you believe is injured, sick or orphaned, do not attempt to care for it yourself. Wild animals require care from professionals with experience and knowledge working with wildlife. If you know of someone who is keeping a wild animal as a pet, encourage him/her to call our wildlife hospital so we can help. We will do everything we possibly can with the goal of releasing the animal back into the wild.
Recent Releases
Two Florida softshell turtles, a glass lizard, a striped mud turtle, four gopher tortoises, a Florida red-bellied turtle, a Cooper's hawk, a red-shouldered hawk, an eastern cottontail, a snowy egret, eight grey squirrels and three raccoons were released this past week.
Opportunities to Help
Visit the Conservancy to view all of the amazing volunteer opportunities at the Conservancy of Southwest Florida. Volunteers help in many different capacities. If you could dedicate one shift a week to help in the hospital, contact our volunteer office and get involved. Currently we are in desperate need of volunteer help during our evening shift from 5pm to 9pm. Your volunteer time, donations, and memberships are truly vital and allow us continue our work to protect Southwest Florida's water, land, wildlife and future.
Joanna Fitzgerald is director of the von Arx Wildlife Hospital at the Conservancy of Southwest Florida. Call 239-262-2273 or see conservancy.org.