A turkey vulture and a broad-winged hawk were among the sixty-seven animals admitted to the von Arx Wildlife Hospital at the Conservancy of Southwest Florida this past week. Other admissions include three ospreys, a great blue heron, a northern parula, a yellow-rumped warbler, a common gallinule, a fox squirrel and a gopher tortoise.
Turkey vulture suffers from gunshot wounds and vehicle strike
The turkey vulture was rescued from the side of the road in rural Collier County at the intersection of Sanctuary Road and Immokalee Road.
The vulture was injured from a vehicle strike and exhibited signs of neurological injury. A physical exam conducted upon admission to the von Arx Wildlife Hospital showed the vulture was thin, dull but responsive, weak and unsteady when standing and had laxity (lack of stability) in the left shoulder.
The leg fracture was stable, although severely misaligned. This means that the vulture had managed to survive while the leg healed which would have taken several weeks. The vulture was struggling to survive through the pain and showed significant lameness in the right leg.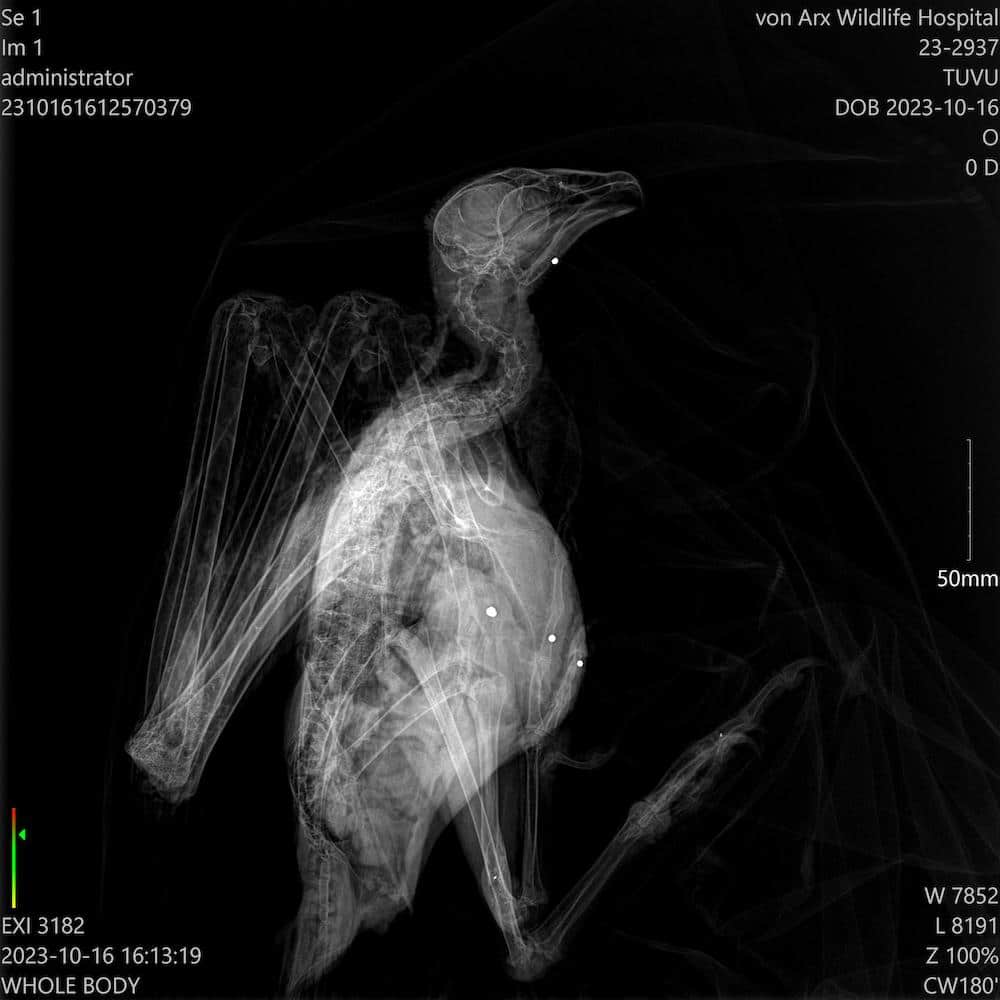 Hospital staff administered pain medication and placed the vulture in an animal intensive care unit to rest. The vulture's treatment plan included laser therapy, additional pain medication, a vitamin supplement and electrolytes.
The situation with the vulture was truly heartbreaking knowing the bird struggled to survive for weeks after being shot, then was struck by a vehicle and left suffering on the side of the road. The one positive with this case was the empathetic Good Samaritan who cared enough to stop and rescue the bird.
The vulture was not the only gunshot victim recently admitted.
Over the last two weeks a red-shouldered hawk, a red-tailed hawk and a great blue heron were admitted – all victims of gunshots. The red-tailed hawk is the only bird to survive its injuries.
Native birds are protected under the Migratory Bird Treaty Act. Intentionally harming a bird, its nest, eggs etc. is illegal. While there may be a legal hunting season for some species of birds, shooting the two species of hawks and the great blue heron broke both state and federal laws. There is never a legal hunting season for hawks and herons.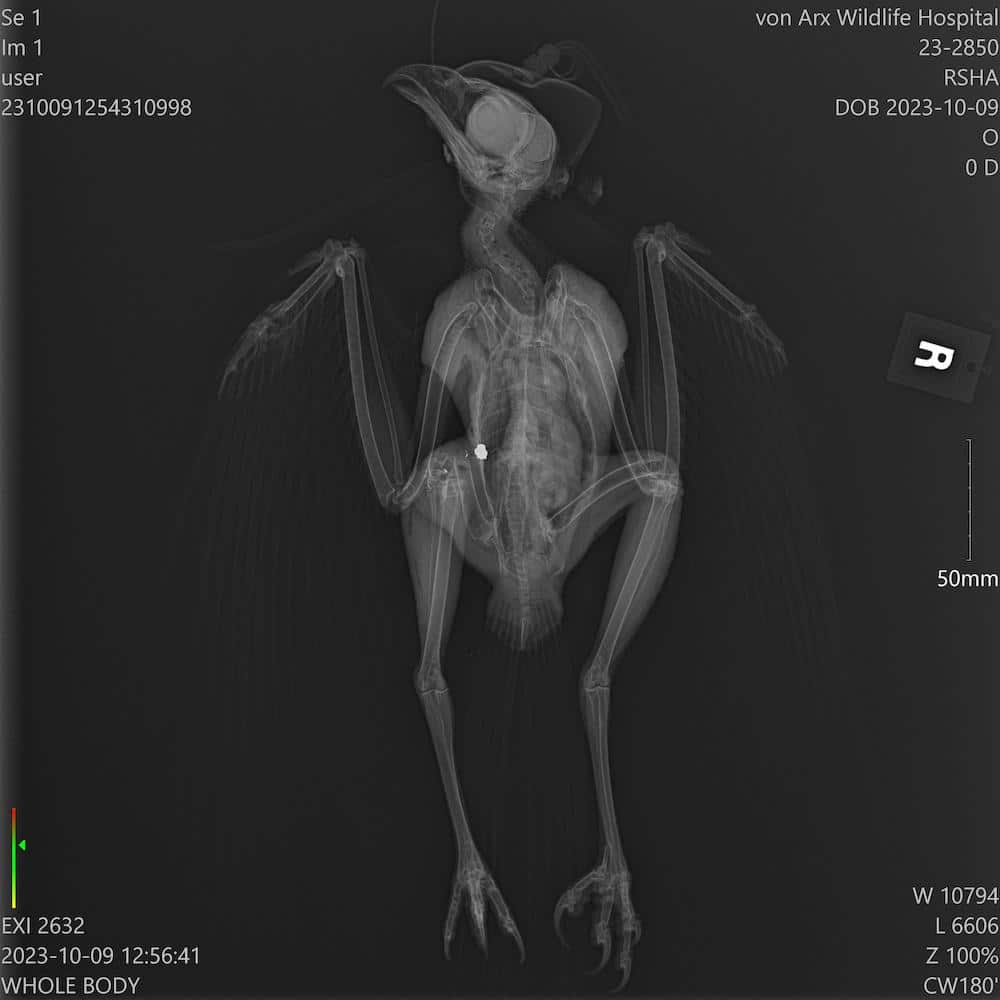 If you see someone shooting a protected species, please report the incident to the Florida Fish and Wildlife Conservation Commission. Reports can be anonymous and will provide information that allows law enforcement to investigate. Many situations such as this can be resolved once the offender is educated about the laws that protect wildlife.
Broad-winged hawk with high parasite load
The broad-winged hawk is one of eight hawks currently recovering at the von Arx Wildlife Hospital.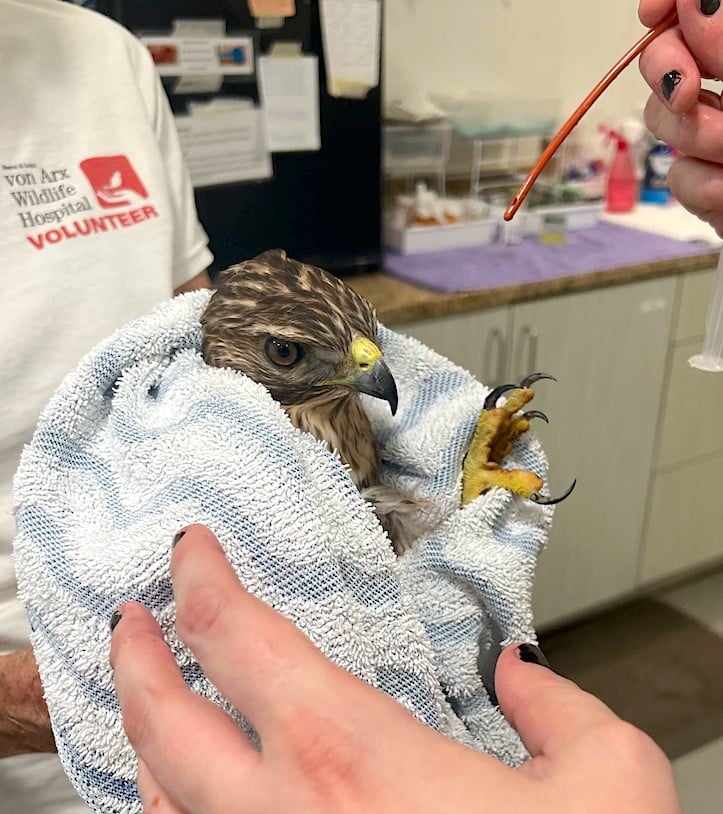 The broad-winged was admitted after being found in a yard unable to fly. The hawk was thin, had fresh blood in its mouth, hesitant to extend and use its legs and its eyes were partially closed. All clinical signs indicative of trauma. Hospital staff started the hawk on a pain medication, performed laser therapy and settled the bird in an animal intensive care unit on supplemental oxygen. A health check a few hours later showed the hawk was resting comfortably.
The following morning the hawk was breathing with its mouth open, paresis of both legs was evident and the hawk was using its wings to support its body.
Staff administered additional pain medication, Chinese herbs, fluids, multiple vitamin supplements, including Vitamin K, and performed laser therapy. By late evening, the hawk was standing when staff went to provide additional treatment.
After seven days of treatment, the hawk finally ate on its own which allowed staff to minimize handling. Less handling means less stress.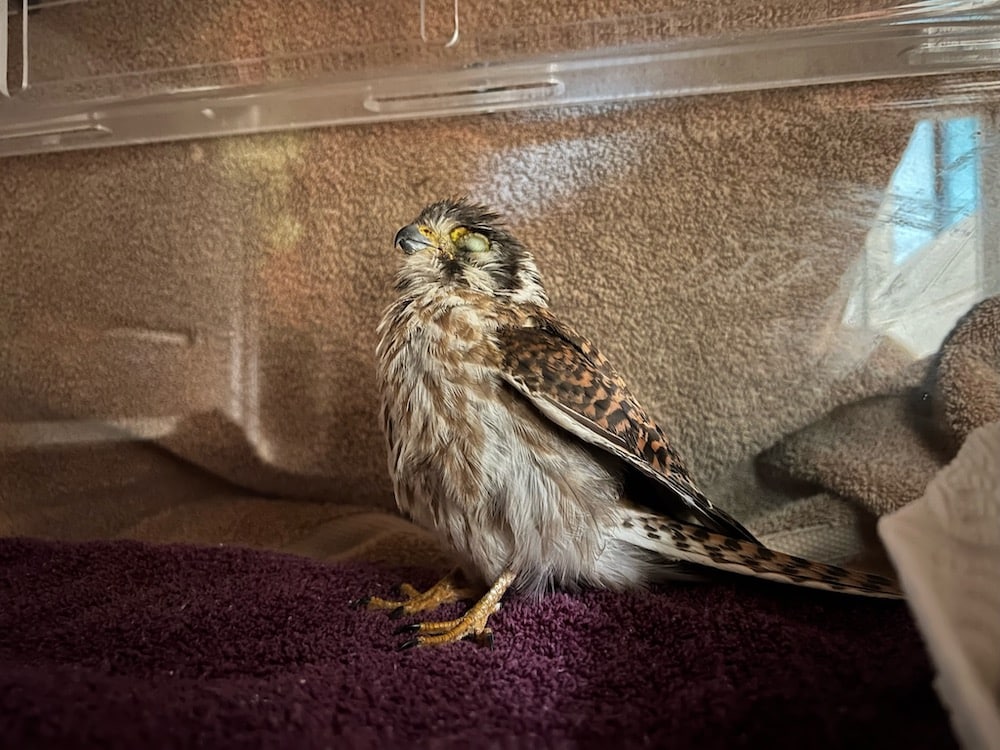 Hawks are one of several migratory bird species that are heading south for the winter and are passing through our area. They face many dangers during migration. Please, if you see an animal in distress, don't hesitate and offer assistance. By taking action, you have the opportunity to save a life and mitigate the suffering another living creature endures. If you are unsure of how to help, call the staff at the von Arx Wildlife Hospital for guidance at 239.262.2273.
Recent releases
A northern parula, an anhinga, a gopher tortoise, three laughing gulls, a barn swallow, two eastern cottontails, three marsh rabbits, two eastern harvest mice, a northern waterthrush, two Virginia opossums, a mourning dove and a burrowing owl were released this past week.
Opportunities to help
Visit the Conservancy website to view all of the amazing volunteer opportunities at the Conservancy of Southwest Florida. Get involved!
Volunteers help in many different capacities and are vital to the work accomplished saving injured, sick and orphaned wildlife. Dedicate one shift a week to help at the wildlife hospital and see how much good you can do with your time. Contact our volunteer office, your volunteer time, donations, and memberships are so important and allow us to continue our work to protect Southwest Florida's water, land, wildlife and future.
Joanna Fitzgerald is director of the von Arx Wildlife Hospital at the Conservancy of Southwest Florida, 1495 Smith Preserve Way, Naples, Florida 34102. Call 239-262-2273 or see conservancy.org