This barred owl was among the 113 animals admitted to the von Arx Wildlife Hospital at the Conservancy of Southwest Florida this past week.
The young barred owl was found in a yard near Corkscrew Swamp Sanctuary. The owl was dull but responsive to handling, emaciated, had blood around its mouth and on its feet, showed increased respiratory effort, and its feathers were tattered.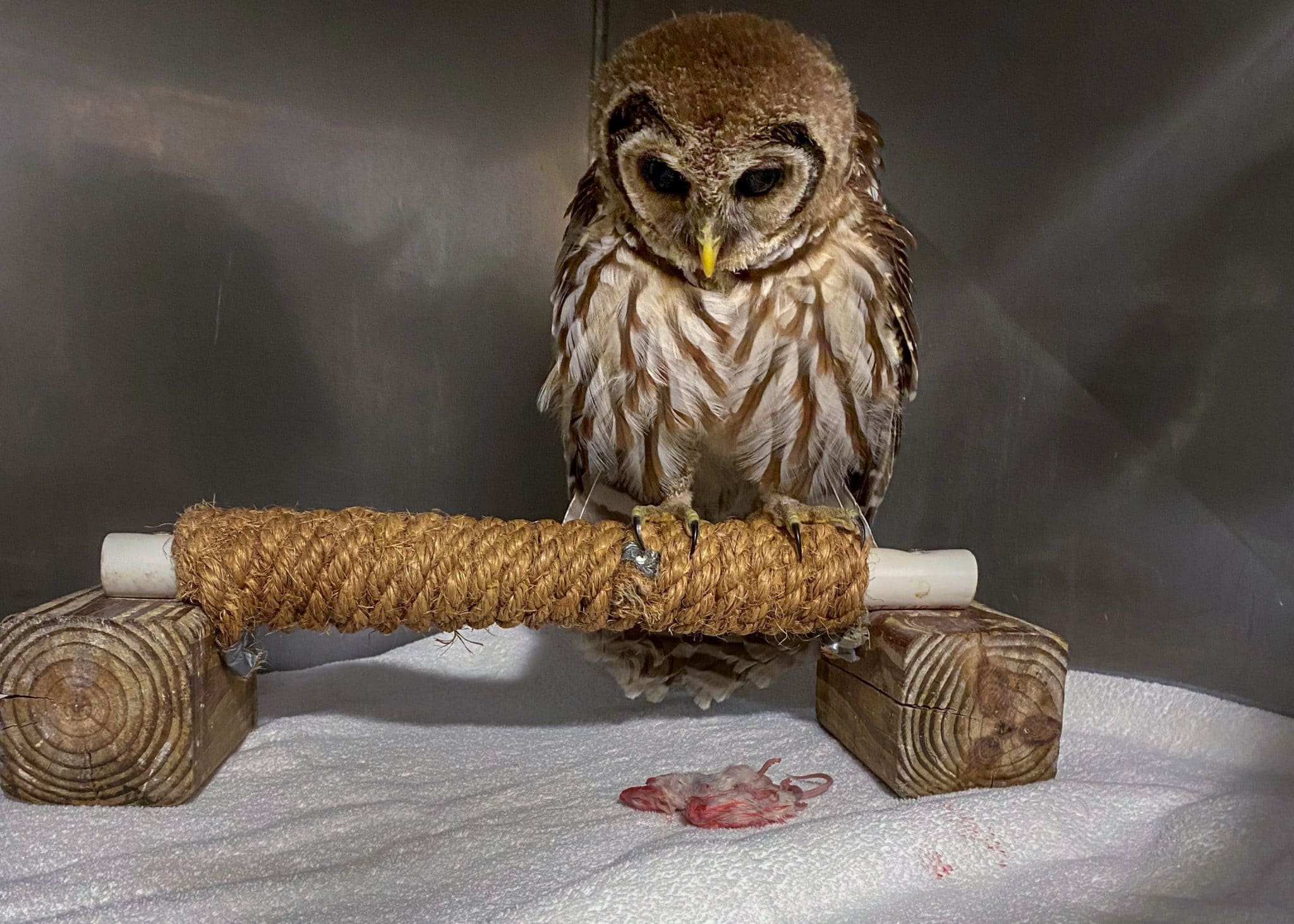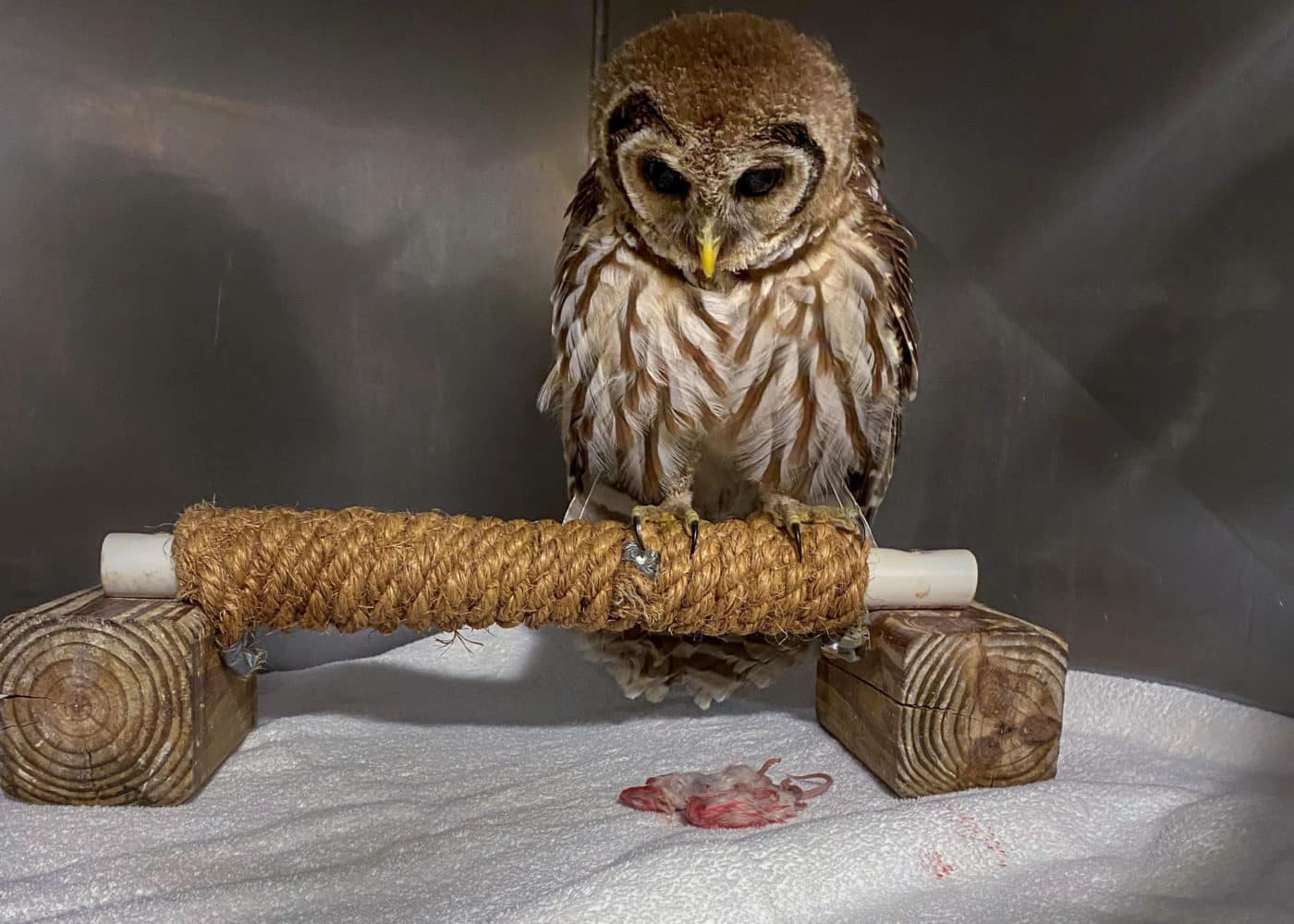 Staff administered electrolytes, and Chinese herbs and placed the owl on oxygen in a warmed ICU. Within two hours, the owl looked more alert and stronger; a second dose of electrolytes was given and staff offered a small piece of a protein source that the owl eagerly ate. Staff repeated the prescribed treatment plan later that evening as well.
The following morning, the owl was reactive and defensive. An antibiotic and vitamin K were added to the treatment plan. Because the owl was emaciated, a specialized diet was offered in small amounts to avoid refeeding syndrome, which can occur when food is introduced too quickly after a period of starvation or malnourishment. Refeeding syndrome can be fatal.
After two days in an ICU, the owl was moved to a slightly larger recovery enclosure in the bird room. The owl's strength increased daily. After several days of treatment, handling was minimized and its treatment plan was altered to once-a-day medication.
A red-shouldered hawk, a burrowing owl, and a broad-winged hawk were also admitted last week and their health concerns were similar to that of the owl. All received similar treatment protocols including vitamin K since ingestion of anticoagulant rodenticides was suspected in all of these cases. All these birds, except the red-shouldered hawk, have responded well to treatment and are recovering in the bird room. The red-shouldered hawk did not survive.
Second-generation anticoagulant rodenticide poisoning typically occurs when predatory birds such as owls, hawks, and eagles, and opportunistic foragers such as opossums, raccoons, and foxes eat dead or dying rodents that have consumed poison rodent bait. The indiscriminate use of second-generation anticoagulant rodenticides is resulting in the deaths of non-target species of wildlife.
Please explore all options including the use of live traps, exclusion methods, and proper sanitation when choosing a method of pest control.
Recent Releases
Two mourning doves, a red-bellied woodpecker, a gopher tortoise, two yellow-billed cuckoos, a pileated woodpecker, three eastern cottontails, a northern mockingbird, a yellow-bellied slider, three common grackles and an eastern screech owl were released this past week.
Annual Wildlife Baby Shower
The von Arx Wildlife Hospital is hosting our eighth annual Wildlife Baby Shower to raise awareness and support for the hospital's youngest, most delicate patients. The virtual Wildlife Hospital Baby Shower is Saturday, June 3. But you don't have to wait! There are multiple ways to participate right now.