A young raccoon and an osprey were among the eighty-one animals admitted to the von Arx Wildlife Hospital at the Conservancy of Southwest Florida this past week. Other admissions include an American white pelican, a northern gannet, a chicken turtle and three marsh rabbits.
Orphaned Raccoons Found in State Park
An orphaned raccoon arrived at the von Arx Wildlife hospital futilely reaching his paw through the wire mesh of a trap trying to free himself. A state park employee brought the young raccoon to the hospital to "give him a chance".
The raccoon was found struggling at a state park in North Naples and the park employee informed hospital staff that raccoons are being trapped and killed in the park because they are deemed "nuisance wildlife." A similar situation happened at the same park a month ago except in that instance three orphan raccoons were found clinging to a mangrove partially submerged in water.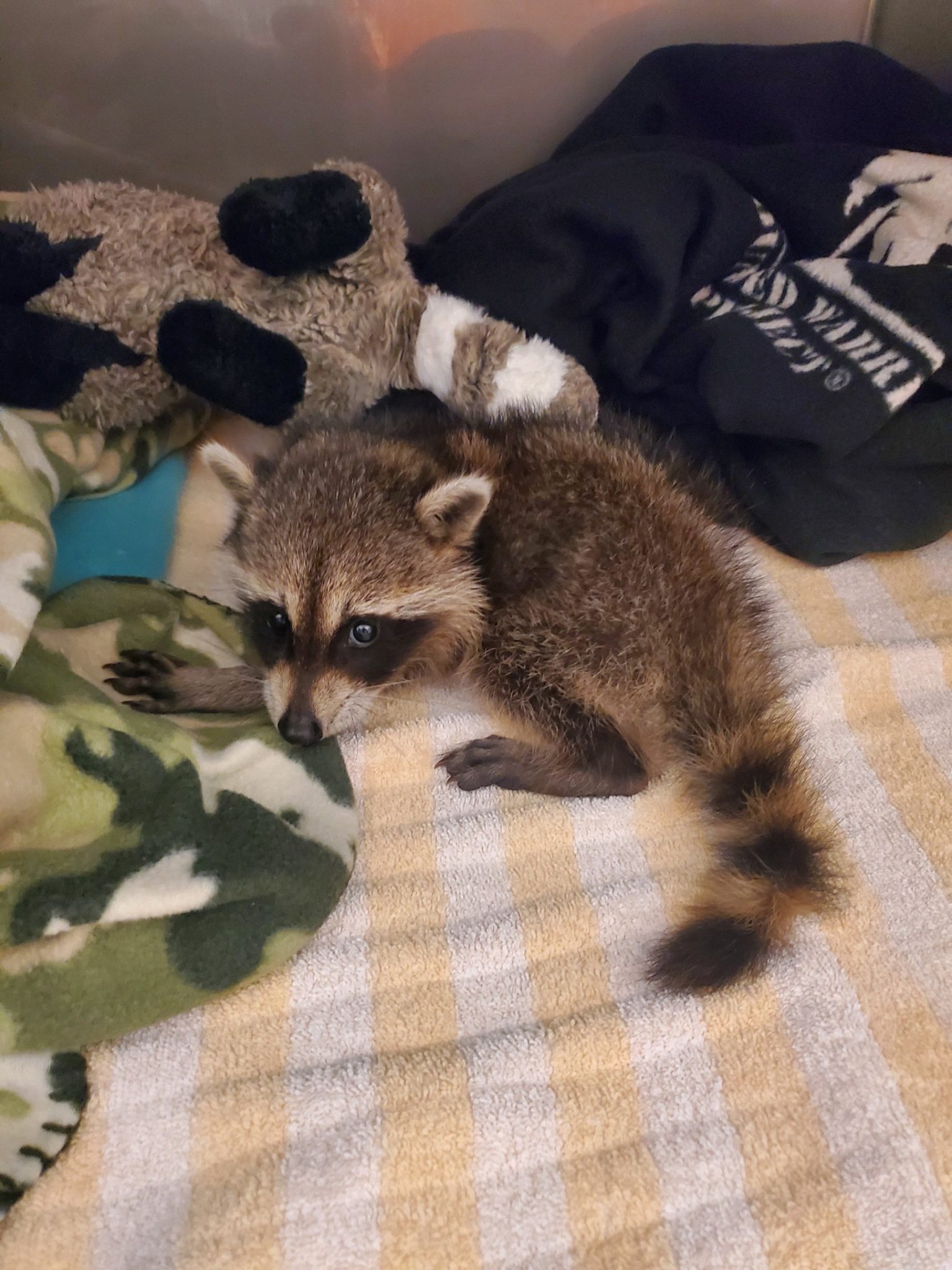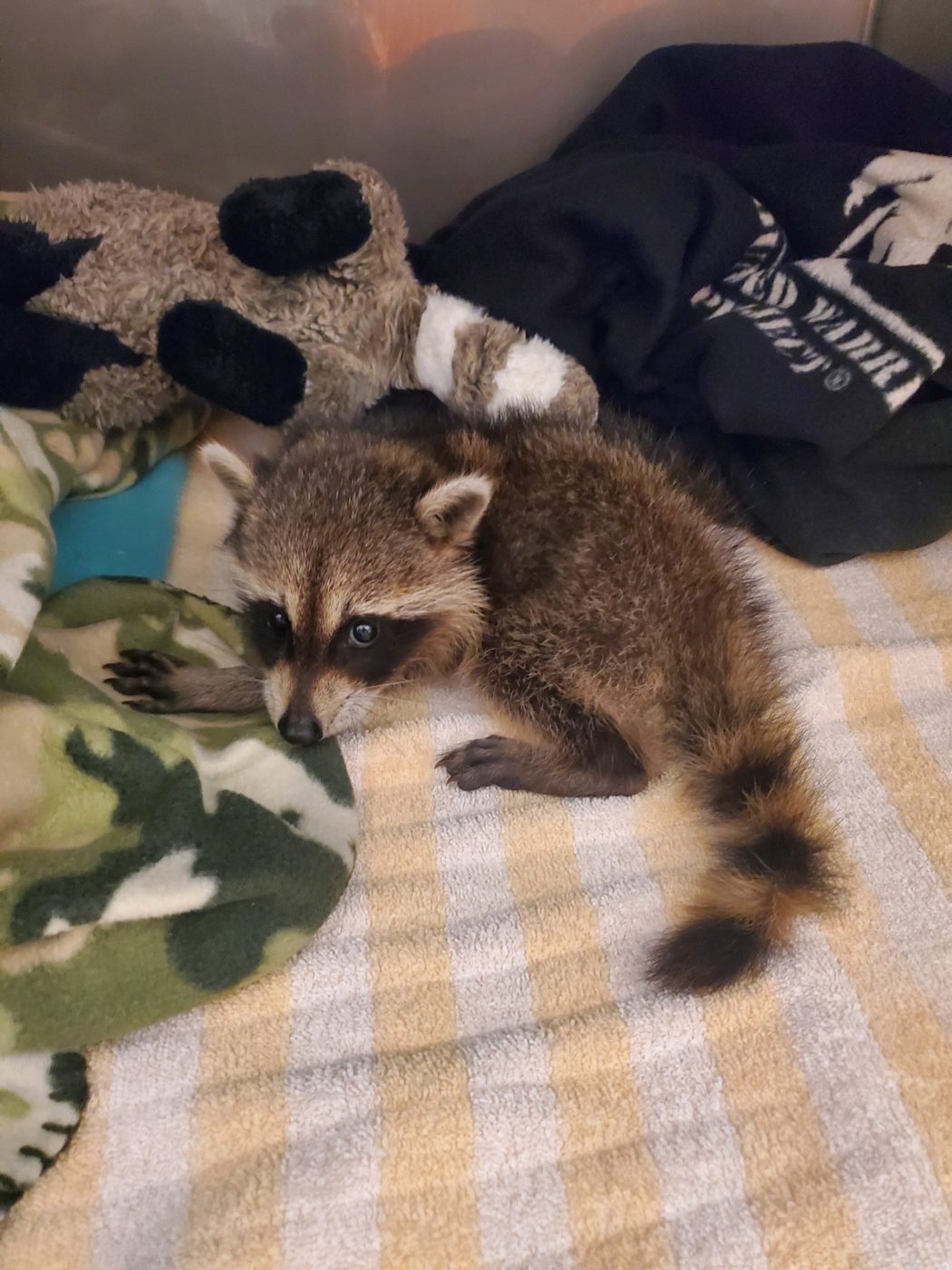 The litter of three raccoons and the single baby were all at the age where they were still nursing and completely reliant on their mothers for survival. The mother raccoons would have had enlarged nipples and teats indicating they were lactating females; killing these female raccoons left their babies to die.
The three raccoons and the single baby had much in common when they were rescued, but their stories had very different outcomes.
All of the raccoons arrived thin, dehydrated, and anemic. The three clinging to the mangrove were also wet and cold. All the babies needed supplemental heat and were placed in warmed animal intensive care units. The litter of three responded well to our treatment protocols with only one requiring medication for a more serious health issue. The three orphaned raccoons continue to thrive while receiving care at the wildlife hospital.
If you would like to donate heating pads for our orphaned mammals, please use this link to our Amazon Wishlist.
The single orphan admitted last week wasn't as fortunate. The baby was presented with multiple health issues and hospital staff established a treatment plan accordingly. The raccoon's condition was guarded because he was so debilitated and emaciated; hypoglycemia was a serious concern. The following day the baby raccoon seizured and died.
These situations were disheartening, first and foremost because of the suffering and loss of life that occurred.
The actions taken by the state park contradict information posted on the Florida Fish and Wildlife Conservation Commission website that states "removing or killing native wildlife to resolve conflict should be carefully considered and a plan should be in place prior to attempting to trap, with care taken to target the individual animal causing damage. Complete eradication of a native species from a property is not recommended and is generally an ineffective method to address conflict."
Despite educational signage, park visitors have created a dangerous situation by feeding wildlife which has cost, and continues to cost, numerous animals their lives. Please, never feed wildlife whether it is in your own back yard or when visiting a recreational area.
When visiting parks and similar settings, follow the rules regarding wildlife and encourage others to do the same. Do not feed wildlife; keep your distance and respect wild animals while enjoying them in their natural habitat.
An Underweight Osprey
Hospital staff answered a phone message regarding a bird that appeared injured on Marco Island.
After hospital staff asked probing questions, the caller revealed the bird was on her balcony and had been there for two days. The caller said she asked several people at the resort where she was staying for assistance, but no one knew what to do. When a photo was texted to the hospital cell phone, staff knew immediately that the osprey was in need of immediate professional care.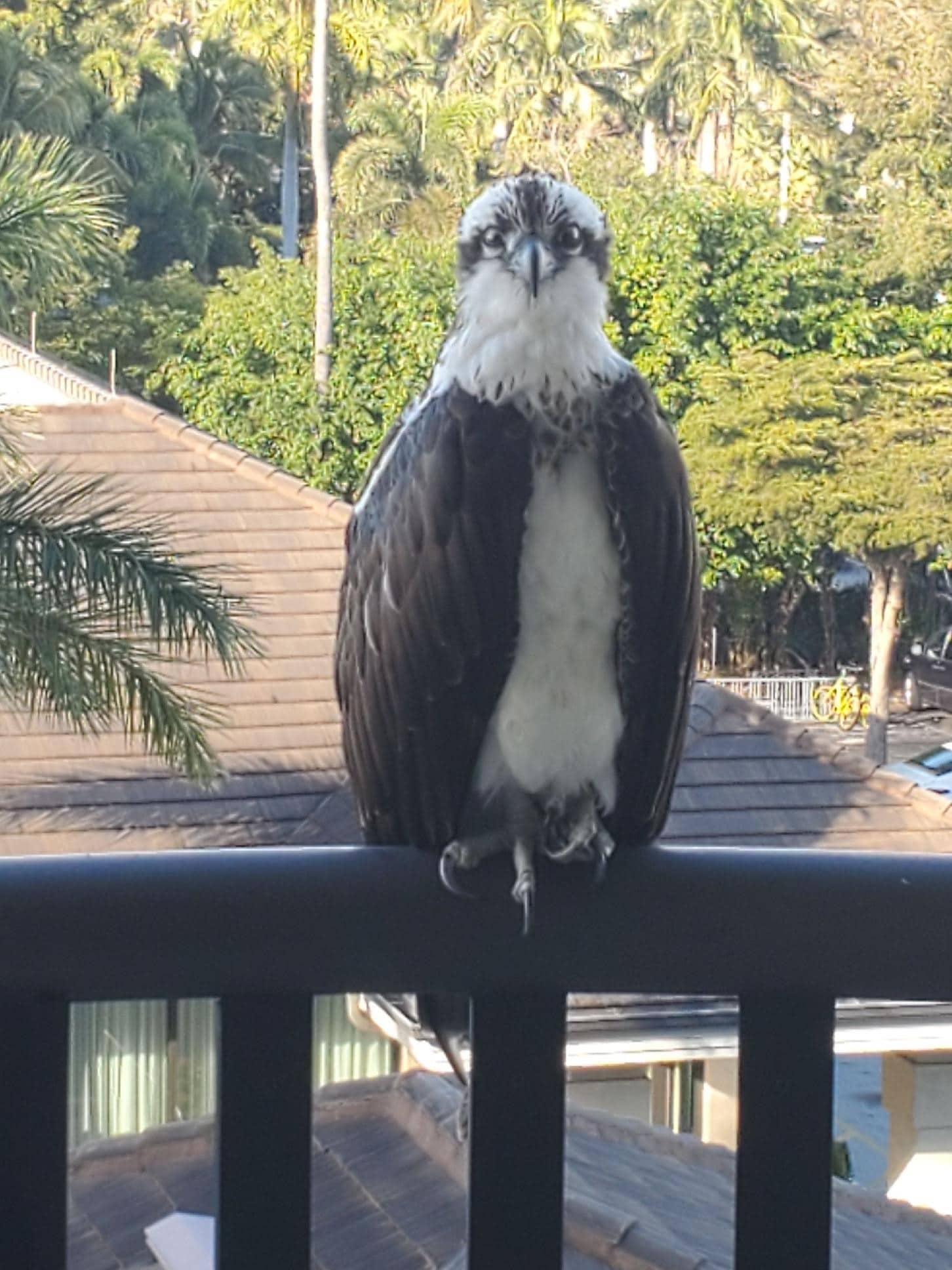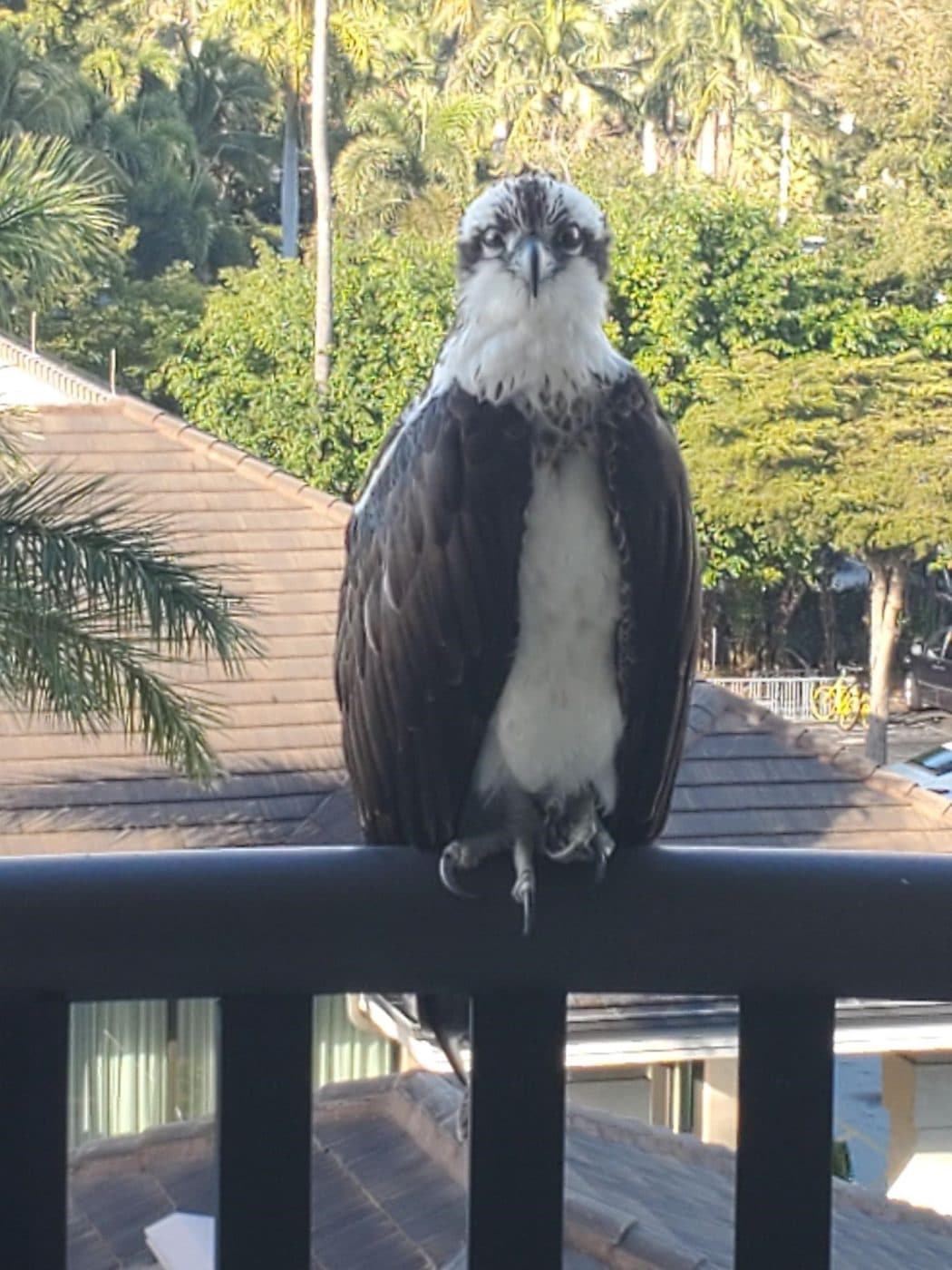 Critter Courier, Sharon Epple, responded to our call for assistance. Not only did she rescue the osprey, she also picked up an injured pelican reported by a beach worker who noticed the bird sitting in the same spot for two days.
The osprey was dull, weak and underweight when admitted. Staff placed the osprey on oxygen in a warmed animal intensive care unit to rest. A short time later staff conducted diagnostic tests and a blood test revealed the osprey's total protein was so low there was no way the osprey would recover. Euthanasia was the only humane treatment option available.
If you see an animal in what you believe to be an unusual situation, call the wildlife hospital staff for information. Staff can determine if the situation is one that has put an animal at risk and decide if intervention is required. The longer an animal goes without care, the less likely it is to make a full recovery.
We do appreciate everyone involved in this rescue, especially the woman staying at the resort. Even though she was in town participating in a wedding and unfamiliar with local wildlife, she took the time and continued to make calls until she was able to get the osprey help.
Recent Releases
Two red-shouldered hawks, ten brown pelicans, a laughing gull, three royal terns, two Virginia opossums, two grey squirrels, an eastern cottontail, a yellow-bellied slider and three mourning doves were released this past week.
Welcome Back
After a $5 million renovation and expansion, we are excited to welcome members and visitors back to our Nature Center campus. Please visit the Conservancy on Saturday, December 18th for our grand reopening. A special celebration has been planned showcasing new exhibits in the Susan and William Dalton Discovery Center and the John & Carol Walter Discovery Wing. Visit our website for more details.
Opportunities to Help
Visit the Conservancy's Facebook and Instagram to see additional stories about animals admitted to the von Arx Wildlife Hospital. If you are returning to Naples this season, also visit the Conservancy website to view all of the amazing volunteer opportunities at the Conservancy of Southwest Florida. There are many areas at the Conservancy that rely on volunteers and your volunteer time is vital in helping us continue our work to protect Southwest Florida's water, land, wildlife and future.
Joanna Fitzgerald is Director of the von Arx Wildlife Hospital at the Conservancy of Southwest Florida. Call 239-262-2273 or see conservancy.org