Please contact the wildlife hospital at 239-262-2273 for wildlife assistance.
Two grey squirrels and two gopher tortoises were among the fifty-two animals admitted to the von Arx Wildlife Hospital at the Conservancy of Southwest Florida this past week. Other admissions include a yellow-bellied sapsucker, two herring gulls, a common loon, a sanderling, a tricolored heron and two marsh rabbits.
A woman stopped at the Conservancy one morning to inquire about how our facility operates and to find out how we care for orphaned wildlife. Hospital staff explained our goal is to provide care to orphans until they are old enough to fend for themselves with the goal of releasing them into the wild. As the conversation progressed, the woman mentioned she had found two young squirrels and had been caring for them for two days because she didn't know where she could take them. Once she spoke to hospital staff, she was relieved there was a safe place where they would receive professional care. The woman went home and returned a short time later with the two orphaned squirrels.
The squirrels were responsive when handled and extremely scared. Both were thin, but otherwise in fair body condition with no obvious external injuries. Staff started the young squirrels on a dilute milk replacement formula specifically made for squirrels. The strength of the formula was slowly increased over several days to avoid causing digestive upset. The young squirrels were also offered a variety of solid food items to supplement the multiple formula feedings they were receiving throughout the day and night.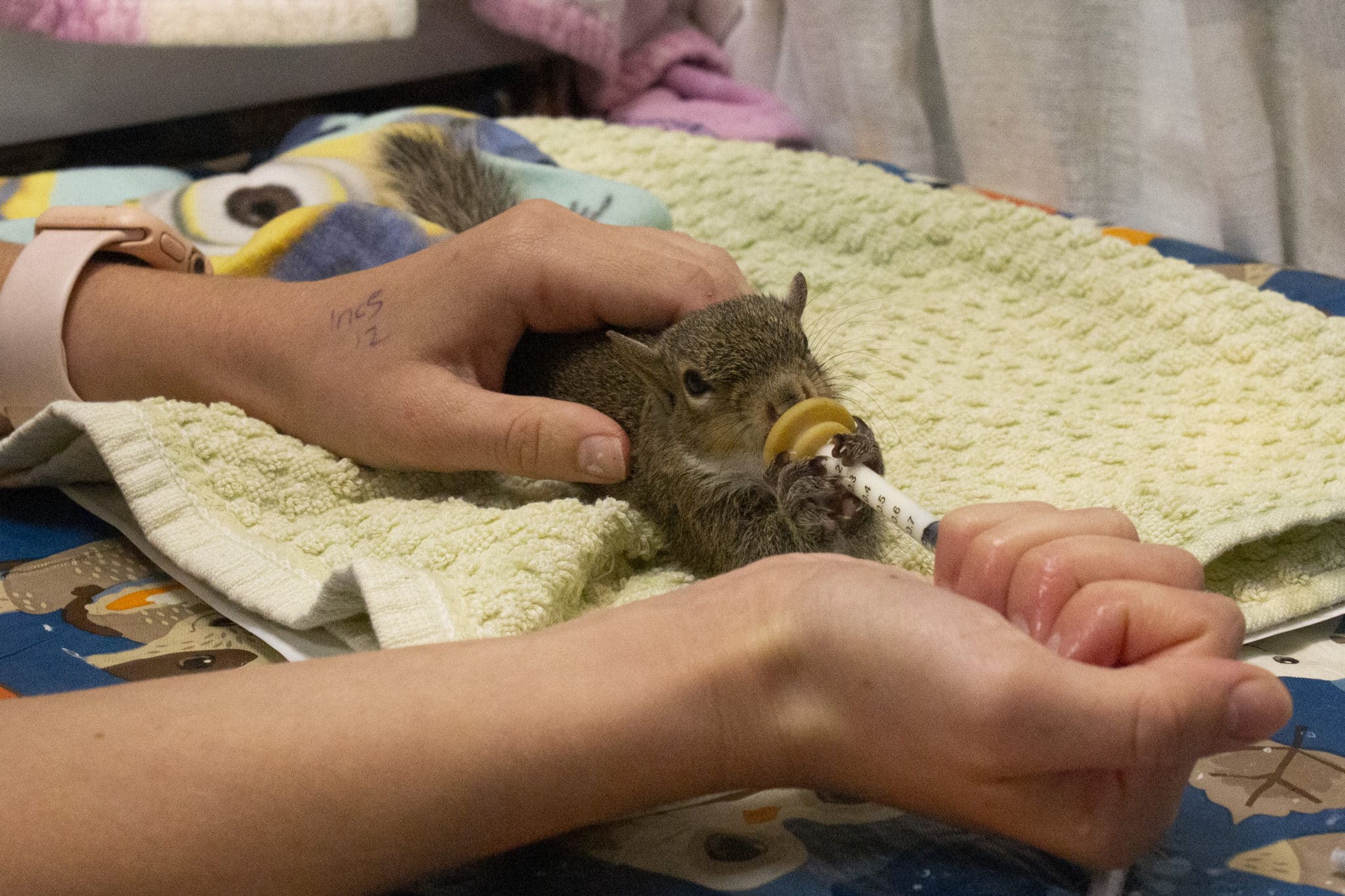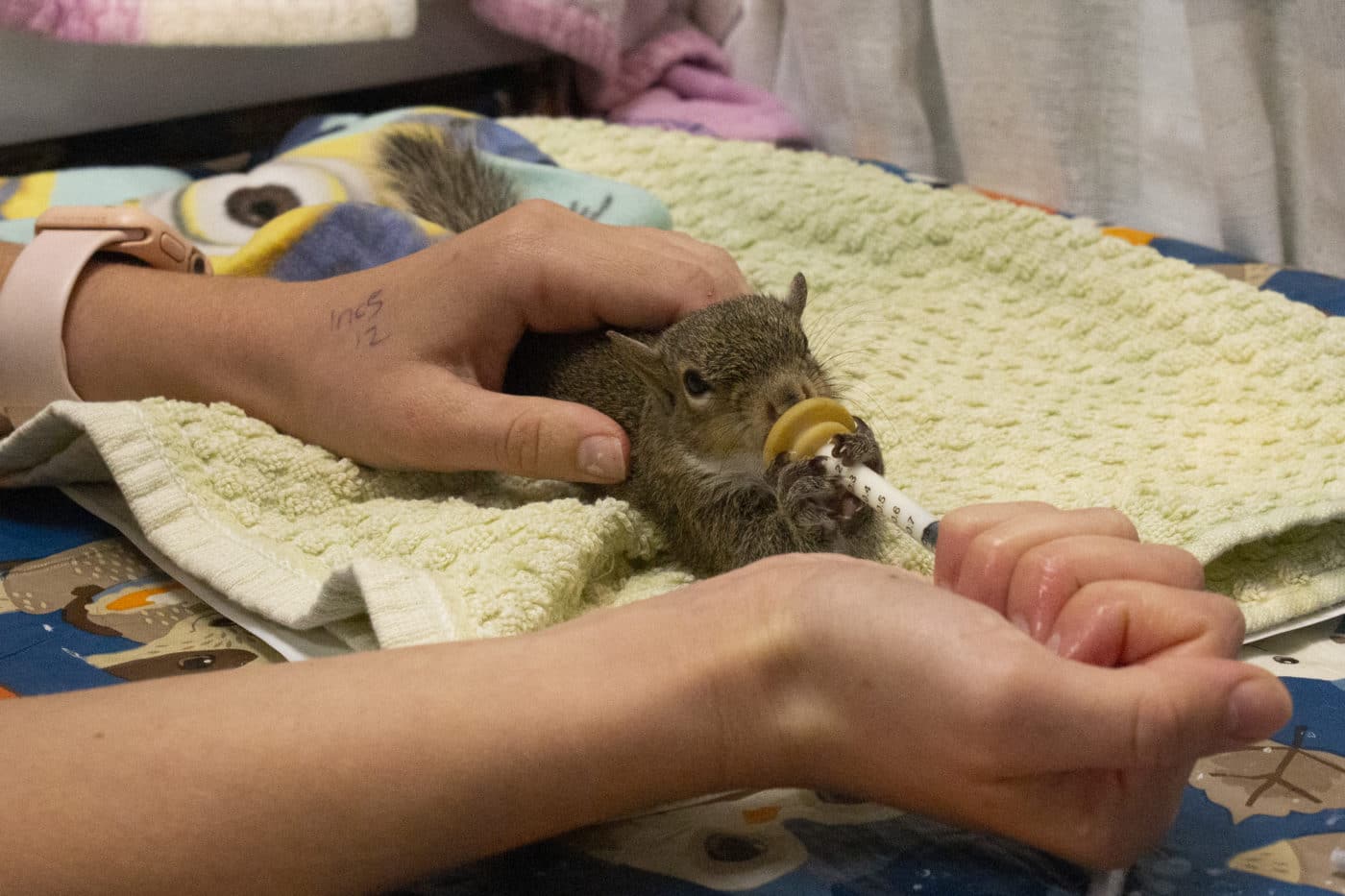 The squirrels continue to recover in the nursery at the von Arx Wildlife Hospital and will require care for several more weeks. Prior to release the young squirrels will spend time in an outdoor recovery enclosure where they will gain strength, acclimate to the outdoors and practice climbing and foraging for food.
Thankfully, the woman who rescued the squirrels cared enough to ensure the two young squirrels would receive professional care and did not attempt to care for them herself. All wild animals have very specific nutritional and husbandry requirements that are difficult to replicate in a captive situation. The milk replacement formula used at the wildlife hospital is made specifically for squirrels; using puppy or kitten milk replacement formula does not provide the proper nutrition baby squirrels require.
Please, if you find an animal you believe is injured, sick or orphaned, do not attempt to care for it yourself. Wild animals require care from professionals with experience and knowledge working with wildlife. Call our wildlife hospital as soon as possible. We will do everything we possibly can while keeping the animal's well-being our top priority.
Gopher Tortoises Endure Intense Injuries
** Please note that the following story and photo may be graphic for some of our viewers. View with caution. We share this photo to show how important it is to slow down and watch for tortoises while on the road. **
Von Arx Wildlife Hospital staff received a phone call from a man on Marco Island reporting an injured gopher tortoise near the Red Rooster. He could see the tortoise's intestines protruding from her shell. While he was on the phone speaking with our staff, a passerby overheard the conversation and mentioned there was another tortoise with similar injuries nearby behind the Publix on the corner of San Marco Road and South Barfield Drive. The caller was unable to transport the tortoises to our facility, but arranged for the tortoises to be contained in boxes and taken to City Hall where wildlife hospital Critter Courier volunteer, Holly Erker retrieved and brought them to the Conservancy for care.
One tortoise was unresponsive upon arrival to the wildlife hospital, her carapace and plastron sustained multiple fractures. Along with her internal organs being exposed, her head was limp and fully extended from her shell.
The second tortoise suffered similar injuries although he was slightly responsive when handled, one eye was open, the other bloody and closed. The tortoise was trying to move but exhibited paresis of his hind limbs. The tortoise's internal organs were protruding from a fracture in his crushed carapace. The only treatment option available for both tortoises was humane euthanasia.
Witnessing the pain and suffering these two tortoises experienced was heartbreaking for everyone involved. Having two tortoises fatally injured at the same location on the same day exemplified their daily struggle to survive in a world devastatingly altered by humans.
There are numerous gopher tortoise populations on Marco Island. When traveling on Marco Island, please remember to watch out for the tortoises. Maintain the posted speed limit while driving and always look under your car when you leave parking lots and driveways. Many tortoises will seek refuge from the hot sun in the shade provided by parked cars. If you are a Marco Island resident, raise awareness and educate others, especially our seasonal visitors, so they can help protect native wildlife while visiting our area.
If you see a tortoise attempting to cross a road, if possible, safely pull over and offer assistance. If you don't take immediate action, the likelihood that the tortoise will make it safely across the road is very low. There are situations when it may be too dangerous to stop and human safety must remain the top priority but often it is safe to pull over and offer assistance, it just takes someone who is willing to try.
If the tortoise is uninjured, place it out of danger in the direction it was headed. If the tortoise is injured, please bring it to the wildlife hospital for immediate medical assistance. Tortoises and turtles feel pain and suffer when injured; they deserve care, compassion and professional medical attention the same as any other injured animal.
WARNING GRAPHIC PHOTO BELOW!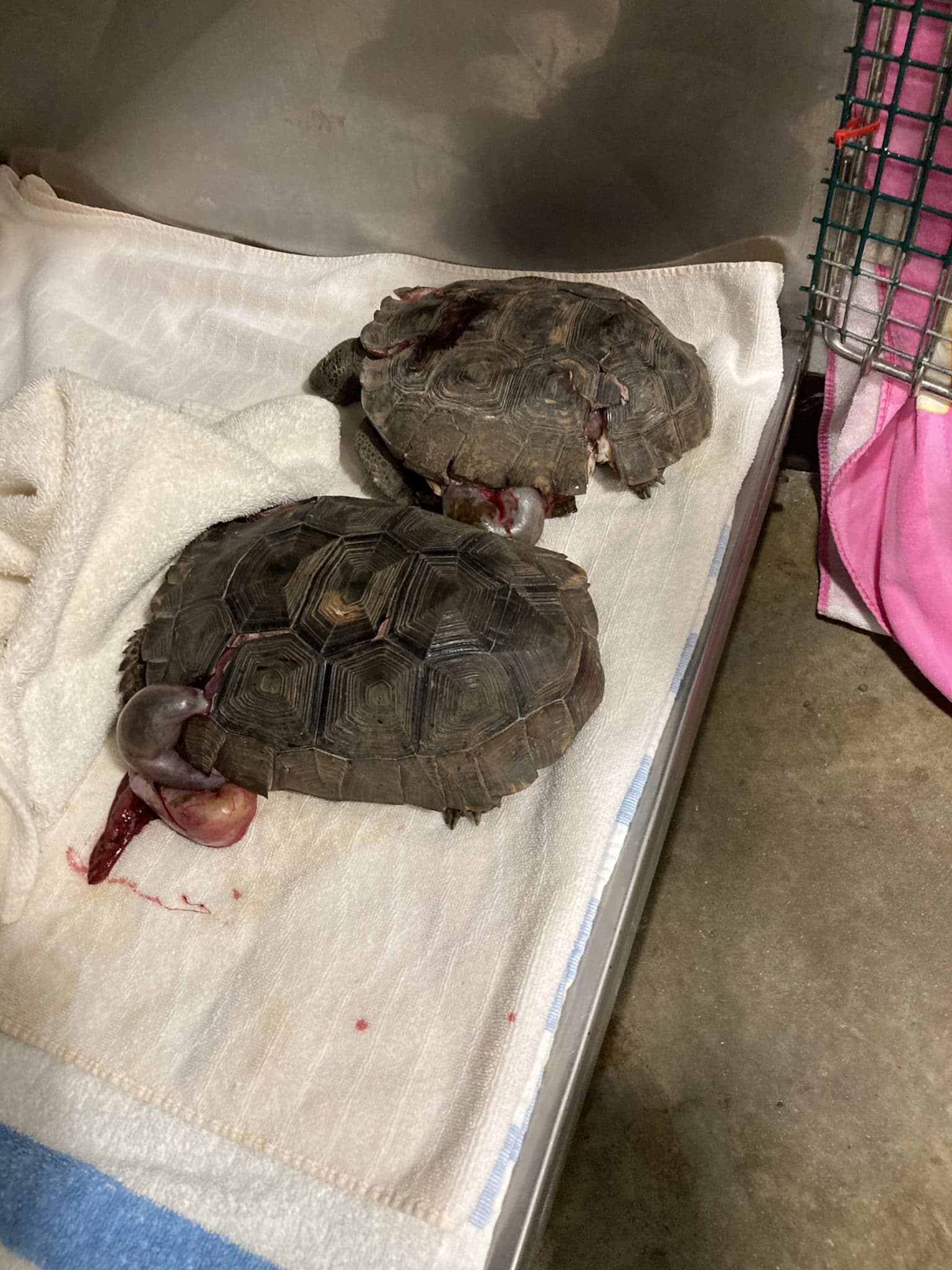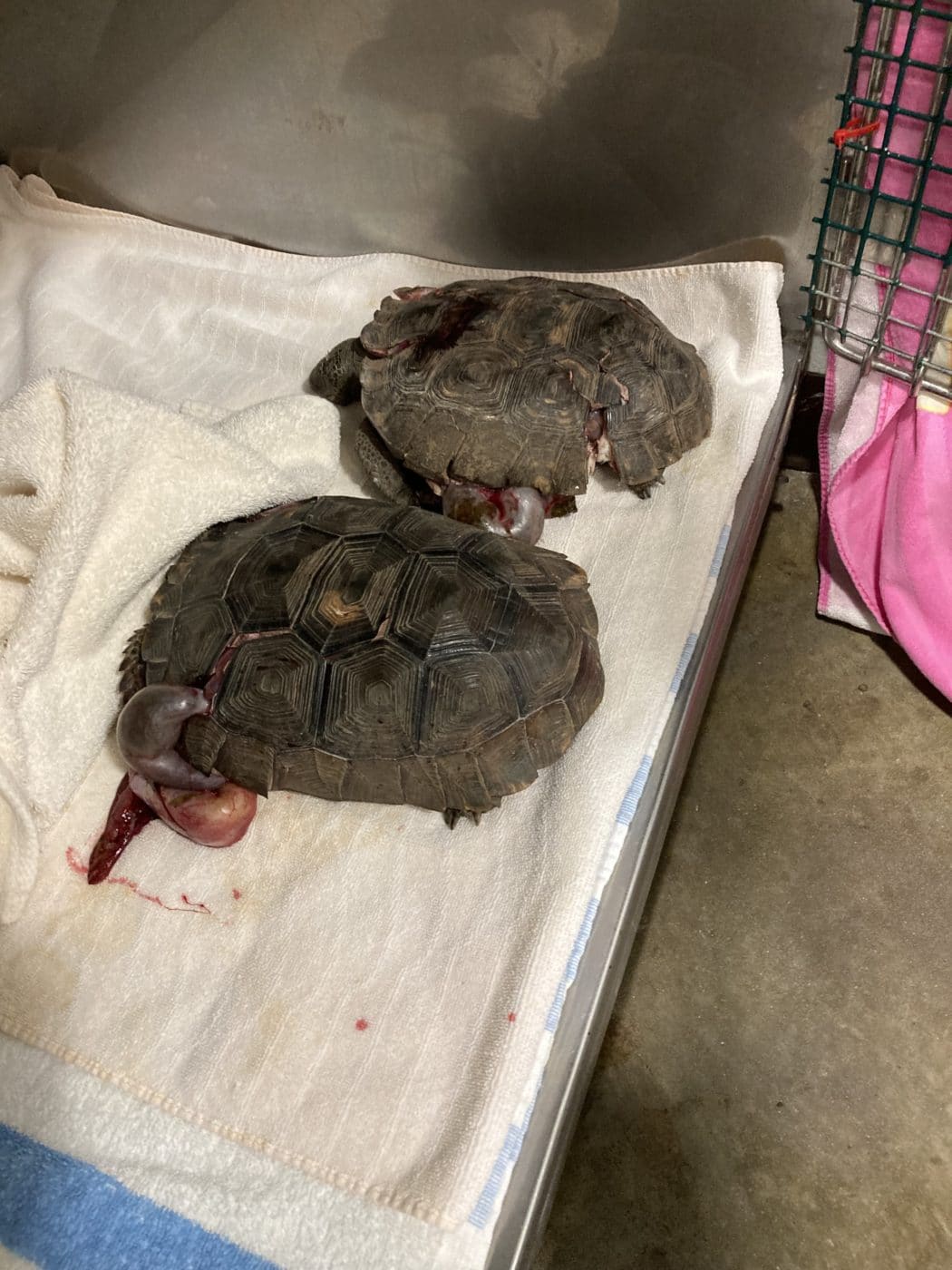 Recent Releases
A peninsula cooter, three eastern cottontails, a royal tern, a Florida red-bellied turtle, a red-shouldered hawk, a northern mockingbird, a Florida softshell turtle, a laughing gull and an osprey were released this past week.
Opportunities to Help
Please visit our website at www.conservancy.org to learn about the work done by staff and volunteers at the Conservancy of Southwest Florida. Get involved by volunteering your time, becoming a member at our Nature Center and/or sending in donations. The community is vital in helping us continue our work to protect Southwest Florida's water, land, wildlife and future.
Joanna Fitzgerald is Director of the von Arx Wildlife Hospital at the Conservancy of Southwest Florida. Call 239-262-2273 or see conservancy.org.