To promote better water management, the Conservancy works with stakeholders and decision-makers to ensure that stringent water management tools and best practices are in place and utilized.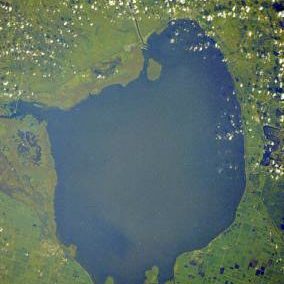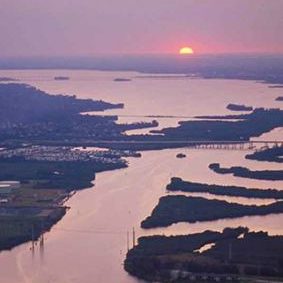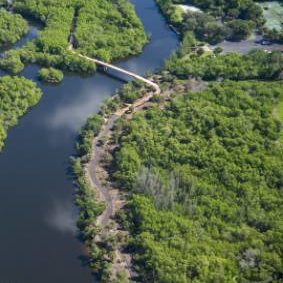 The Conservancy of Southwest Florida is dedicated to protecting Southwest Florida's water resources.  Abundant clean water is the foundation of our region's environment, quality of life, and economy.
Our very existence depends on water for everyday consumption, commerce, recreation, and the overall economic vitality of the region. Many of our natural treasures also rely on clean water - our beaches, native wildlife, marine life, sea grasses, mangroves, and plants.
Over 90 percent of Florida's drinking water supply is dependent on aquifers, underground groundwater storage areas that collect water that seeps from the surface. That means we also depend heavily on rainfall to replenish the aquifer system. While much of Florida gets potable water from the deep Floridan aquifer, Southwest Florida relies on a surficial aquifer system for drinking water supplies.
Surface waters and wetlands play a significant role in replenishing aquifer systems, and wetlands provide natural filtration of pollutants. Unfortunately, increasing development in urban and rural areas, drainage and filling of wetlands, mining and oil drilling activities, lax or unenforced regulations, stormwater runoff from urban and agricultural sources, over-allocation of consumptive use permits to industry activities, and a host of other pressures threaten Southwest Florida's water resources.
As Florida continues to grow, these issues cannot go unaddressed if the region is to have a sustainable supply of clean water for both our human population and the unique habitats, wildlife, and recreational opportunities which are enjoyed by current residents and visitors.
Water policy addresses the quality, quantity, timing, and distribution of water. In other words, we need the right amount of clean water — at the right times and equitably distributed — in order to sustain Southwest Florida's human population and natural systems.
To promote better water management, the Conservancy works with stakeholders and decision-makers to ensure that stringent water management tools and best practices are in place and utilized. Our policy positions are legally sound and based on the best-available science.
A guide to understanding the health of Southwest Florida's rivers, estuaries, and bays
Southwest Florida is home to some of the most unique habitats and natural resources in America, making it a top destination for ecotourism, scientific research, and recreational enjoyment. It also hosts some of Florida's most productive estuaries, and many species of plants, wildlife, and aquatic life rely on this area where freshwater meets saltwater. A mosaic of mangroves, freshwater wetlands, saltwater marshes, rivers, and streams intertwine with canals, coastal development, agriculture, and other human-influenced environments to create an interconnected system that is uniquely challenging to manage and preserve.
The beauty and productivity of Florida's coastal ecosystems are driving forces of the state's growth. Southwest Florida's economy, health, and quality of life depend on the condition of our waterways.
M
Number of Florida jobs that depend on tourism
$M
Estimated decrease in property values in Lee county attributed to water quality (2010-2013)
$B
Economic impact of the marine industry in the South Florida region, which employs 136,000 regionally
$B
Economic impact of the commercial fishing industry, which employs 123,000
ESTUARIES REPORT CARD: INTERACTIVE ELEMENTS
Conservancy Recommendations
Policy Maker Action Steps
interested in learning more? dive deep into the documents and resources on this topic and others by heading to the Policy Resource Center!
The Conservancy of Southwest Florida advocates for better stormwater management, treatment, and regulations to protect our region's water resources from stormwater runoff.
Stormwater runoff occurs when impervious surfaces like driveways, sidewalks, and streets prevent rain from naturally soaking (infiltrating) back into the ground.
This runoff picks up debris, chemicals, insecticides, fertilizers, dirt, pet waste, and other pollutants as it flows into a storm sewer system or directly to rivers, wetlands, or coastal waters. Any water which enters a storm sewer system without first being treated by a Best Management Practice (BMP), such as a detention or retention pond, swale, raingarden, or other BMP, can carry pollutants directly into waters we use for swimming, fishing, and consumption.
Moreover, there are times when design flaws, changing precipitation patterns, and increased pollutant loading make these BMPs insufficient to meet the treatment needs of stormwater runoff.
When polluted stormwater enters our drinking water resources, it affects human health and taxpayers' pocketbooks by increasing treatment costs for potable water supplies. Contaminated stormwater can also carry bacteria to beaches or other swimming areas, impacting human health, marine life, and the safety of our shores.
Stormwater also transports excess nutrients like nitrogen or phosphorus from lawns, agricultural areas, and golf courses which can stimulate harmful algal blooms (HABs). HABs degrade water quality by releasing toxins into the water and lowering levels of dissolved oxygen, which leads to loss of sea-grasses, fish kills, and catastrophic effects to aquatic ecosystems. Some HABs are toxic to humans as well. Freshwater cyanobacteria (blue-green algae) can produce toxins that affect the liver, skin, and nervous system.
Red tide blooms that occur in the Gulf of Mexico can also be exacerbated by nutrient-laden stormwater runoff. Red tide can cause respiratory issues for some beachgoers and has been linked to fish kills and manatee deaths.
The Conservancy of Southwest Florida advocates for better stormwater management, treatment, and regulations to protect our region's water resources from untreated stormwater runoff.
Locally, the Conservancy advocates that new and existing developments be required to utilize sufficient mechanisms of stormwater treatment in order to prevent exacerbation of current water quality problems or the creation of new ones. At the state level, the Conservancy has been involved in the development of updated statewide stormwater rules, which have already been implemented by several cities and counties.
Many of Florida's waterways do not meet water quality standards, and nutrient pollution is one of the state's biggest issues. Nutrient pollution — excess nitrogen and phosphorous — can come from many different sources, including untreated sewage, leaking septic tanks, inadequately treated stormwater, and animal waste. Nutrient pollution can also come from the improper application of fertilizer either on agricultural lands or even from our own backyards.
One of the lessons learned from the 2018 summer of toxic algae is that water quality impacts our environment, economy, and quality of life. We know there is no single solution to fix our complex water quality problems. Indeed, water quality can be improved when we come together to support long-term projects, such as Everglades Restoration, and shorter-term solutions, such as the acquisition of conservation lands that protect the water supply and water quality.
The public continues to ask if there is an immediate, simple, and cost-effective way to address our water woes. Fortunately, the answer is yes — enactment of strong and effective local fertilizer ordinances, which have already been implemented in over 90 counties and cities, including the City of Marco Island and the City of Naples. This can prevent excess nutrients from polluting our water supply.
Fertilizers used to keep our lawns green have the same effect on algae species in our waterways—they help them grow. Excess nutrients in the water can have catastrophic effects on our delicate marine life. The intensified algal blooms produced from nutrient-enriched waters can monopolize available oxygen in an aquatic ecosystem, resulting in fish kills and the demise of essential seagrasses that act as a nursery and food source for many fish and wildlife species. These imbalances can have detrimental effects on several species upstream in the food chain and have dangerous consequences for entire ecosystems.
Some algae blooms can also be toxic, posing threats to both our seafood industry and the health of Floridians and their environment. Red tide is one such type of algae whose blooms have been documented to intensify and lengthen with the presence of excess nutrients in our water.
Creating a program to educate on these issues and implementing fertilizer ordinances that limit the amount of nutrients entering our ground and surface waters is one of the most important steps a community can undertake to protect its water quality and quality of life.
The Conservancy of Southwest Florida has worked with several communities to adopt stringent protective ordinances and has also worked to educate Southwest Florida about the importance of such measures. Most recently, the Conservancy was a proud advocate for updates to the City of Naples fertilizer ordinance. We advocated for an ordinance that included rainy season blackouts and regulations for fertilizer contents and methods of application. We were happy to see the court upheld the City's efforts to protect its waters when challenged by industry.
Many municipalities in our five-county area have adopted a good set of practices to minimize fertilizer pollution — some better than others. The Conservancy can provide a draft ordinance for any city or county to use in order to protect their water quality.
The Conservancy will continue its efforts to promote strong ordinances to keep our waters clean.
HELP LIMIT NUTRIENT POLLUTION FROM IMPROPER FERTILIZER APPLICATION:
Refrain from applying before expected rain, flood, tropical storm, hurricane event, or during the rainy season (June 1-September 30) when frequent rain is expected. These events allow fertilizer to be picked up in the stormwater runoff or leach more quickly into the groundwater resources.
Limit your yard's need for fertilizer or other chemical applications by choosing the right plant for the right place and utilizing native landscaping. Florida Yards and Neighborhoods Program provides a good model for these efforts.
Look for a fertilizer product that contains no less than 50% slow-release nitrogen (N), as well as 0% phosphorous (P). Many Southwest Florida soils have phosphorous already present, so additional phosphorous may not be needed. A slow release product will help ensure that the nutrients aren't washed away quickly at the next rain event.
Don't apply more than 4 lbs. of nitrogen (N) per 1,000 square feet per year. Many municipalities also have an ordinance that stipulates how much nitrogen (N) can be applied per application. Try this survey from Lee County to evaluate your lawn's exact fertilizer needs. Consider that if you use reclaimed water that these waters typically already contain a high level of nutrients.
Don't apply fertilizer within 10 feet of a water body, pond, wetland, or canal. Use a deflector shield on your applicator to limit the chance that fertilizer ends up directly in the water body.
If fertilizer is spilled, don't rinse away into the storm drains, streets, or driveways. Pick up the fertilizer instead. Sources of natural nutrients such as grass clippings should be swept back onto lawns for disposal and decomposition instead of onto the street or into storm drains.
Ask your lawn care provider or your homeowner's association to implement these Southwest Florida-friendly practices.
interested in learning more? dive deep into the documents and resources on this topic and others by heading to the Policy Resource Center!
Wetland ecosystems are essential to our water quality, water supply, storm resilience, quality of life – and they support a diversity of plants and animals.
Update: January 14, 2021
Earthjustice files suit on behalf of Conservancy of Southwest Florida and our partners to protect wetlands throughout Florida. The complaint was filed January 14, 2021 in the United States District Court for the District of Columbia.
The Conservancy of Southwest Florida has been working to protect our wetlands for over 50 years. Our mission was seeded in 1964 when we worked to stop a proposal that would have destroyed Rookery Bay.
Today, we face continued threats, as Florida is now the third most populous state in the union. Southwest Florida is experiencing much of that growth directly and is a hotspot of wetland loss in the nation.
Wetlands are 'nature's kidneys' — naturally cleansing our water.
Wetlands store rainwater (over 1 million gallons of water per acre!) and reduce flooding in urban areas.
Wetlands help recharge our aquifers — where 90 percent of Floridians get their drinking water.
Maintaining intact wetland ecosystems is one of the foundations for our economy. About 1.4 million jobs are supported by tourism in Florida, and loss in water quantity and quality can negatively impact the state's economy.
What is "404 assumption"?
Typically, development proposals are reviewed and permitted by local, state, and federal levels. With assumption, the federal agency review would largely be removed.
On August 20, 2020, Florida asked the US Environmental Protection Agency to assume the Clean Water Act 404 "dredge and fill" permitting program. This would mean that the Florida Department of Environmental Protection would take over the central federal role in permitting destructive wetland development projects.
Such a transfer will fast-track and expedite the development of Florida's most treasured landscapes.
Removing the federal agency from the process means removing protective laws from consideration. It removes the checks and balances we need in overseeing requests for new developments, new roadways, and new mines.
Though the Army Corps of Engineers — which is the major federal entity currently responsible for wetland permits — certainly does not have a perfect record in denying bad projects, the federal players have produced more positive outcomes than the state agencies.
For example:
In 2011, the FDEP permitted nearly 10,000 acres of new mining impacts in Lee and Collier counties. At the same time, the Army Corps announced that a full investigation of these impacts was necessary due to impacts to sensitive lands, wildlife habitat, and groundwater supplies. As a result, these mine applications were withdrawn or greatly reduced their proposed impacts.
In 2002 the state of Florida permitted a large, manmade drainage ditch as part of a proposed residential development within the Cocohatchee wetland system, which hydrates the Audubon Corkscrew Sanctuary, home to endangered Florida panthers and wood storks. However, the Corps denied the project, citing inappropriate impacts to wetlands. While the project was ultimately litigated and constructed, action taken by the Corps resulted in a much-improved project and better result for the environment and for Corkscrew.
Further, Florida has neither the expertise nor the workload capacity to take on the federal responsibilities. This restricted capacity will impact the robustness of review that projects receive.
interested in learning more? dive deep into the documents and resources on this topic and others by heading to the Policy Resource Center!
Per the federal Clean Water Act (CWA), Florida is required to have a set of water quality standards for its surface waters to ensure that waterways can support the use for which they are designated, such as swimming, fishing, or drinking.
FLORIDA'S DESIGNATED USES INCLUDE FIVE DIFFERENT CLASSES:
Class I - Potable (Drinking) Water
Class II - Shellfish Harvesting
Class III - Fishing and Swimming
Class III-Limited - Fish Consumption; Recreation or Limited Recreation; and/or Propagation and Maintenance of a Limited Population of Fish and Wildlife
Class IV - Agriculture
Class V - Industrial
The regulation of water quality standards is administered by the Florida Department of Environmental Protection (DEP) as delegated by the Environmental Protection Agency (EPA) through the CWA. Limits are set for various pollutants, such as nutrients (nitrogen and phosphorus), metals, bacteria, etc., in order to maintain levels that are safe for human consumption/contact, aquatic life, and vegetation.
The most prevalent pollutants in Florida are nutrients and mercury. Nutrient pollution—excess nitrogen and phosphorous—can come from many different sources, including untreated sewage, leaking septic tanks, inadequately treated stormwater, and animal waste. Nutrient pollution can also come from the improper application of fertilizer either on agricultural lands or even from our own backyards.
If a water body does not meet its applicable water quality standard(s) for any type of pollutant, DEP is required to develop what is known as a Total Maximum Daily Load (TMDL), a set of regulatory standards for the numeric limits on the amount of pollutant loading allowed within the "impaired' water body.
After developing the TMDL, the implementation of regulations to reach the prescribed pollutant limits is driven by a process known as a Basin Management Action Plan (BMAP), which assigns responsibility for reducing pollutants to counties, cities, and other municipalities. DEP also requires nonpoint source polluters (like agricultural operations) to implement Best Management Practices (BMP's) to reduce their contribution to the impairment.
Unfortunately, BMP's are not always effective to control nonpoint source pollution, and more needs to be done to ensure the BMP's are working successfully — both in urban and agricultural areas.
The Conservancy of Southwest Florida is involved at all levels of these processes — from identifying polluted water bodies to ensuring that the TMDL limits and the BMAP implementation are effective in cleaning up and restoring water bodies in a timely manner.
We continue to advocate for adequate sampling of water bodies, more stringent BMPs with effective enforcement, and controlling pollution at the source in order to avoid the more costly and time-consuming clean-up and restoration required after a water body has become impaired.
The Conservancy works to ensure the Total Maximum Daily Loads (TMDLs) are sufficiently stringent and that the Basin Management Action Plans (BMAPs) are updated regularly with the most recent data and information for restoring the water body back to a healthy state. 
interested in learning more? dive deep into the documents and resources on this topic and others by heading to the Policy Resource Center!