A long, long time ago in an ocean far, far away, R2D2 returned back to the place of her birth – Keewaydin Island in Naples, Florida.
Conservancy biologists first encountered R2D2 in the summer of 2003 when she came ashore to nest on Keewaydin Island.  At that time, she was given her first set of identification tags consisting of two flipper tags – KYT137 and KYT136. That year, we saw her come up to nest twice. Her offspring did great that year; in fact, around 90 percent of her eggs hatched, resulting in 183 hatchlings making their way into the Gulf of Mexico.  
Then, she disappeared into the blue abyss and we never saw her again until 2010. That year, we saw her lay two nests and approximately 157 little hatchlings made it to the ocean.
In 2009, Dave Addison, from the Conservancy of Southwest Florida, and Dr. Katherine Mansfield, an Affiliate Faculty at Florida Atlantic University, embarked on a five-year voyage to satellite tag a suite of inter-season re-migrant turtles. The purpose was to help us identify their foraging areas and determine if they return to the same locations using the same general migratory routes from nesting season to nesting season.
In 2010, KYT137/KYT136 received her first satellite tag thanks to the generosity of Donald and Ruth Campbell. They christened her R2D2, since in 2009 they named another turtle DR for Donald and Ruth. So KYT137/KYT136, being their second satellite turtle, became R2D2 in their honor.
We found out from her satellite track that after nesting on Keewaydin Island in 2010, R2D2 meandered up the Gulf Coast and seemed to be foraging about 17 kilometers northwest of New Port Richie, Florida. Her little antennae managed to transmit for 119 days before falling off and sinking into the sea.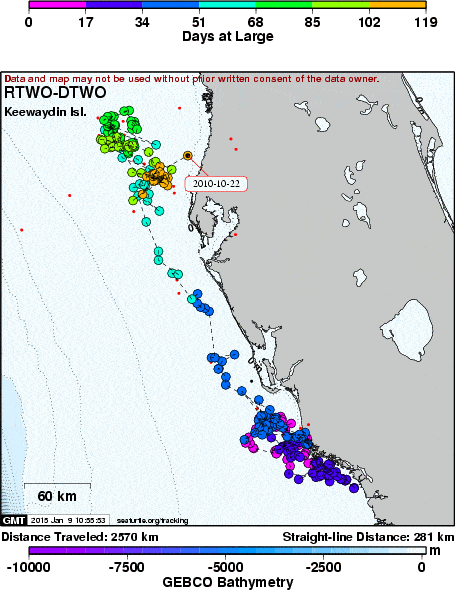 We encountered R2D2 again in 2012, still sporting her ID tags. She laid five nests and about 85 percent of her eggs hatched.  However, only 149 hatchlings managed to scramble into the Gulf. One nest washed out, never to be seen again; two nests were inundated when they hatched, causing a lot of mortality; and another nest was totally predated. In 2012, she got another satellite tag, which made R2D2 resemble something out of the Jetsons with that antenna attached to her back. Once again, she went up the coast to her seemingly favorite diner offshore of New Port Richie, Florida. She managed to keep her satellite tag on for 441 days before it fell off and never transmitted again.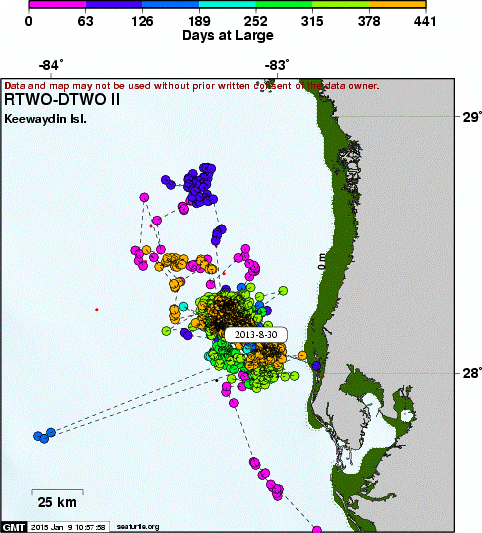 R2D2 only disappeared for four years this time and was back nesting on Keewaydin Island in 2017. This year, we decided to give her a break from us pesky humans and leave her to return to the Gulf without any further attachments. That year, we saw her nest two times, but unfortunately, these nests were completely predated by coyotes.
However, in 2022, when she returned to Keewaydin Island once again, she didn't escape our notice.  Simona Cerriani, a research scientist for the FWC marine turtle program, was looking for a sea turtle that had been satellite tagged multiple times to see if there is long-term fidelity to foraging sites. So, in collaboration with FWC, Conservancy biologists found Simona a candidate – R2D2.
Once R2D2 had her new satellite tag attached, she hit the Gulf at warp speed and is still transmitting today. We managed to spot her again this year when she returned to nest again, complete with her out-of-this-world satellite tag proudly standing up from the glued mount on her carapace. We will just have to see if she makes her way up the Gulf Coast to her favorite eatery. So stay tuned!