A raccoon and two eastern cottontails were among the fifty-three animals admitted to the von Arx Wildlife Hospital at the Conservancy of Southwest Florida this past week. Other admissions include a barred owl, an American white pelican, a wood stork, a crested caracara, a great blue heron, seven gopher tortoises and a grey squirrel.
Raccoon Family Found in Boat
In mid-November, a charter boat operator in Cape Coral, who had been non-operational since Hurricane Ian, went to move his boat to get it ready for business. The boat owner didn't know that a mother raccoon had made a nest in the hull of the boat while it was out of commission.
When he moved the boat, the raccoon got spooked, ran from the boat and was killed by a car.
The boat owner managed to live trap one of her kits and took it to CROW in Ft. Myers. CROW transferred the orphan to our facility because they are still not working at full capacity.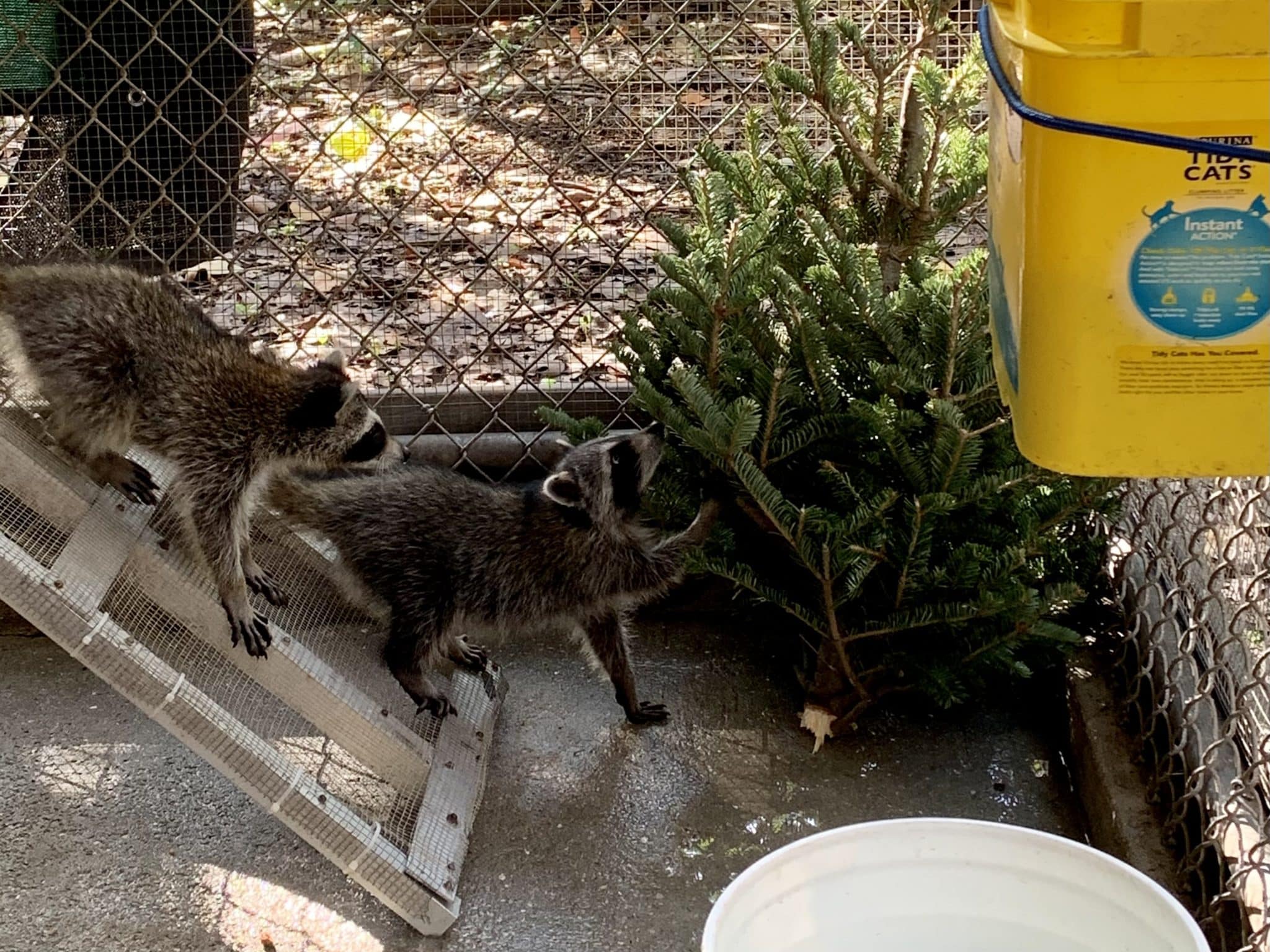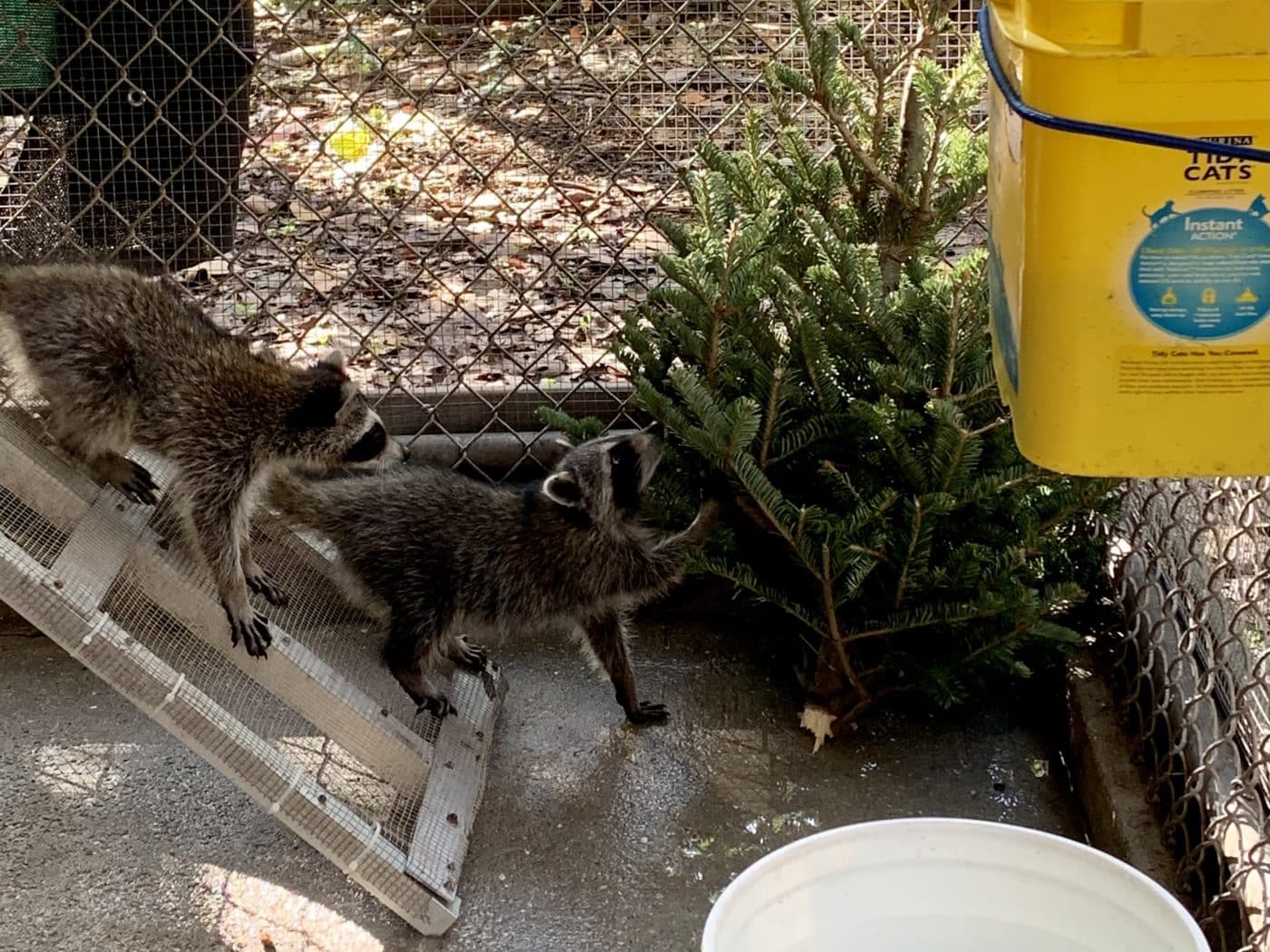 The raccoon kit was stressed and frightened, but otherwise was in good condition when admitted.
Meanwhile, back at the boat, the owner continued to try to live trap the second raccoon kit, but was having no luck. Von Arx Wildlife Hospital staff noticed that of all the food items offered to the orphan raccoon, he really only wanted to eat smelt.
Staff contacted the boat owner and told him to try baiting the live trap with fish. The fish worked and that night he caught the second raccoon orphan, transferred her to CROW who then transferred her to our facility.
The two kits will be raised at the von Arx Wildlife Hospital until they are old enough to fend for themselves in the wild. Hospital staff are incredibly grateful the boat owner was so empathetic and determined to do right by the raccoon family.
Raccoons, squirrels and various other species of wildlife will often nest anywhere that is quiet and dark – the charter boat was unused for many weeks; this created the perfect nest site for the mother raccoon. It was just a very unfortunate circumstance because the boat owner had no idea the raccoon was there and he truly meant no harm when he started working on the boat.
If you discover a situation where a wild animal is nesting in an undesirable spot, please know there are humane ways to encourage the animal to move on. Raccoons, squirrels and various other wildlife species often have a second nest site available if their primary nest site is disturbed. Please call the wildlife hospital for humane alternatives to trapping wildlife.
Rabbits Kept as Pets
The two eastern cottontails were admitted after being found as nestlings and then kept by their "rescuers" for an extended period of time.
The nestlings had multiple health issues because they did not receive appropriate nutrition vital for healthy growth and development. One nestling had obvious hindquarter weakness and was having trouble ambulating. Hospital staff started the young rabbit on a treatment plan that included Chinese herbs and pain medication and settled the rabbit in a recovery enclosure in the mammal room.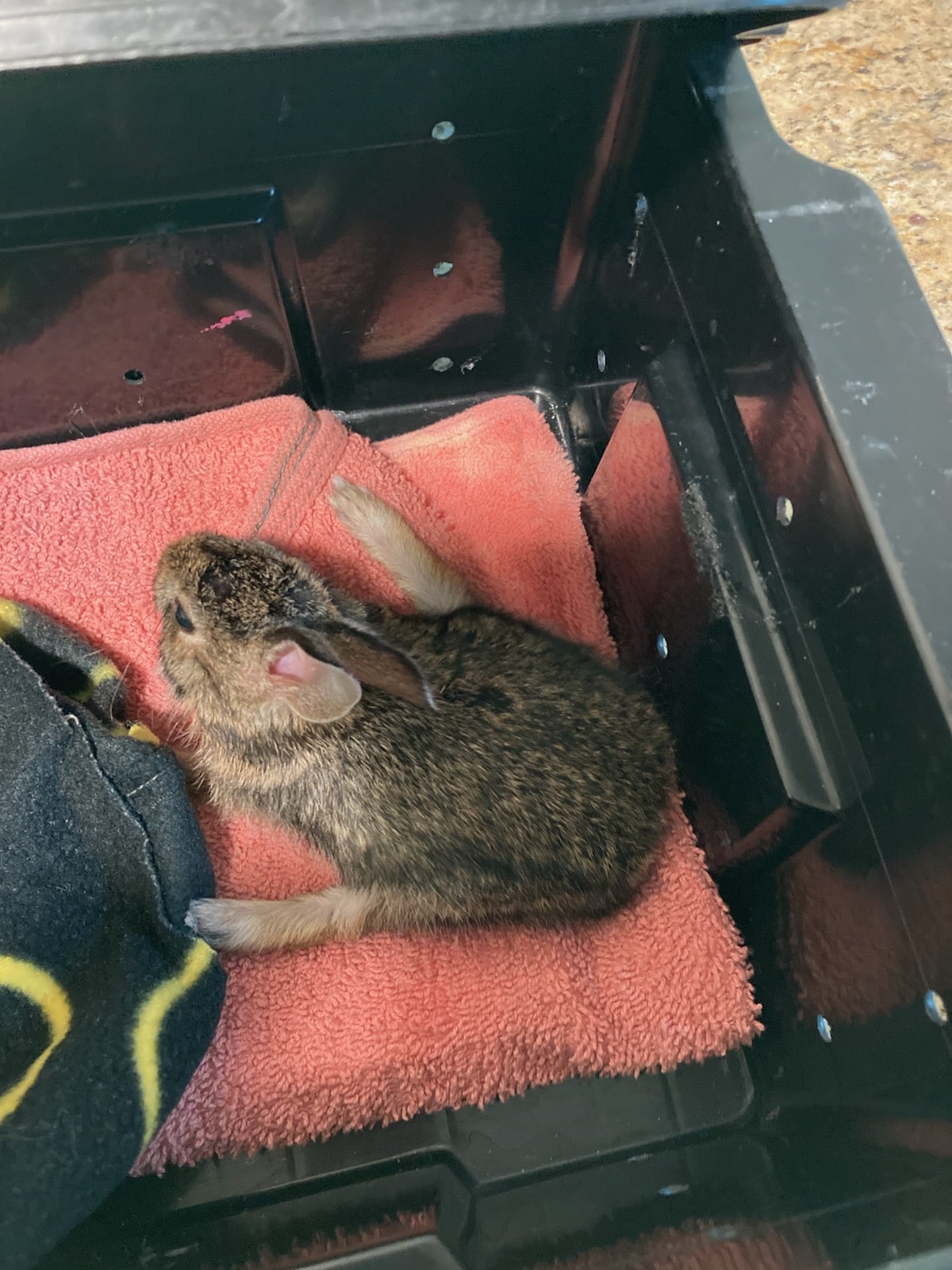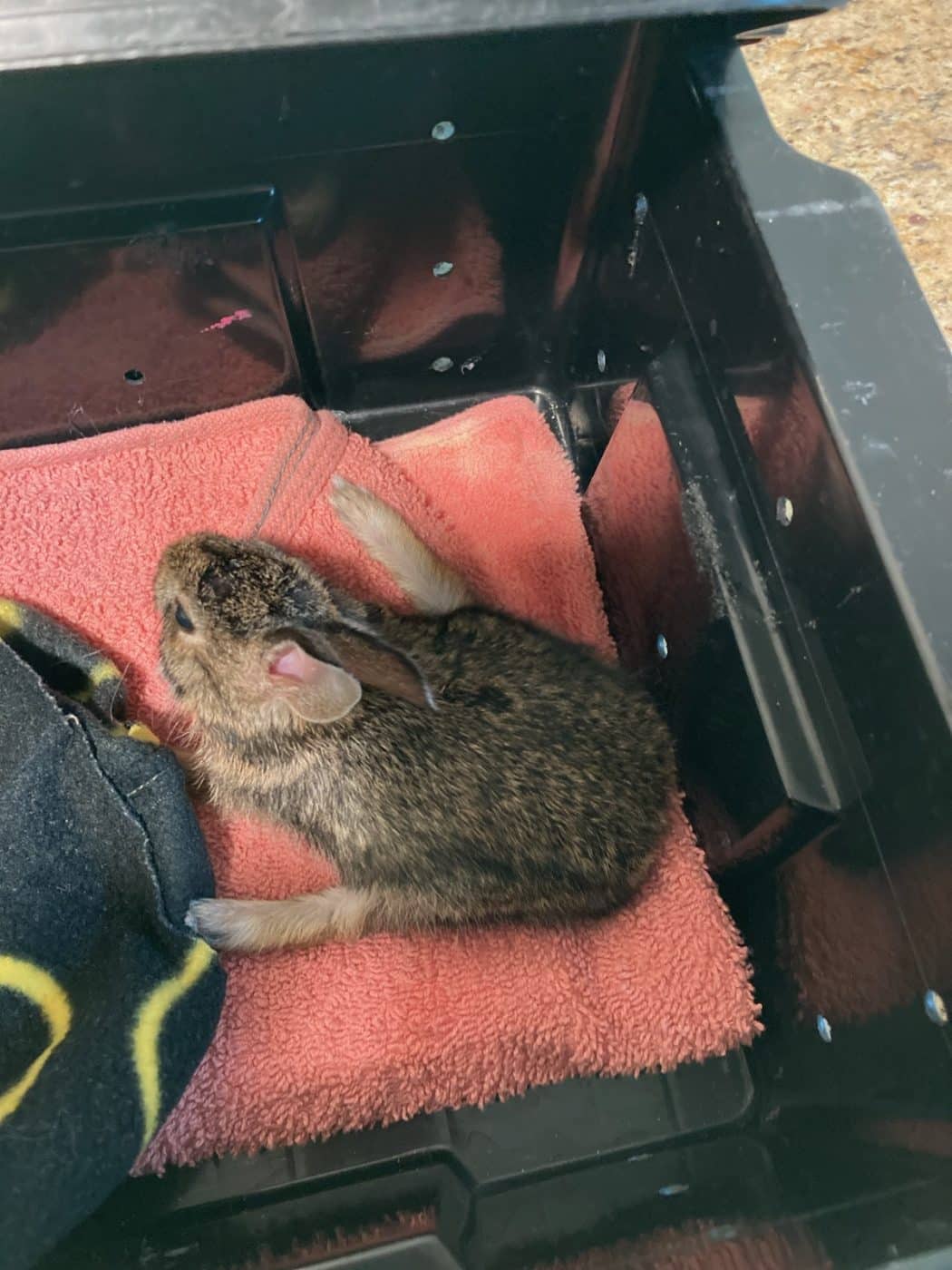 The nestling's sibling was a bit stronger, yet it wasn't exhibiting a fear of humans, which is essential for a rabbit to survive in the wild. The rabbit required minimal handling in an effort to increase its fear of humans. 
The health issues these rabbits suffered could have been easily avoided if they had been brought to our facility where they would have received appropriate care from licensed wildlife rehabilitators.
Sadly, these weren't the only rabbits admitted last week after receiving home care. Two other litters were brought to our facility. One litter was kept for a week while the other litter had been kept for two months.
Bring it to a licensed wildlife rehabilitation center; baby animals of any species are incredibly delicate and require professional care. Staff at the von Arx Wildlife Hospital have the knowledge, skills and expertise required to care for native wildlife. 
Special Thanks
As von Arx Wildlife Hospital volunteer, Larry Strauss, headed to the Conservancy for his afternoon shift last week, he turned into the entrance at the Naples Zoo just as a double-crested cormorant fell from the sky and hit the ground in front of his car. Larry called staff at the hospital who quickly responded to try to capture the bird. Two bird keepers from the Naples Zoo also responded to the situation as well.
Everyone worked together slowly to get the cormorant out of the lily pond to an area under a pedestrian bridge. Once cornered, Conservancy staff was able to net and capture the cormorant. Thank you to everyone involved. The cormorant is receiving treatment for an infected leg wound.
Von Arx Hospital staff would also like to thank Heidi Heath with Heath Christmas Trees at Naples Plaza. The Heath family donated trees to the von Arx Wildlife Hospital last year for use in our recovery enclosures. The trees provided added perching options and natural coverage for some of our most secretive wildlife patients.
Recent Releases
Three eastern cottontails, eight gopher tortoises, two laughing gulls, a burrowing owl, two Florida softshell turtles, a hispid cotton rat, a palm warbler, a red-shouldered hawk and four grey squirrels.
Opportunities to Help
If you have returned to Naples for "season," take a look at all the amazing volunteer opportunities on our website. Many areas within the Conservancy rely on volunteers; your volunteer time is vital in helping us continue our work to protect Southwest Florida's water, land, wildlife and future.
Joanna Fitzgerald is the Director of the von Arx Wildlife Hospital at the Conservancy of Southwest Florida. Call 239-262-2273 or see conservancy.org