A merlin was among the sixty three animals admitted to the von Arx Wildlife Hospital at the Conservancy of Southwest Florida this past week. Other admissions include an American kestrel, a yellow-billed cuckoo, an osprey, a pied-billed grebe, a hispid cotton rat and a gopher tortoise.
Merlin Struck by a Vehicle
The merlin was rescued on Airport Road near Coach House Lane after being struck by a vehicle.
A physical exam showed the merlin had blood in its oral cavity and nares (nostrils), slight increased respiratory effort and swelling along the left shoulder. Hospital staff cleared the blood from the merlin's mouth, provided pain medication and placed the bird on supplemental oxygen to rest. 
The merlin was monitored throughout the day, radiographs were taken and additional pain medication was administered. The merlin continued to rest in a darkened recovery enclosure.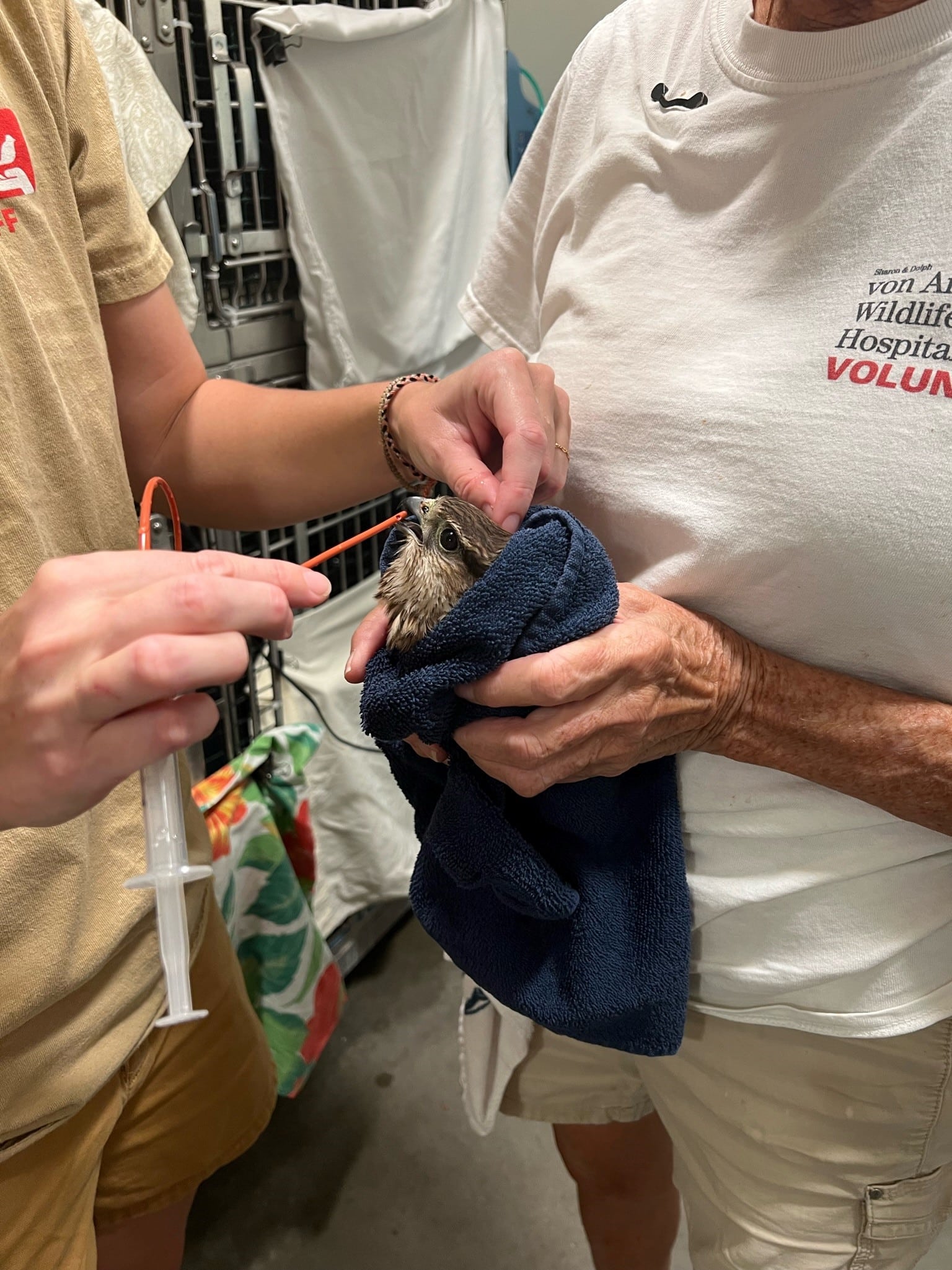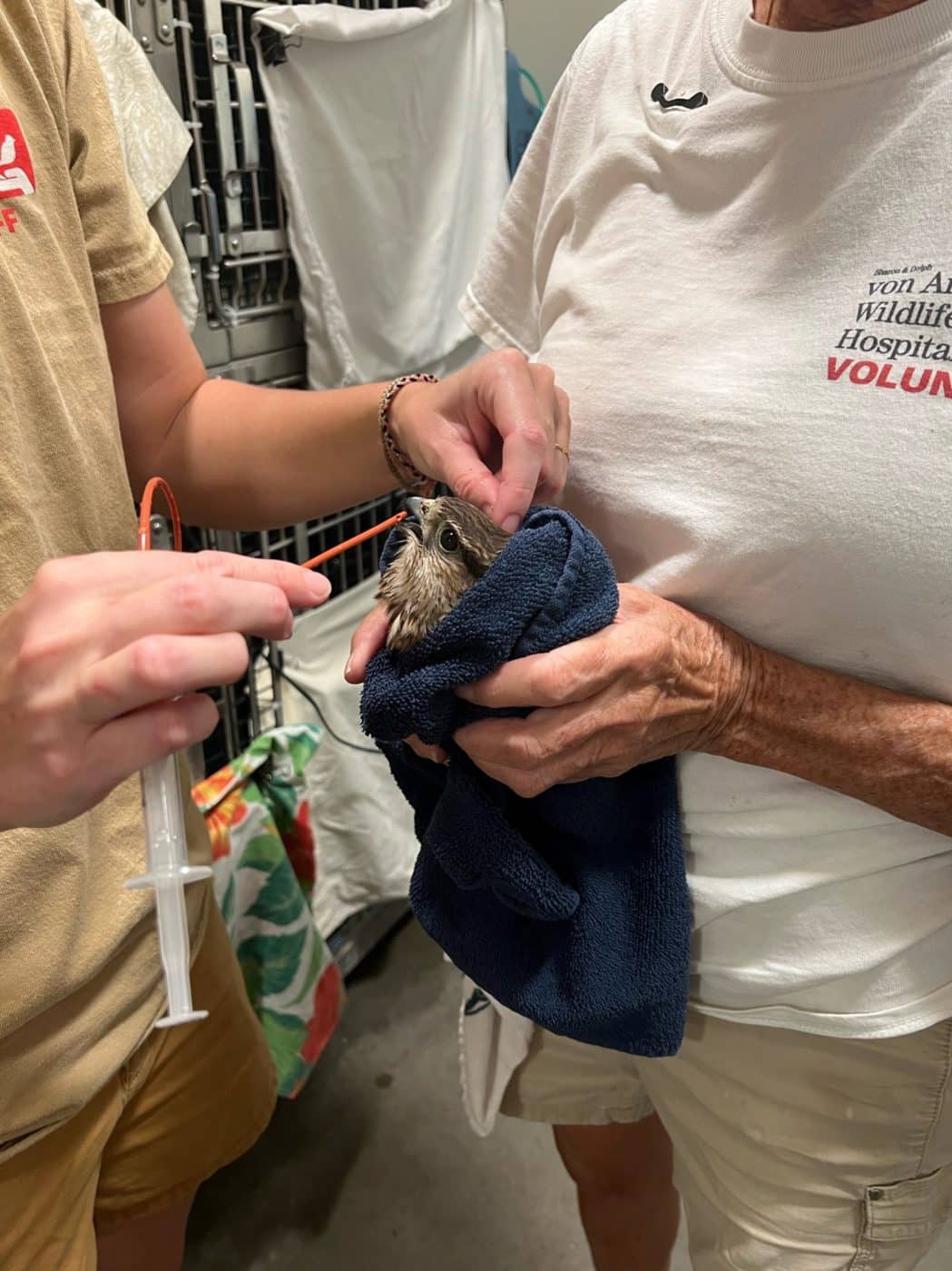 The following morning, the merlin was responsive to handling yet showed some neurological deficits. Electrolytes and Chinese herbs were added to the treatment plan and the merlin was moved from ICU to a recovery space in the bird room. The merlin's condition is improving each day. Once strong enough, the merlin will move to an outdoor flight recovery space for reconditioning prior to release.
Vehicle strikes were a common cause of injury for multiple animals last week.
Bird migration is occurring at the exact same time that traffic in Naples has increased due to the influx of seasonal residents. Increased traffic is having a negative effect on local wildlife. 
Undoubtedly, hitting these animals was accidental, continuing to drive off without checking to see if the animals were alive or dead was a conscious decision made by each motorist. These decisions left all of these animals incapacitated and suffering on the side of the road. 
Please, if you strike an animal with your vehicle, safely pull over and offer assistance. Human safety is always the top priority, but many roads have manageable traffic flow that allows a person to offer assistance. Thankfully, for the merlin and the twelve other animals admitted, Good Samaritans stopped and helped. For that, we are incredibly grateful because the injuries, pain and suffering these animals were experiencing was gut wrenching to witness.
I certainly understand it can be intimidating to consider handling an injured animal, but keep in mind an animal struck by a vehicle is in shock and weakened which gives the rescuer an advantage.
Keep rescue gear in your car (ventilated box, towel, gloves) so you are prepared if a wildlife emergency arises.
Always call the wildlife hospital if you have questions. Staff will do their best to offer guidance and determine the best rescue strategy.
In a situation where an animal is in imminent danger of further injury or death, it really does require someone take immediate action.
Recent Releases
A broad-winged hawk, a black-throated-blue warbler, five eastern cottontails, a yellow-rumped warbler, a gray catbird, three red-eyed vireos, a Florida softshell turtle, a red-shouldered hawk, a royal tern, a fish crow, ten grey squirrels, an eastern screech owl, an ornate box turtle and a double-crested cormorant were released this past week.
Opportunities to Help
There are many ways to support the Conservancy. Become a member, donate and visit our website to see the many engaging volunteer opportunities at the Conservancy of Southwest Florida – Wildlife Hospital, Horticulture, Discovery Center Docent, Dock Master, and Boat Captain. Volunteers are essential to our success. By offering your time, talent and skills, you can support the Conservancy's work to protect Southwest Florida's water, land, wildlife and future.
Joanna Fitzgerald is director of the von Arx Wildlife Hospital at the Conservancy of Southwest Florida, 1495 Smith Preserve Way, Naples, Florida 34102. Call 239-262-2273 or see conservancy.org