A barn swallow was among the seventy-five animals admitted to the von Arx Wildlife Hospital at the Conservancy of Southwest Florida this past week. Other admissions include a sooty tern, four sandwich terns, two green herons, gray catbird, a gopher tortoise and two Florida softshell turtles.
It was early evening when the barn swallow was rescued from the side of a road in Bonita. The swallow was unable to fly or hop away. Once admitted to the von Arx Wildlife Hospital, staff performed a physical exam that revealed the swallow was dull, but responsive when handled. The bird had blood in its mouth and increased respiratory effort. The swallow was slightly underweight as well.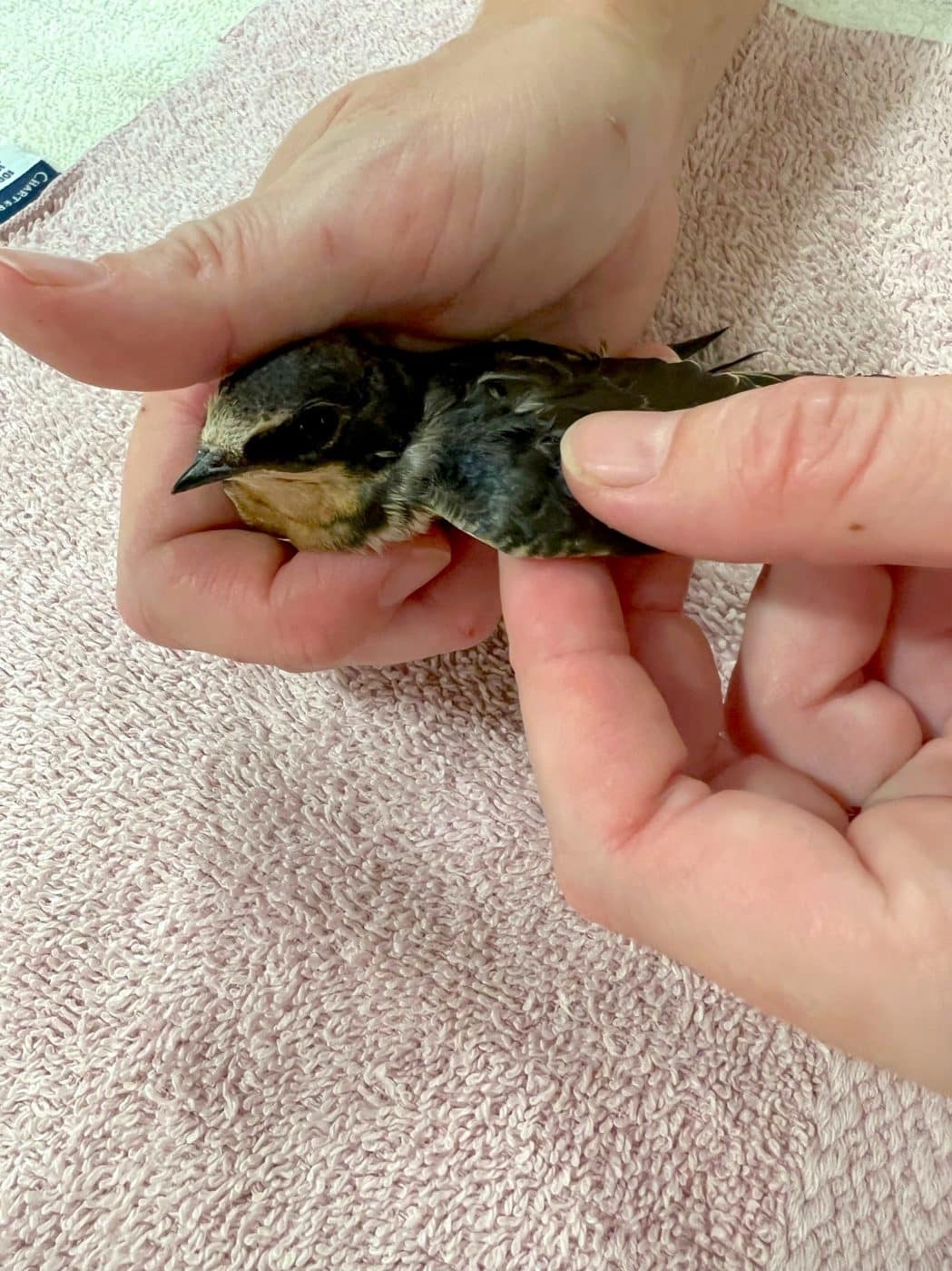 Staff cleared the blood from the swallow's mouth and placed the bird on supplemental oxygen in an animal intensive care unit to rest. A check on the swallow two hours later showed the bleeding had subsided considerably and the bird was calm.
The following morning the swallow was alert and perching, yet staff noticed its left wing was slightly drooped compared to the right and its right foot had a weaker grip compared to the left.
Staff created a specialized recovery space to meet the swallow's husbandry needs. By the third day at the hospital, the swallow was eating well and within another two days began making short flights from one side of her recovery space. The barn swallow continues to gain strength and weight every day.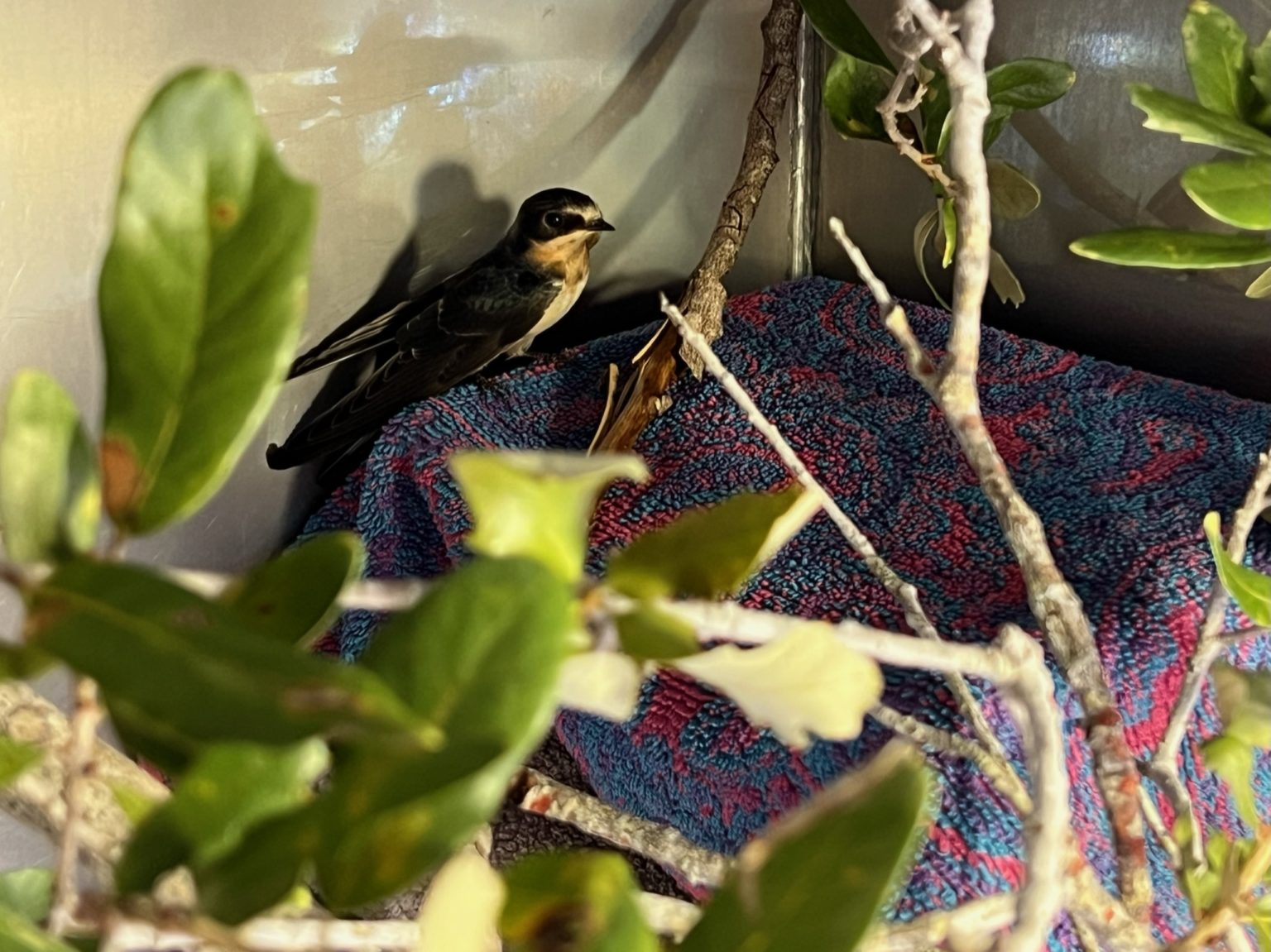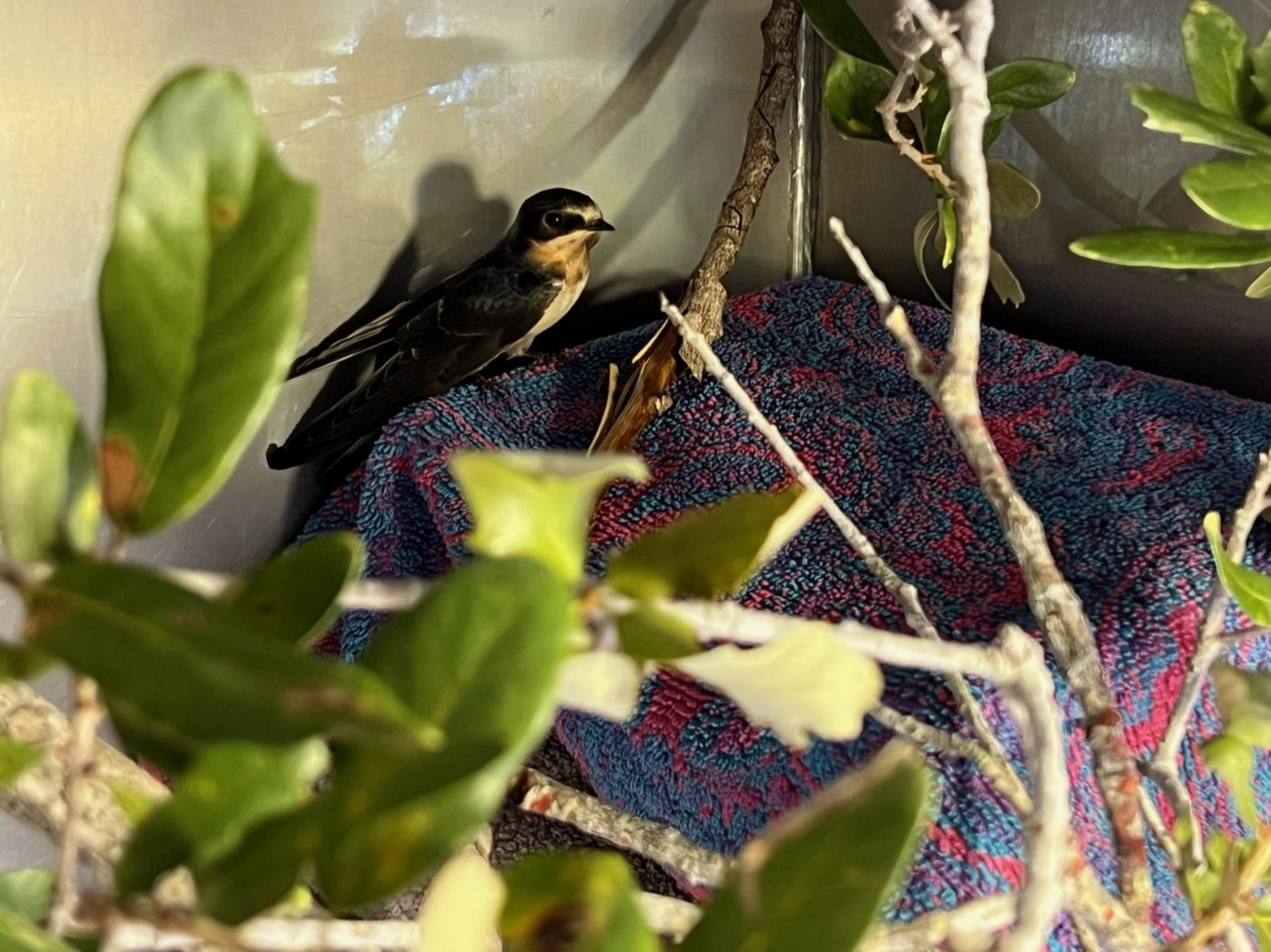 The barn swallow, as well as a summer tanager, a common yellowthroat, a red-eyed vireo and a black-and-white warbler are all neotropical migratory birds admitted last week. The red-eyed vireo was attacked by a cat and the other birds were injured after striking windows.
Neotropical migrants travel incredible distances during migration; migration can take several weeks to four months. As is evidenced by the admissions last week, these migratory birds face many dangers during migration including window and car strikes, attacks by cats, habitat loss and inclement weather. Knowing these migratory birds have travelled thousands of miles only to be injured or killed striking a window or being attacked by a cat is heartbreaking. There are ways to prevent injuries to migratory birds and help them once they reach Southwest Florida.
Window collisions are a leading cause of bird mortality in the United States.
Covering windows with insect screening may stop birds from hitting unyielding glass. Moving bird feeders within three feet of a window may prevent injury and death because birds can't build up enough momentum to injure themselves if they strike the window.  Decals are effective if spaced two-four inches apart. Something as simple as closing window shades or blinds can also break the reflection. Detailed information regarding methods to prevent window strikes are listed at American Bird Conservancy.
If you find a bird that has hit a window and is stunned, please place it in a ventilated box. Do not leave it on the ground. A bird that is stunned is an easy target for predators such as hawks, snakes or domestic pets. Bring the bird to the von Arx Wildlife Hospital for care. Our number is 239-262-2273. We are open 365 days a year from 8am to 7pm.
Monitoring dogs and cats when they are outdoors will prevent pets from attacking wildlife. Even well fed cats have the instinct to hunt and migrating birds – exhausted from their cross-country flights – make easy targets. 
Habitat loss and degraded habitat are often significant problems for migrating species. Plant native plants to provide food and shelter for migrating birds and resident native wildlife. These are simple suggestions that could have a positive impact for migratory birds and for resident native wildlife as well.
Recent Releases
An anhinga, three gopher tortoises, a Florida box turtle, an ovenbird, three eastern cottontails, a Florida red-bellied turtle, a black-and-white warbler, a peninsula cooter, a common tern, a northern cardinal, a ruddy turnstone, two red-shouldered hawks and a red-bellied woodpecker were released this past week.
Opportunities to Help
Visit the Conservancy website to view all of the amazing volunteer opportunities at the Conservancy of Southwest Florida.
Get involved and mitigate damage done to native wildlife by human's negative impact on the environment! Volunteers help in many different capacities and are vital to the work we accomplish saving injured, sick and orphaned wildlife. Dedicate one shift a week to help at the wildlife hospital and see how much good you can do with your time. Contact our volunteer office and get involved. Your volunteer time, donations, and memberships are vital and allow us continue our work to protect Southwest Florida's water, land, wildlife and future.
Joanna Fitzgerald is director of the von Arx Wildlife Hospital at the Conservancy of Southwest Florida, 1495 Smith Preserve Way, Naples, Florida 34102. Call 239-262-2273 or see conservancy.org.