A laughing gull and a red-shouldered hawk were among the fifty-three animals admitted to the von Arx Wildlife Hospital at the Conservancy of Southwest Florida this past week. Other admissions include two black-bellied whistling ducklings, a green heron, a white-eyed vireo, a coyote, a big brown bat and two gopher tortoises.
Laughing Gull Admitted with Toxicosis
The laughing gull was one of three admitted last week exhibiting signs of toxicosis associated with red tide.
The laughing gull was found in Estero Bay Preserve State Park unable to stand or fly (red tide produces neurotoxins that cause paresis). The gull was underweight, dull, had a weak bite, one eye was squinty with the other eye fully closed and was open mouth breathing. Staff provided electrolytes, an antibiotic, eye ointment and placed the gull on supplemental oxygen in an animal intensive care unit to rest. Once the gull's condition stabilized, staff added Chinese herbs to the treatment plan as well as an antifungal, a vitamin supplement and supplements to support liver function.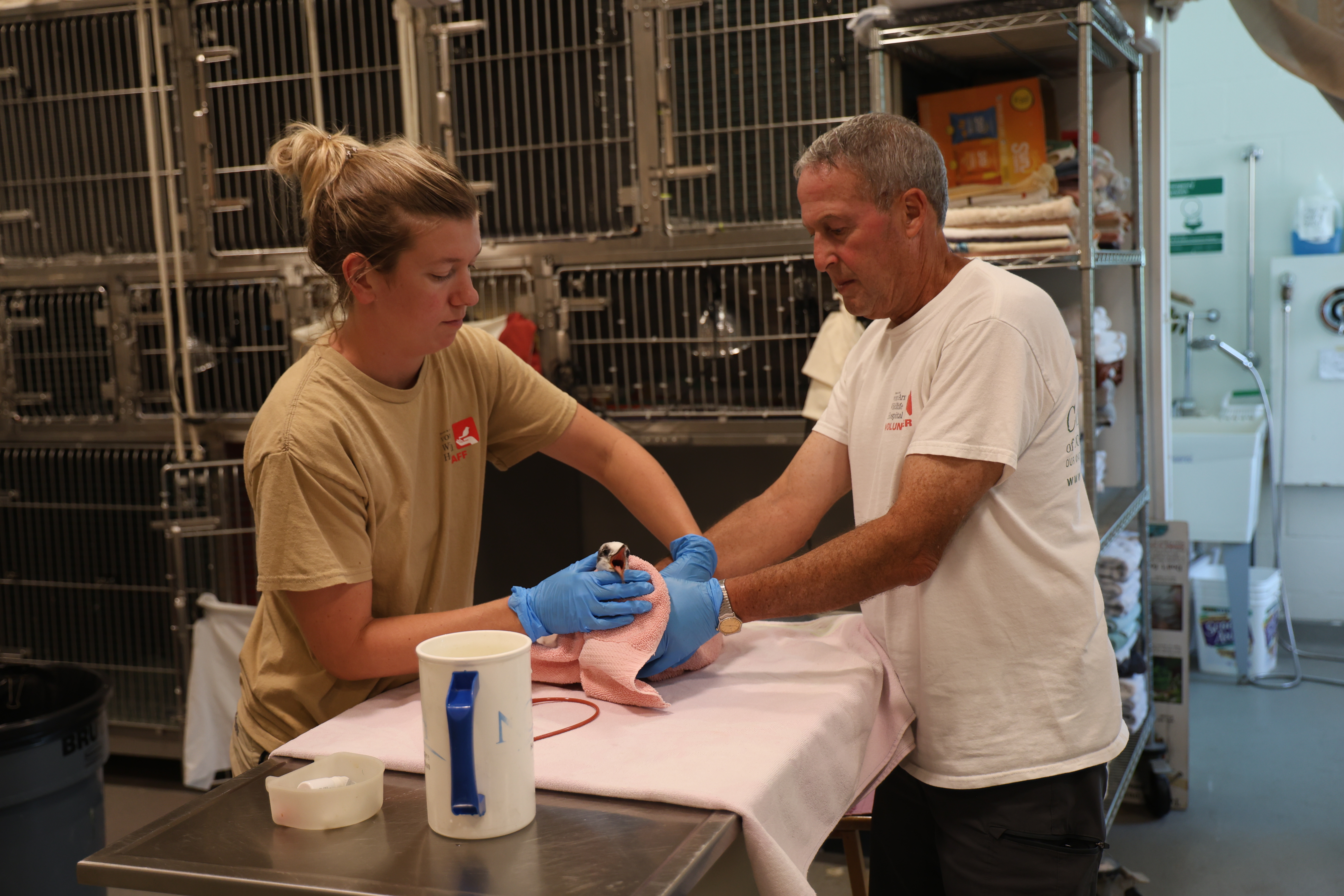 The laughing gull's condition worsened as the effects of the neurotoxins continued to spread through the gull's body systems. Staff continued with the established treatment plan and supportive care. The gull showed improved strength by the third day. Staff offered a small whole fish, which the gull eagerly consumed.
On the fourth day at the hospital, the gull was weak but attempting to stand. The gull continues to recover in the bird room.
Red tide can have devastating effects on our local seabirds. If you frequently go to the beach, anticipate that you may encounter a bird in distress.
Rescue Tips
Carry a towel and keep a ventilated box/pet crate in your car. Rescuing a debilitated bird is quite simple. Remember, the bird is either injured, debilitated or weak. This gives you the "upper hand" during a rescue.
Always wear sunglasses to protect your eyes from any bird with a long neck and pointy beak.
Use a towel and loosely cover the bird's body and head.
Once the bird's head is covered, the darkness will help calm the bird.
Gently pick up the bird and place it in the box. Having a towel and a cardboard box ensures you are prepared and able to save a life.
If you have questions about how to safely rescue and contain an animal, please call the wildlife hospital for guidance at 239.262.2273.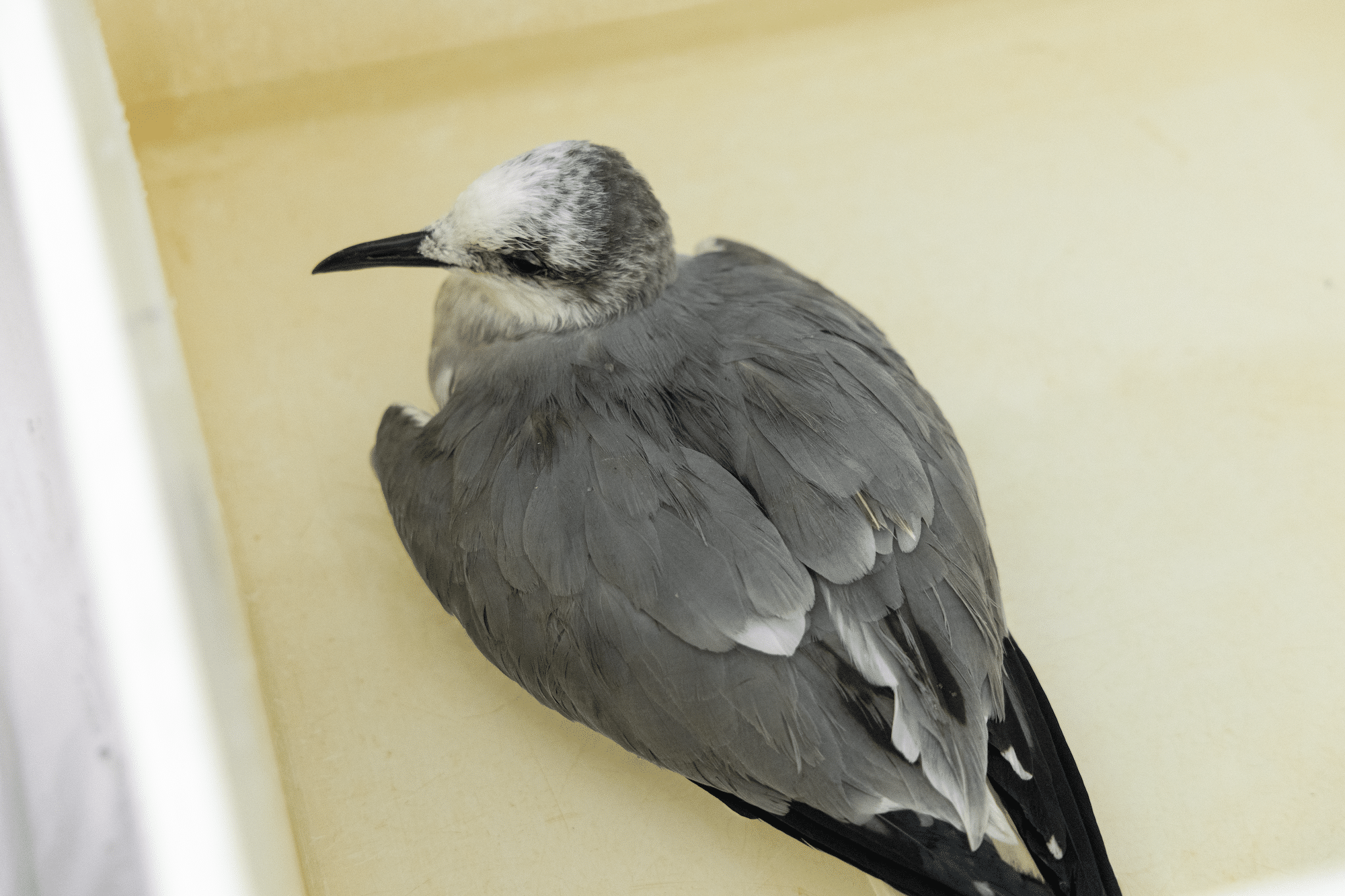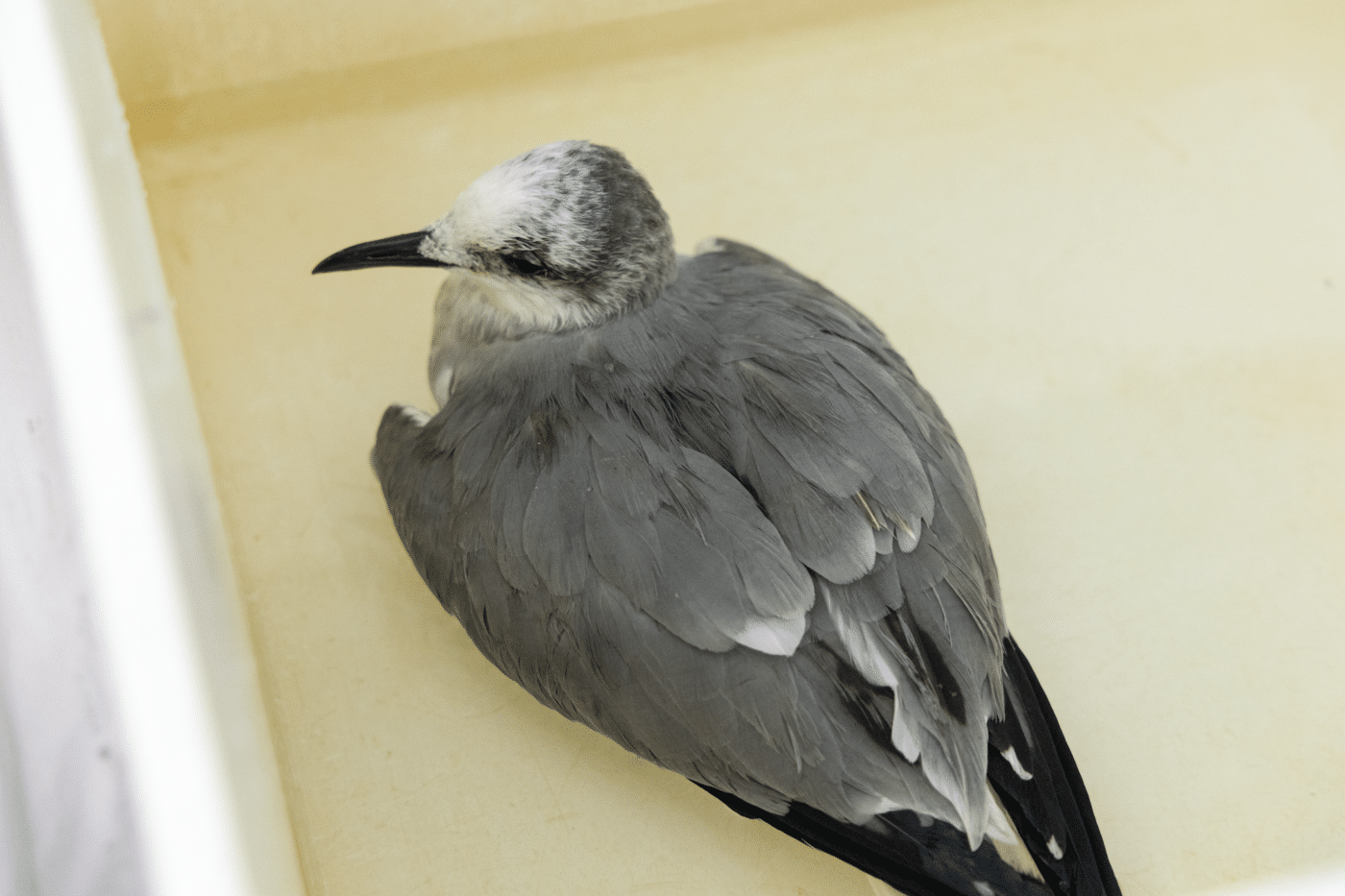 Not only do shorebirds suffer health issues due to poor water quality, many are arriving in our area exhausted from fall migration. Flocks of birds are passing through our area or spending the winter utilizing our sandy beaches and coastal waters. Please show respect to wildlife living on our beaches. Many birds congregate in large flocks on the beach as they rest and gain strength after migrating hundreds of miles from various northern locales. Flying takes tremendous amount of energy and a bird that is already in a weakened condition does not have any energy to waste flying off every time someone chases them.
Do not walk through flocks of resting birds and force them to fly. Walk around flocks of birds and allow them to rest undisturbed. It literally can be a matter of life or death for these animals.
Red-Shouldered Hawk Suffering from Neurologic Disease
The red-shouldered hawk was admitted suffering from neurologic disease of unknown origin. The red-shouldered hawk was found under a palm tree with its head and wings drooping, eyes half-open but unable to blink and was in good body condition meaning the condition was acute, not chronic.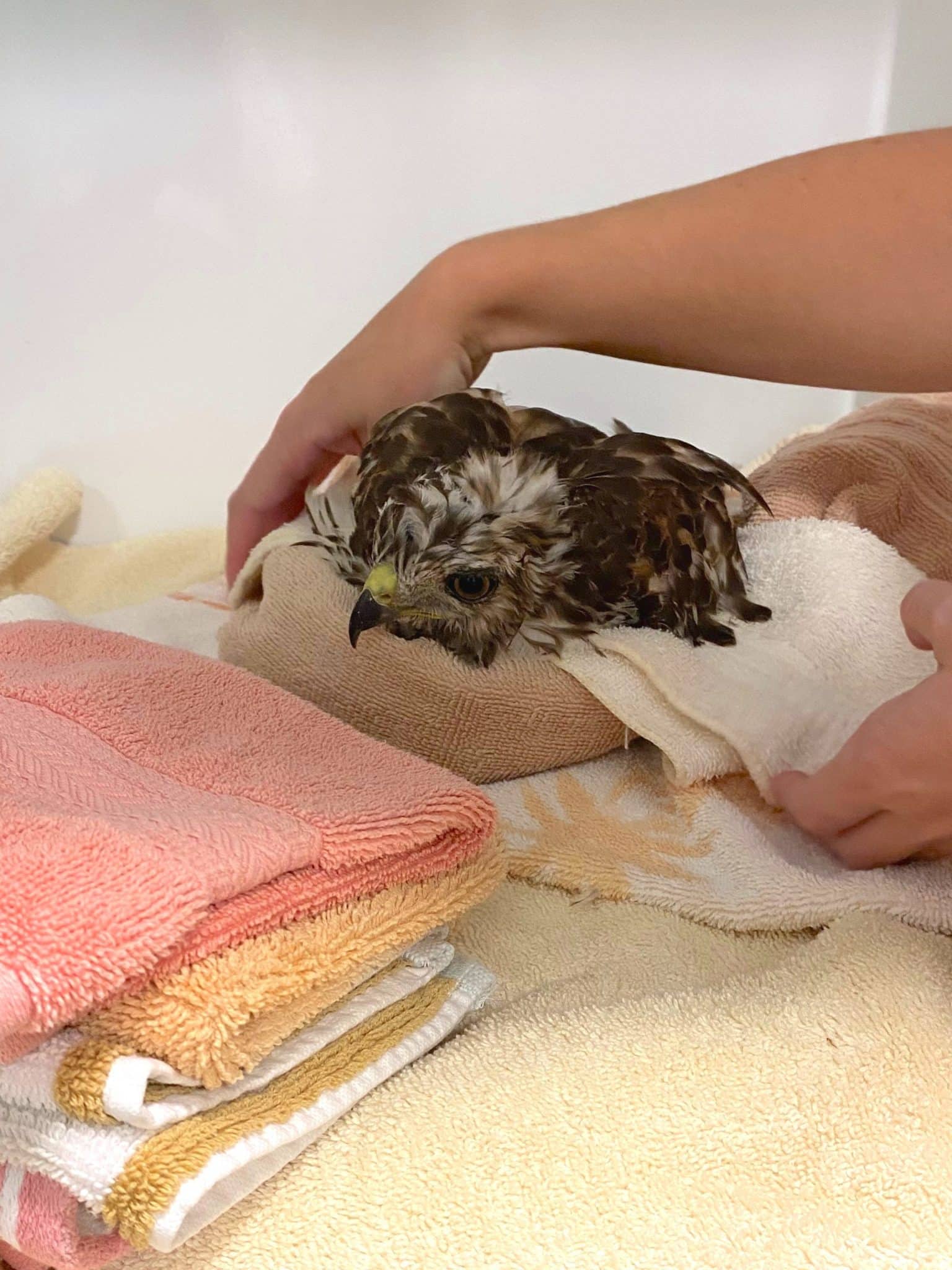 This malady affecting red-shouldered hawks is common in our area.
Our treatment protocol includes providing supplemental oxygen, fluids, an antibiotic, vitamin supplements, eye medication to prevent ulcers and Chinese herbs to support liver function.
The hawks' condition was critical and required close monitoring. Slight signs of improvement were noticeable over the course of several days of treatment. Staff offered the hawk a small piece of solid food late in the day on the third day at the hospital and the hawk was finally strong enough to swallow. The hawk was standing and eager to be fed on its fourth day at the hospital. The hawk continues to receive daily supportive care while recovering in the bird room at the wildlife hospital.
The case with the hawk highlights how important immediacy of care is when dealing with sick, injured and orphaned wildlife. The person who rescued the hawk called the wildlife hospital immediately after seeing it on the ground in her yard.
If you suspect an animal needs assistance, don't delay in calling the wildlife hospital for information and guidance. Staff will evaluate the situation and determine the appropriate course of action. Immediate professional care is extremely important. The sooner a sick, injured or orphaned animal receives professional medical care, the less suffering the animal endures and the sooner medical treatment can begin which increases the chance the animal will make a full recovery.
Recent Releases
A great horned owl, eight Virginia opossums, a common ground dove, a red-shouldered hawk, a marsh rabbit, three mourning doves, an anhinga, and an eastern cottontail were released this past week.
Opportunities to Help
Visit the Conservancy website to view all of the amazing volunteer opportunities at the Conservancy of Southwest Florida. Ask a friend or neighbor to join you! Volunteers help in many different capacities. We especially need volunteers to help cover our evening shift. If you could dedicate one shift a week to help in the hospital, contact our volunteer office and get involved. Your volunteer time, donations, and memberships are truly vital and allow us continue our work to protect Southwest Florida's water, land, wildlife and future.
Joanna Fitzgerald is the Director of the von Arx Wildlife Hospital at the Conservancy of Southwest Florida, 1495 Smith Preserve Way, Naples, Florida 34102. Call 239-262-2273 or see conservancy.org.