A ruddy turnstone was among the sixty-nine animals admitted to the von Arx Wildlife Hospital at the Conservancy of Southwest Florida this past week. Other admissions include a palm warbler, a turkey vulture, a barred owl, bald eagle, two chicken turtles and a marsh rabbit.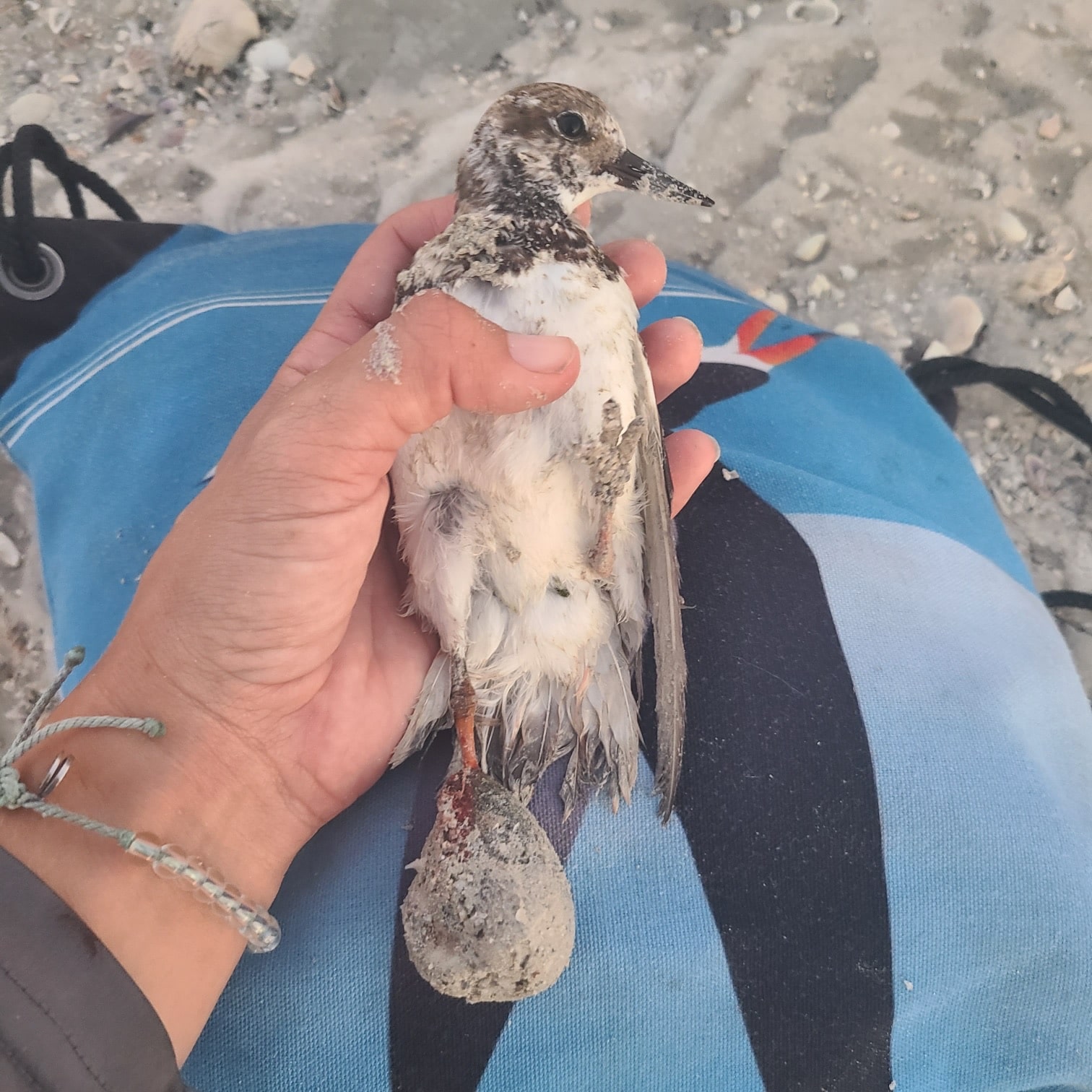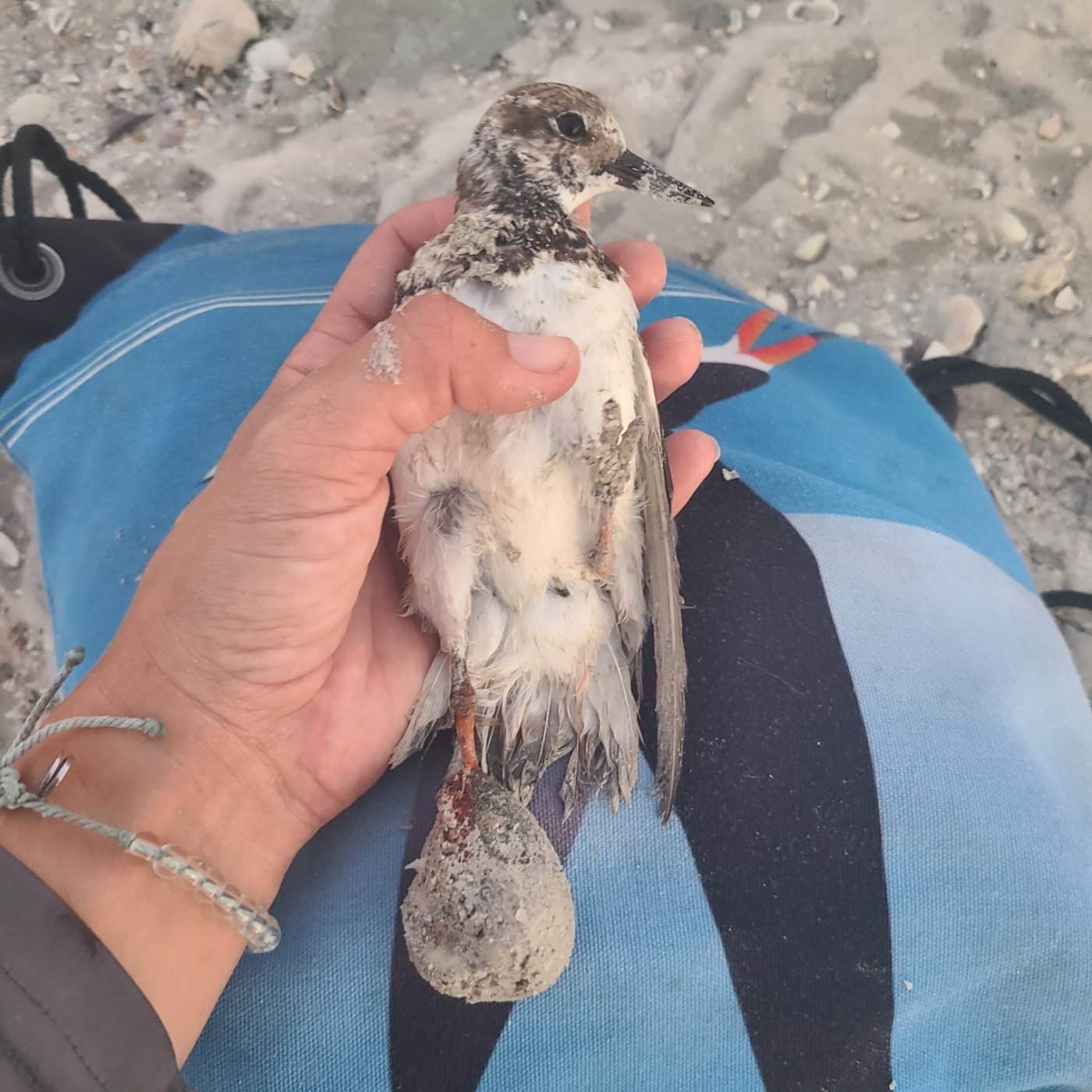 Brittany Piersma, Field Biologist for Audubon of the Western Everglades, saw the ruddy turnstone struggling where the beach is being dredged on Marco Island; the bird was unable to fly and it appeared its right foot was encased in mud and sand.
Brittany removed the clam and recruited a volunteer to transport the turnstone to the wildlife hospital.
The turnstone was in good condition except for a laceration and swelling on the right foot where the clam had closed shut on the foot. Staff provided an antibiotic, pain medication and laser therapy to address the inflammation. After four days of care, the turnstone was no longer exhibiting any lameness in its right foot and is continuing to recover in the bird room.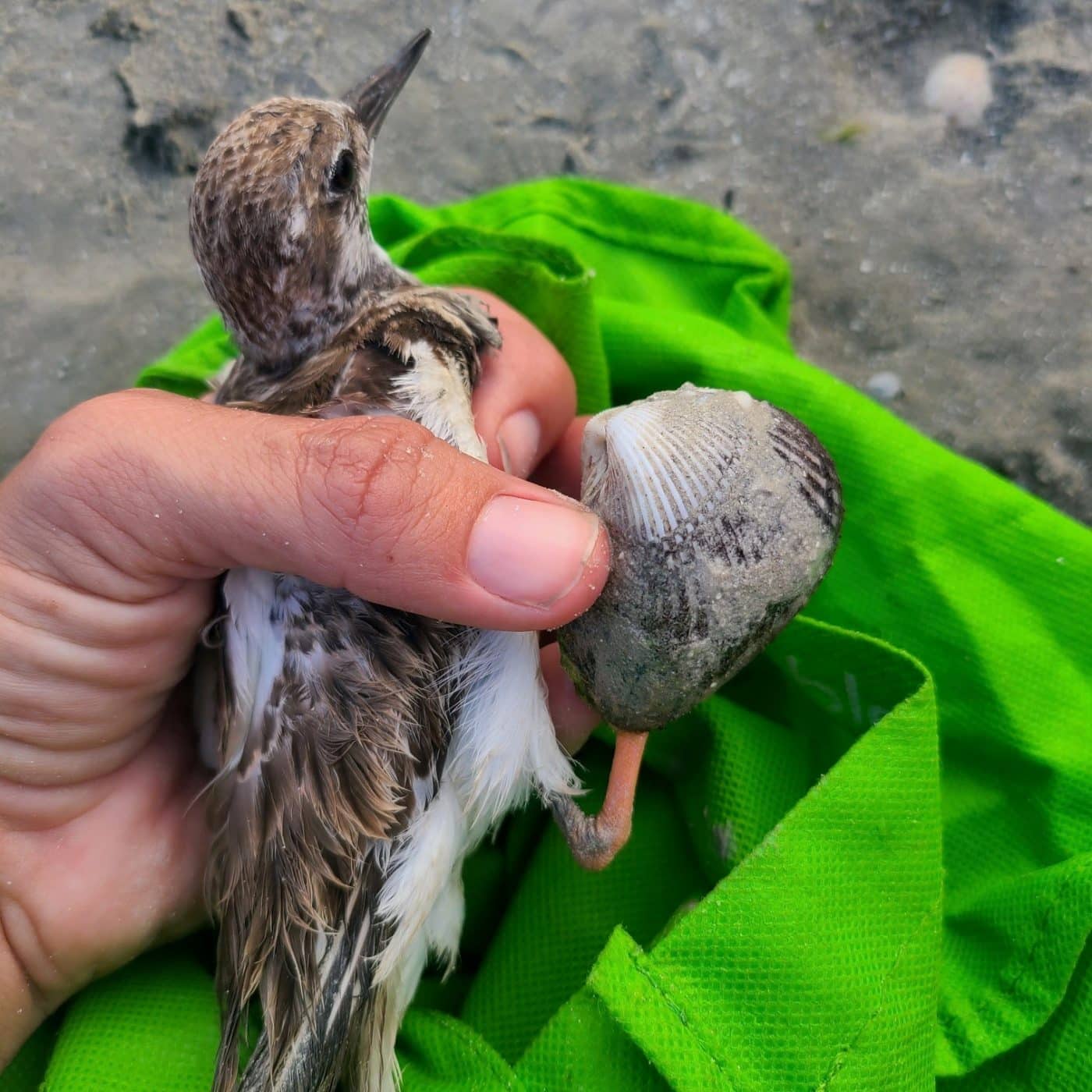 While approximately 90% of the animals admitted to the von Arx Wildlife Hospital are injured to due humans' negative impact on the environment (vehicle strikes, collisions with windows, domestic pet attacks, gunshot), the case with the turnstone is a reminder that nature can be tough.
Please, if you see an animal in distress, offer assistance. If you have questions or are unsure how to help, call the staff at the von Arx Wildlife Hospital at 239.262.2273 for guidance. We are open 365 days a year from 8am to 8pm.
Special Thanks
The von Arx Wildlife Hospital staff would like to sincerely thank Matt Smith from Bartlett Tree Experts. Matt agreed to support our land management efforts in Smith Preserve and provided an in-kind donation using their grapple truck to pick up debris.
Bartlett admin assistant, Heidi Wolff, scheduled the debris pickup service. Ivan Vasquez operated the boom on the truck and had the debris piles loaded in no time. This in-kind donation from Bartlett Tree Experts means the funds saved can be applied to other needs at the von Arx Wildlife Hospital. We are so grateful for help with this project.
Ken Kleinedler, Golf Course Superintendent at Collier's Reserve, also deserves thanks for providing access to Collier's Reserve to release two gopher tortoises on their property. Hurricane Ian displaced many gopher tortoises and our permits require they be released in the areas where they were found. Ken found two great areas for the tortoise releases. Staff is relieved knowing the tortoises will be safe and thrive after spending several months rehabilitating at the wildlife hospital.
Our community partners are truly amazing!
Recent Releases
Three eastern cottontails, a gray catbird, a peninsula cooter, a pileated woodpecker, five gopher tortoises and a belted kingfisher were released this past week.
Opportunities to Help
There are many ways to get involved and support the Conservancy. We need volunteers. If you are a year round Naples resident and believe in our work helping native wildlife, please become a volunteer.
Volunteers are vital to the work done at the von Arx Wildlife Hospital – we literally can't do all that we do for native wildlife without our volunteers. If you can't volunteer, we encourage you to become a member of our Nature Center, donate and/or visit our website at www.conservancy.org. Learn about the Conservancy's work to protect Southwest Florida's water, land, wildlife and future.
Joanna Fitzgerald is director of the von Arx Wildlife Hospital at the Conservancy of Southwest Florida, 1495 Smith Preserve Way, Naples, Florida 34102. Call 239-262-2273 or see conservancy.org