An eastern mole and three double-crested cormorants were among the forty-one animals admitted to the von Arx Wildlife Hospital at the Conservancy of Southwest Florida this past week. Other admissions include a ring-necked duck, a cattle egret, a Brazilian free-tailed bat, two marsh rabbits and a Florida red-bellied turtle.
Double-crested Cormorants and Toxicosis
Three double-crested cormorants were admitted to the Wildlife Hospital exhibiting signs of toxicosis associated with red tide. The cormorants were found at various locations in Naples.
Two were found disoriented and stumbling on the beach, one near the Naples Pier and the other in Pelican Bay. The third cormorant was found at the intersection of Airport Pulling Road and Golden Gate Parkway.
One cormorant remained in critical care and as time passed, the effects of the neurotoxins became significantly worse causing respiratory distress. The decline in the cormorant's condition left euthanasia as our only humane course of treatment.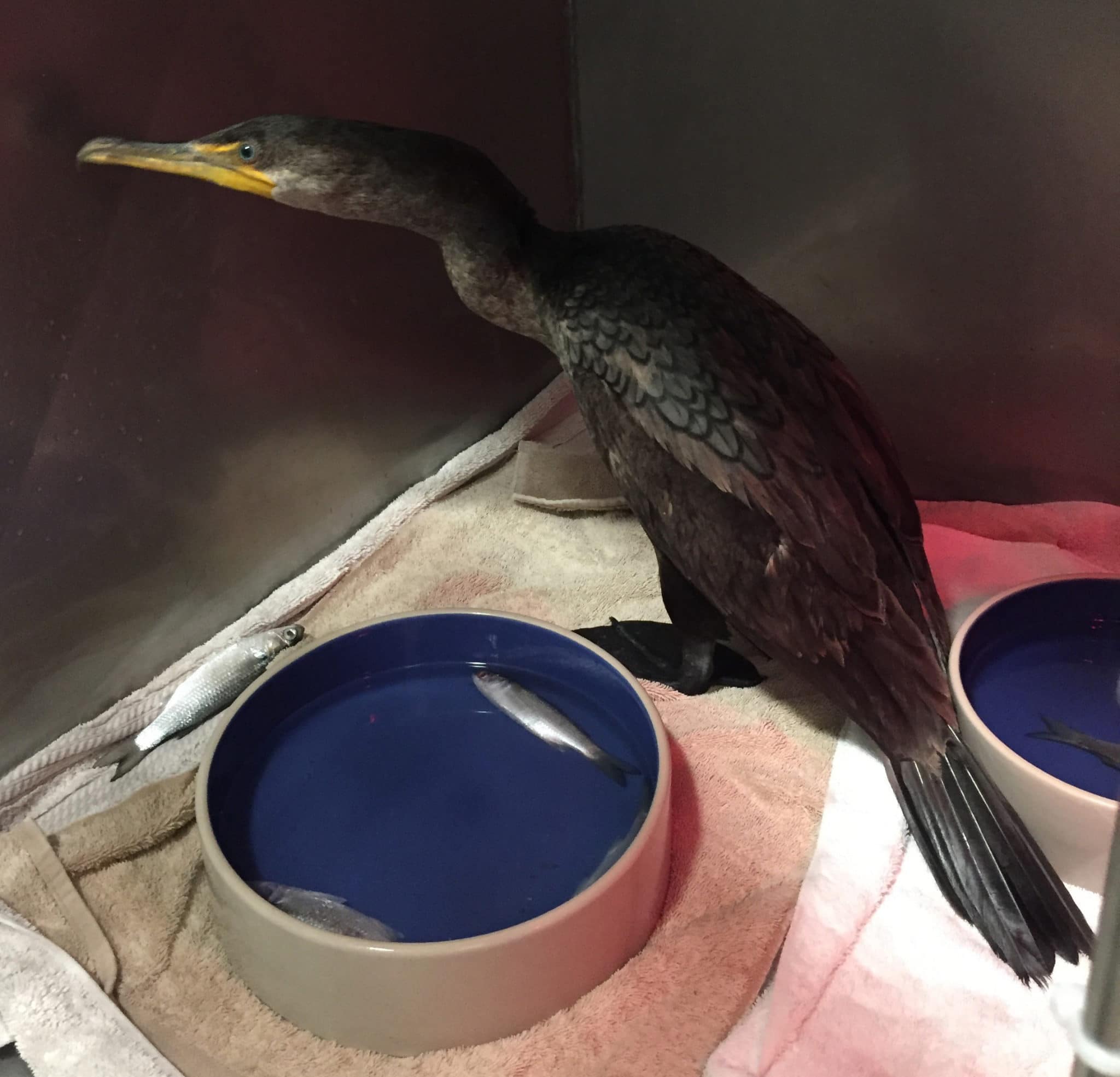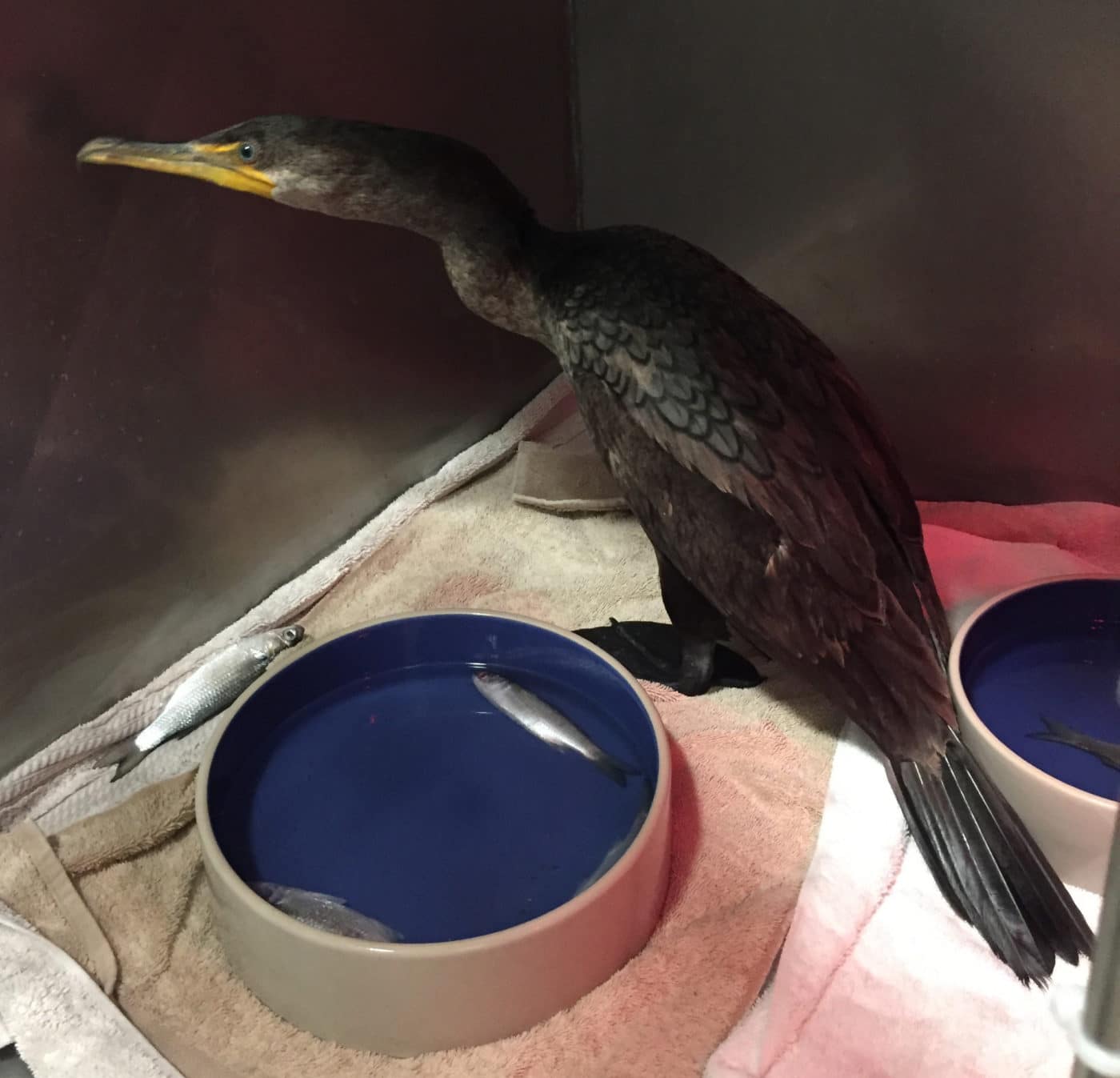 The remaining two cormorants have shown daily improvements in their health and eagerly eat when offered a fish diet.
They continue to receive supportive care in the bird room. Treatment protocols for toxicosis include providing supplemental oxygen, electrolytes, Chinese herbs, supplements to support liver function and vitamin supplements.
Red tide has devastating effects on our native shore birds. If you frequent the beach, anticipate the chance that you may encounter a bird in distress. Carry a towel and keep a ventilated box or pet crate in your car. So many beach goers call us because they see a bird suffering on the beach that needs help and with no rescue equipment available, they are limited in what they can do.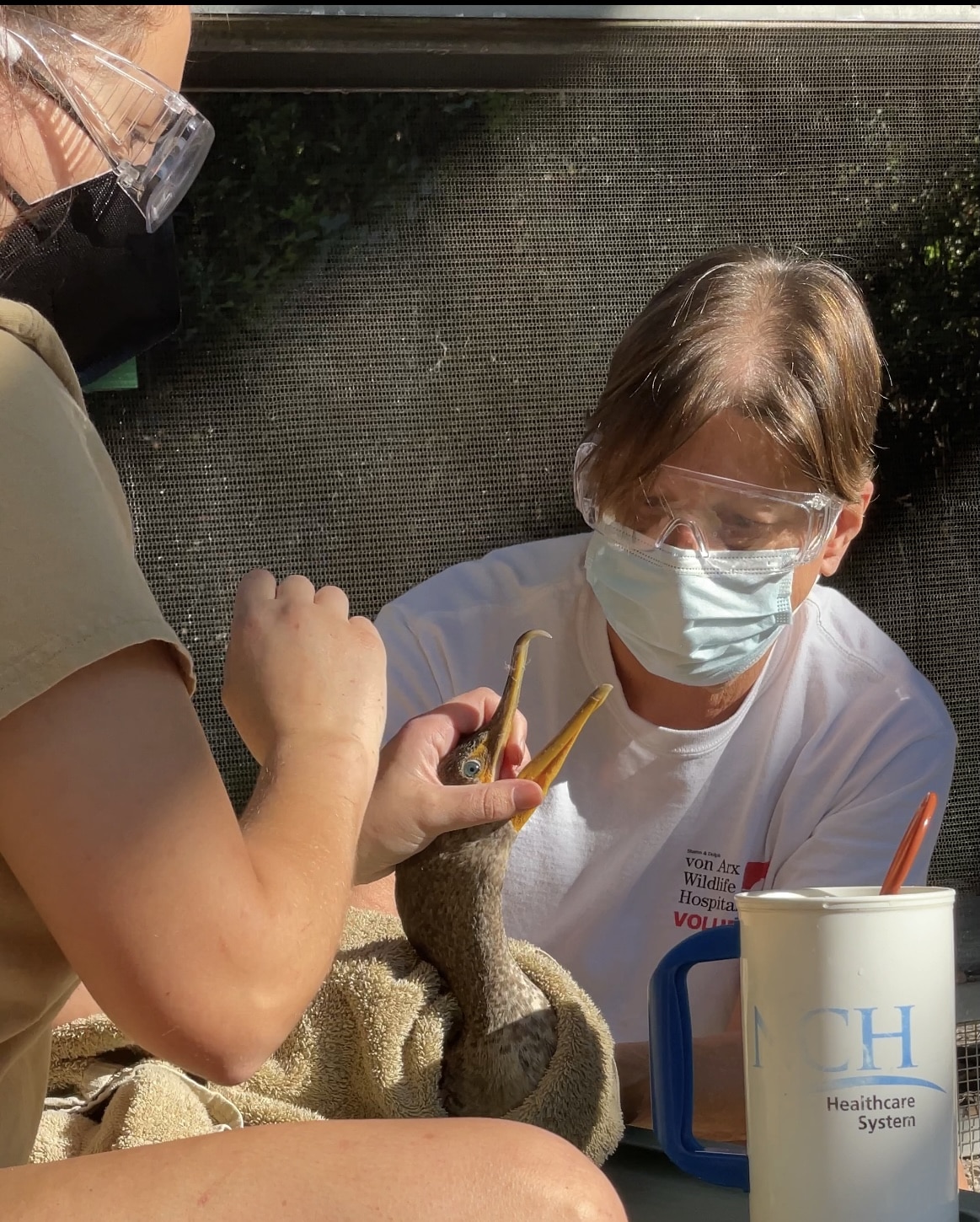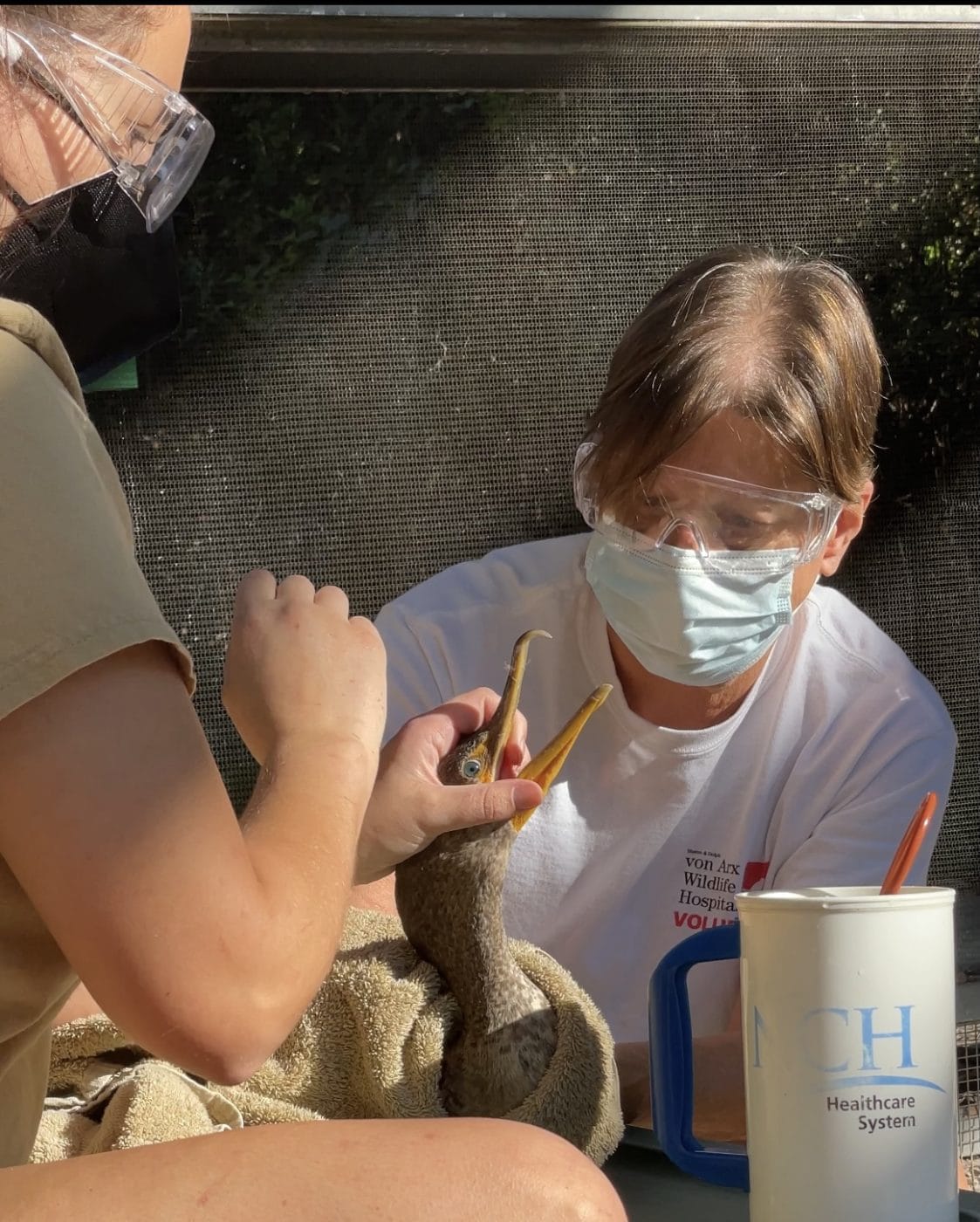 How to Safely Rescue a Debilitated Bird
The von Arx Wildlife Hospital does not have an official rescue service, so we rely heavily on help from the public. Rescuing a debilitated bird is not as difficult as most people think. Be safe, always wear sunglasses to protect your eyes from any bird with a long neck and sharp beak. Use a towel to lightly cover the bird's head and body. If the bird's head is covered, it can't see what is going on and the darkness will help calm the bird.
Gently pick up the bird and place it in the box.
If you have questions about how to safely rescue and contain an animal, please call the wildlife hospital. We can offer tips that will keep you safe while ensuring you can offer life-saving assistance to an animal in need.
Watch your Cat
A woman transported an eastern mole to the von Arx Wildlife Hospital after her cat caught it in her courtyard and brought it to her. The mole's mentation was dull and it exhibited an increased respiratory effort and rate.
The mole had puncture wounds on the right side of his neck, under his chin and on the left side of his body near his hip. His fur was bloody and coated with saliva. Although he was vigorously digging with his front legs, his hind legs were flaccid and he had no deep pain response. A radiograph confirmed the mole had spinal cord damage. Unfortunately, the mole did not survive due to the severity of his injuries.
Cats pose a significant and deadly threat to wildlife.
It's estimated between 6.2 and 22.3 billion mammals in the U.S. are killed each year by free roaming cats.
Senseless injuries such as that inflicted on the mole are preventable, but it requires responsible pet ownership. Never allow your cat outdoors unattended; even well fed cats have the instinct to hunt and will have the opportunity to hunt if allowed to roam unsupervised.
Not only is it important to protect wildlife from cat predation, protecting cats is essential as well. Cats are domesticated and face threats such as injuries from predators, disease, car strikes and intentional animal abuse when abandoned in the wild or allowed to roam.
Educate yourself, your family, friends and neighbors regarding the damage cats inflict on the environment and the dangers they face if allowed to roam. Take steps to minimize the negative impacts cats have on native wildlife populations.
For more information about keeping cats indoors, visit the American Bird Conservancy.
Recent Releases
A yellow-bellied slider, two peninsula cooters, thirteen brown pelicans, a gopher tortoise, two double-crested cormorants, an American kestrel, a grey squirrel and two laughing gulls were released this past week.
Year in Review
The beginning of every New Year is the time to reflect on all that we have accomplished with the help of our volunteers and the many community partners who support our work. The staff at the von Arx Wildlife Hospital sincerely thanks our dedicated volunteers, interns, donors and the many wonderful businesses in our community who believe in, and supported us over the past year.
Opportunities to Get Involved
We are looking for some great volunteers to join our team! Full-time and seasonal residents welcome! Currently, we desperately need volunteers to help care for our patients that are recovering in our outdoor enclosures. Sign up by using the button below.
It's never too late to make and fulfill one more New Year's resolution. As I do every year, I challenge everyone who reads this article to take actions that will improve the lives of native wildlife. You can view the short list of actions every single person can take to prevent injuries to wildlife by using the button below.
Please know, your volunteer time, memberships and donations are appreciated and essential to help us continue our work to protect Southwest Florida's water, land, wildlife and future.
---
Joanna Fitzgerald is Director of the von Arx Wildlife Hospital at the Conservancy of Southwest Florida, 1495 Smith Preserve Way, Naples, Florida 34102. Call 239-262-2273 or see conservancy.org.