A yellow-bellied slider and six red-shouldered hawks were among the fifty-three animals admitted to the von Arx Wildlife Hospital at the Conservancy of Southwest Florida this past week. Other admissions include a gopher tortoise, a Brazilian free-tailed bat, an eastern harvest mouse, a black vulture, a common yellowthroat and an osprey.
Six Hawks in Four Days
The six red-shouldered hawks were rescued from various locations over a four-day period. One hawk was brought to our facility after being found injured in Ft. Myers. Radiographs revealed the hawk had been shot.
Another hawk was electrocuted after coming in contact with a transformer on Marco Island. Both hawks' injuries were too extensive and unfortunately, the only treatment option was humane euthanasia.
The other four hawks came in with neurologic encephalopathy from an unknown origin. All four hawks were seen on the ground motionless for an extended period of time, wings drooping, eyes closed and unresponsive when handled.
Our staff veterinarian has documented red-shouldered hawk admissions over the past several years in which the birds have exhibited these same symptoms. To date, the etiology of this syndrome is unknown.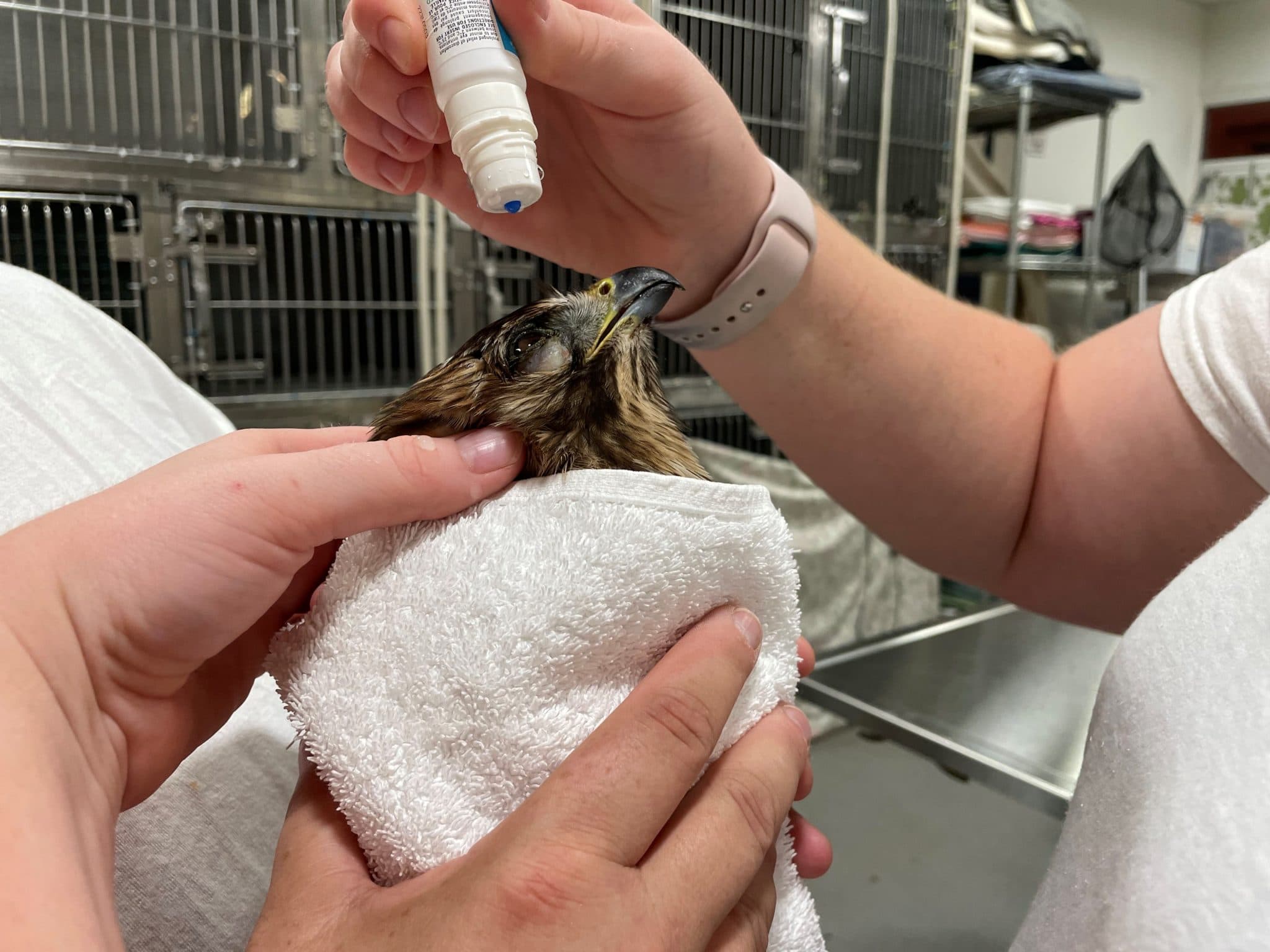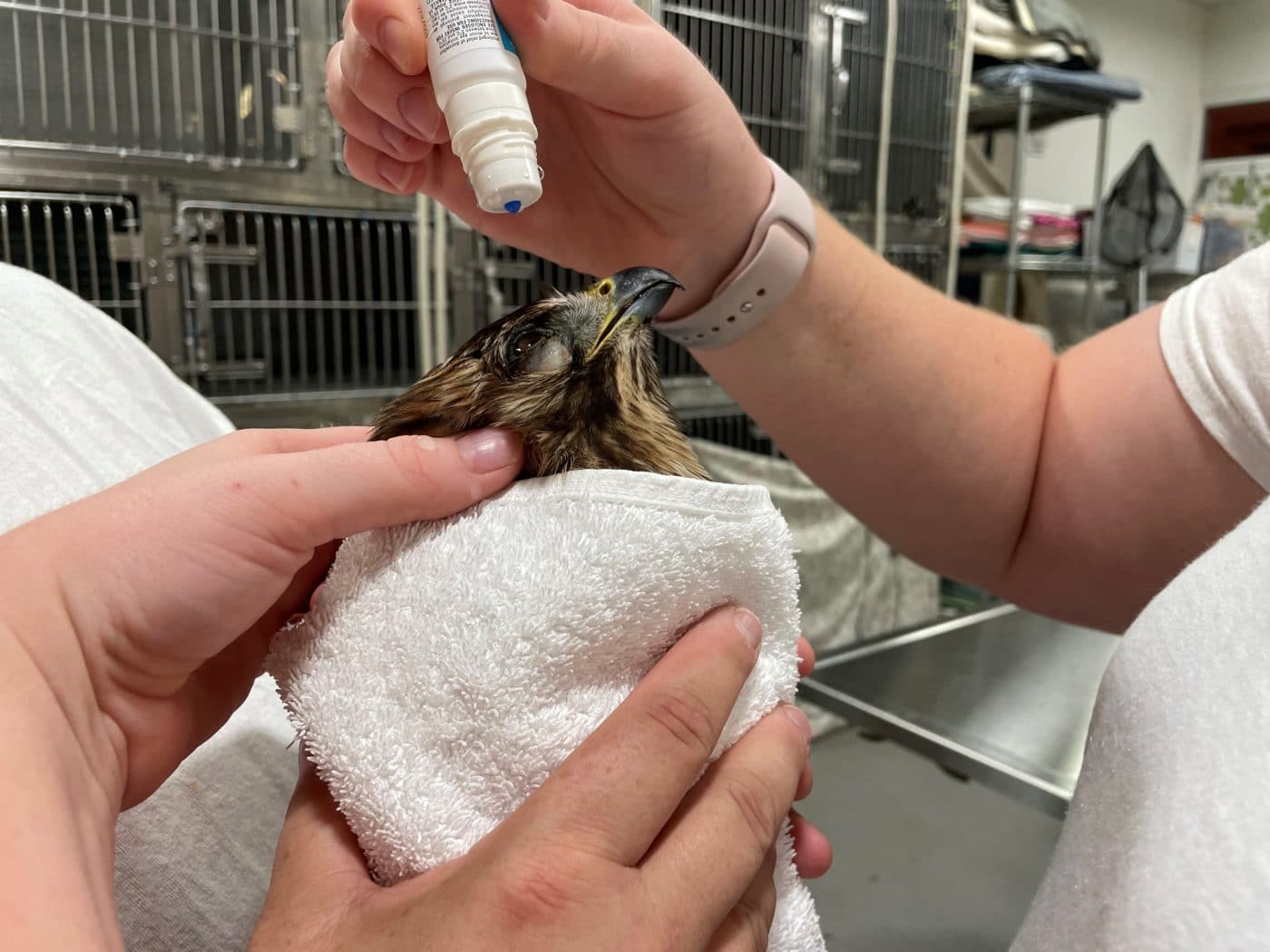 All four hawks varied in degrees of illness, with two passing away soon after being admitted to the wildlife hospital.
A Hopeful Release for Two Hawks
The surviving two hawks responded well to several days of intensive care and treatment. Both hawks continue to recover in the bird room. Once they gain back their strength, the hawks will spend time in outdoor flight enclosures where they can exercise, build up muscle strength and acclimate to the outdoors prior to a hopeful release.
Immediate medical attention is vitally important when caring for injured, sick and orphaned wildlife. If you see an animal and suspect it needs assistance, don't delay in calling the wildlife hospital for information and guidance. Staff will evaluate the situation and determine the appropriate course of action.
The sooner a debilitated animal receives professional medical care, the less suffering the animal endures and the odds the animal will make a full recovery increases significantly.
Yellow-Bellied Slider Found on the Road
The yellow-bellied slider was rescued as it was crossing the road. The rescuer brought the slider to the von Arx Wildlife Hospital because she was unsure if the turtle had been hit by a vehicle.
The slider had no external injuries or shell damage and was very reactive when given a physical exam.
With no significant findings on the turtle's radiographs, it appeared it hadn't been hit by a vehicle prior to being rescued. Often times, clinical signs of injury are delayed especially with internal injuries and inflammation, so the slider was settled in a reptile recovery space and monitored for any delayed signs of injury.
The slider's behavior was evaluated over the course of three days. It continued to show no abnormalities or signs of injury.
When staff tested the turtle in a dive pool, the slider immediately dove to the bottom and swam around the pool. Our vet determined no further observations were needed and cleared the slider for release.
Turtle Crossings
Please be attentive when driving and obey posted speed limits. Focus and driving at an appropriate speed may provide the extra seconds needed to avoid hitting a turtle crossing the road. 
A turtle trying to cross a road is in imminent danger of being injured or killed, so quick action is required. Safely pull over and offer assistance if you see a turtle near a road.
If the turtle isn't injured, place it out of harm's way in the direction it was headed.
If the turtle has been hit, bring it to the wildlife hospital for immediate medical attention.
Turtles can suffer significant injuries yet, due to their physiology, they can take a long time to die. No creature should have to suffer by slowly dying on the side of the road.
Recent Releases
A Florida box turtle, three laughing gulls, two red-eyed vireos, a red-shouldered hawk, a striped mud turtle, a great blue heron, two grey squirrels and twelve black-bellied whistling ducks were released this past week.
The black-bellied whistling duck release was a coordinated effort between staff and volunteers at the von Arx Wildlife Hospital and staff at Audubon Corkscrew Swamp Sanctuary. A restoration program at Corkscrew Swamp Sanctuary provided a perfect black-bellied whistling duck habitat well away from roads and the public boardwalk.
Black-bellied whistling ducks are seen consistently at Corkscrew Swamp Sanctuary and when 'our' ducks were released, others whistling ducks were seen flying overhead. We are incredibly appreciative of all the help Corkscrew Swamp Sanctuary staff provided which allowed us to return these ducks to a safe, wild space.
Visit the Conservancy's Facebook page to see a video of the duck release.
Opportunities to Help
Please visit the Conservancy website to view all of our amazing work and consider signing up to volunteer!
Currently we are in need of volunteer Critter Couriers to transport injured, sick and orphaned wildlife to our facility, especially in need of volunteers for Marco Island and Bonita Springs areas.
Please consider getting involved and supporting our efforts. Your volunteer time, donations, and memberships are vital in helping us continue our work to protect Southwest Florida's water, land, wildlife and future.
Joanna Fitzgerald is the Director of the von Arx Wildlife Hospital at the Conservancy of Southwest Florida, 1495 Smith Preserve Way, Naples, Florida 34102. Call 239-262-2273 or see conservancy.org.