The von Arx Wildlife Hospital is part of and located at the Conservancy of Southwest Florida. Our address is 1495 Smith Preserve Way in Naples, FL. Call 239.262.2273 for wildlife assistance. We are open 8am to 7pm everyday.
A blue jay and three opossum joeys were among the one hundred and four animals admitted to the von Arx Wildlife Hospital at the Conservancy of Southwest Florida this past week. Other admissions include a gopher tortoise, a Florida box turtle, a limpkin, a common gallinule and three marsh rabbits.
Blue Jay Stuck to a Rodent Glue Trap
The blue jay arrived at the von Arx Wildlife Hospital stuck to a rodent glue trap.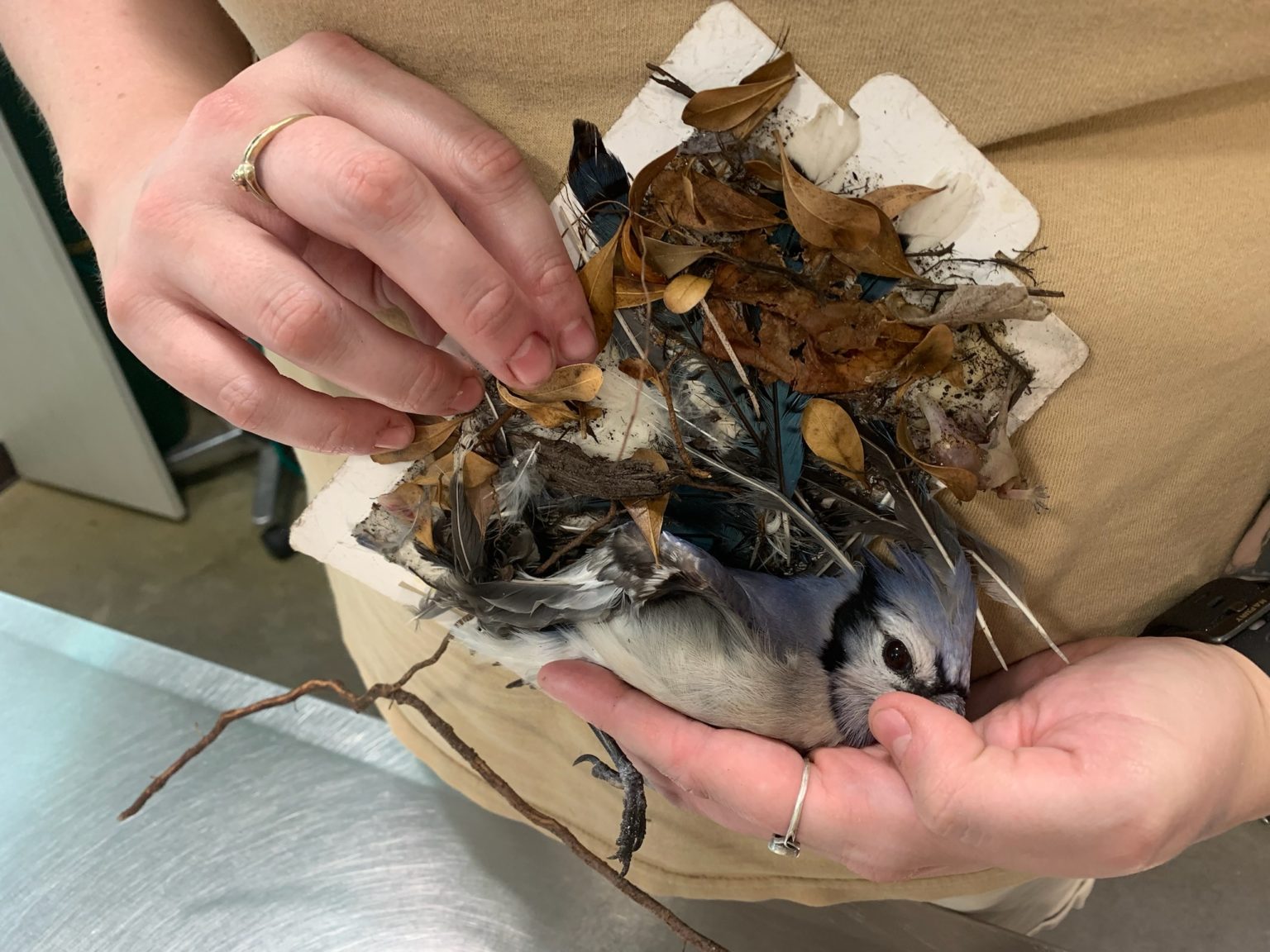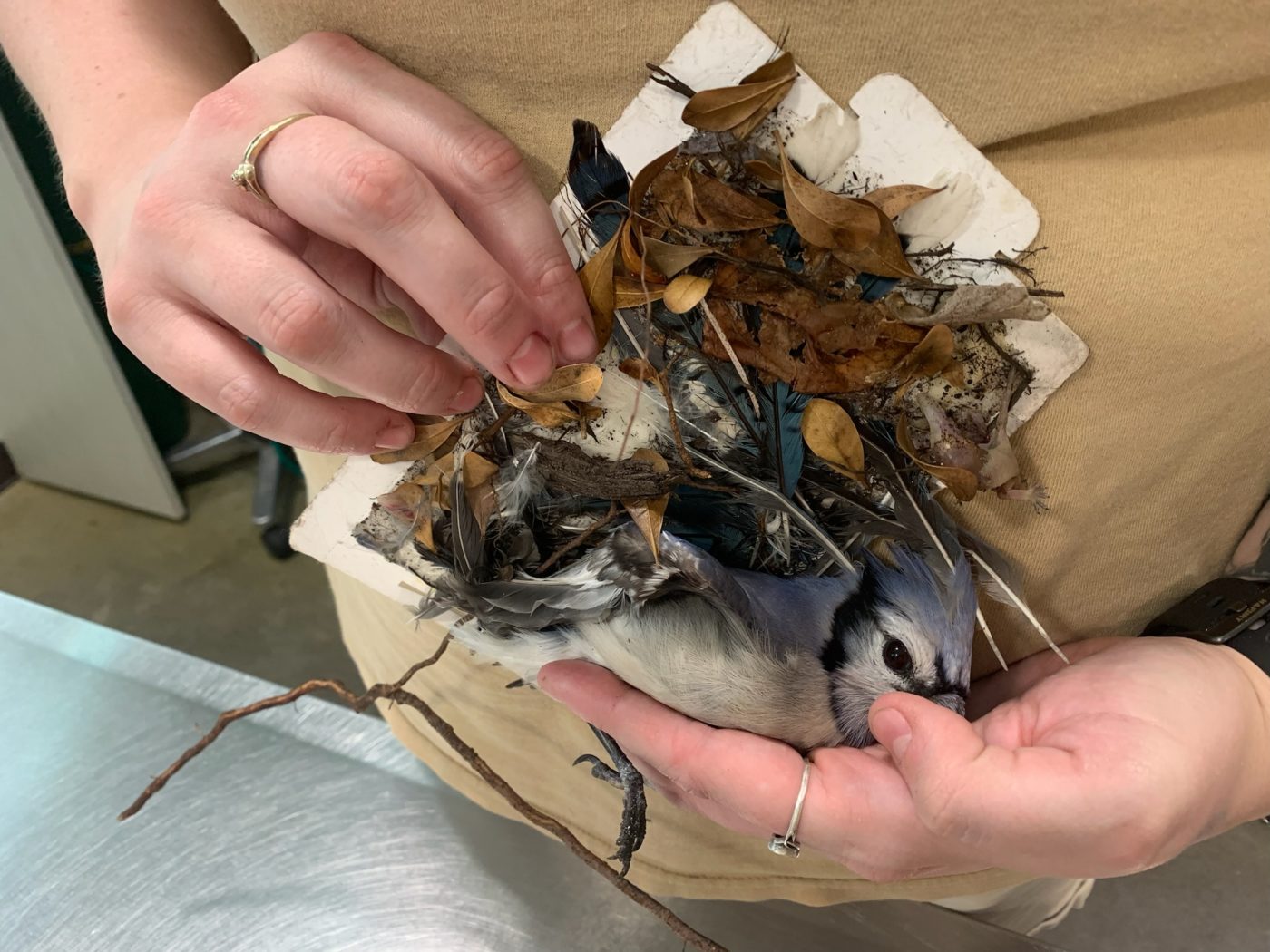 The blue jay was struggling against the adhesive, had an increased respiratory effort and was alarm calling during the intake process. The jay's right wing and tail were stuck to the glue trap; several of its primary and secondary feathers were broken and all but one tail feather were pulled out. Hospital staff administered a sedative to calm the jay during the removal process; a natural soy based solvent was used to remove the adhesive from the jay's feathers.
Once freed from the glue trap, staff administered pain medications and laser therapy to help with the inflammation along its right wing caused by the jay struggling to free itself.
The jay was placed in an animal intensive care unit to rest and within a few hours, was alert and moved to a slightly larger, secluded recovery space. The following morning it was apparent that the bird's right wing was still painful, although active, the jay was hesitant to extend its right wing. Pain meds were continued, as was laser therapy. The jay was looking much better by the third day at the hospital and had finally begun to eat the diet staff offered. Handling was minimized in order to reduce the stress on the jay.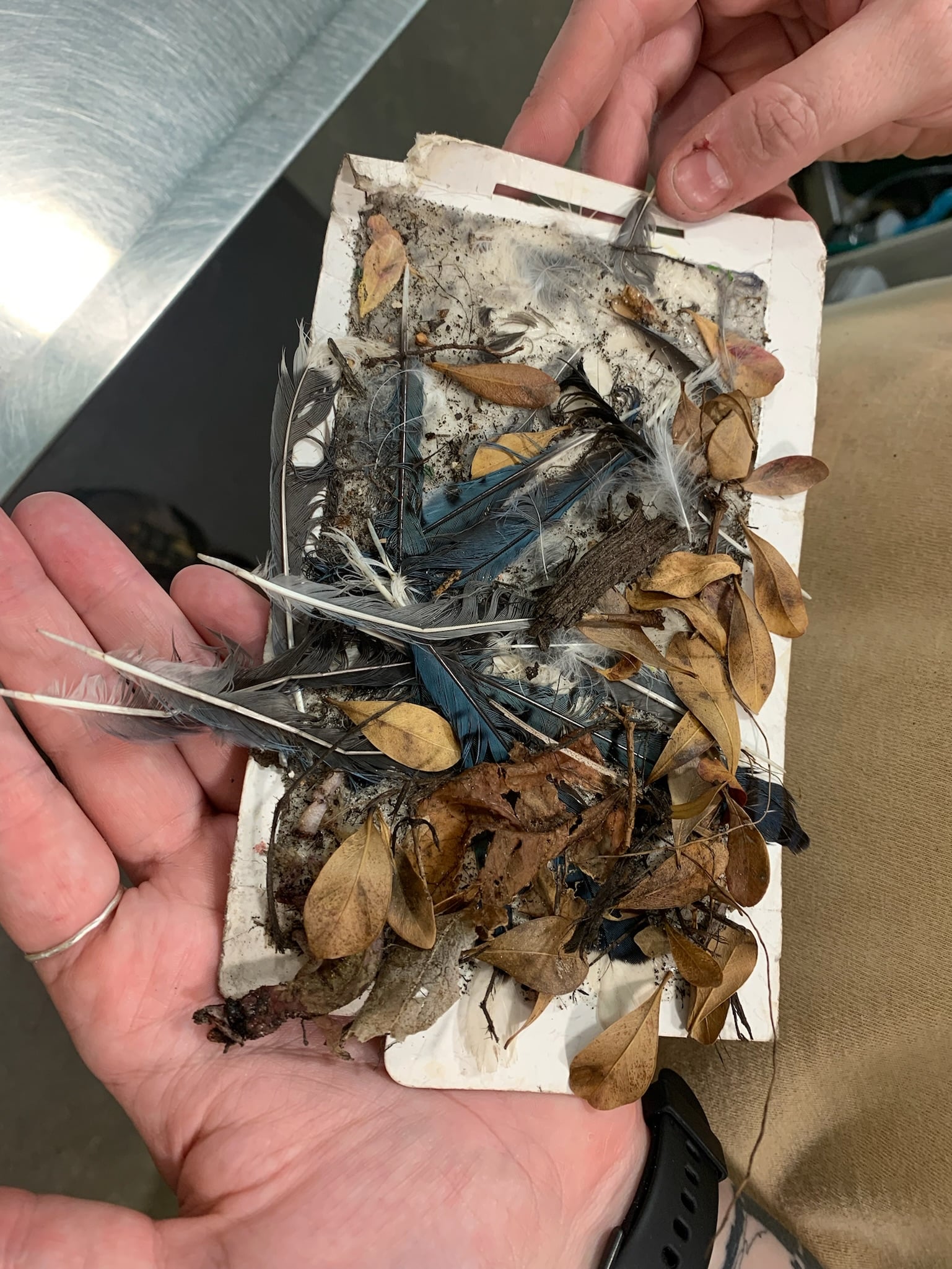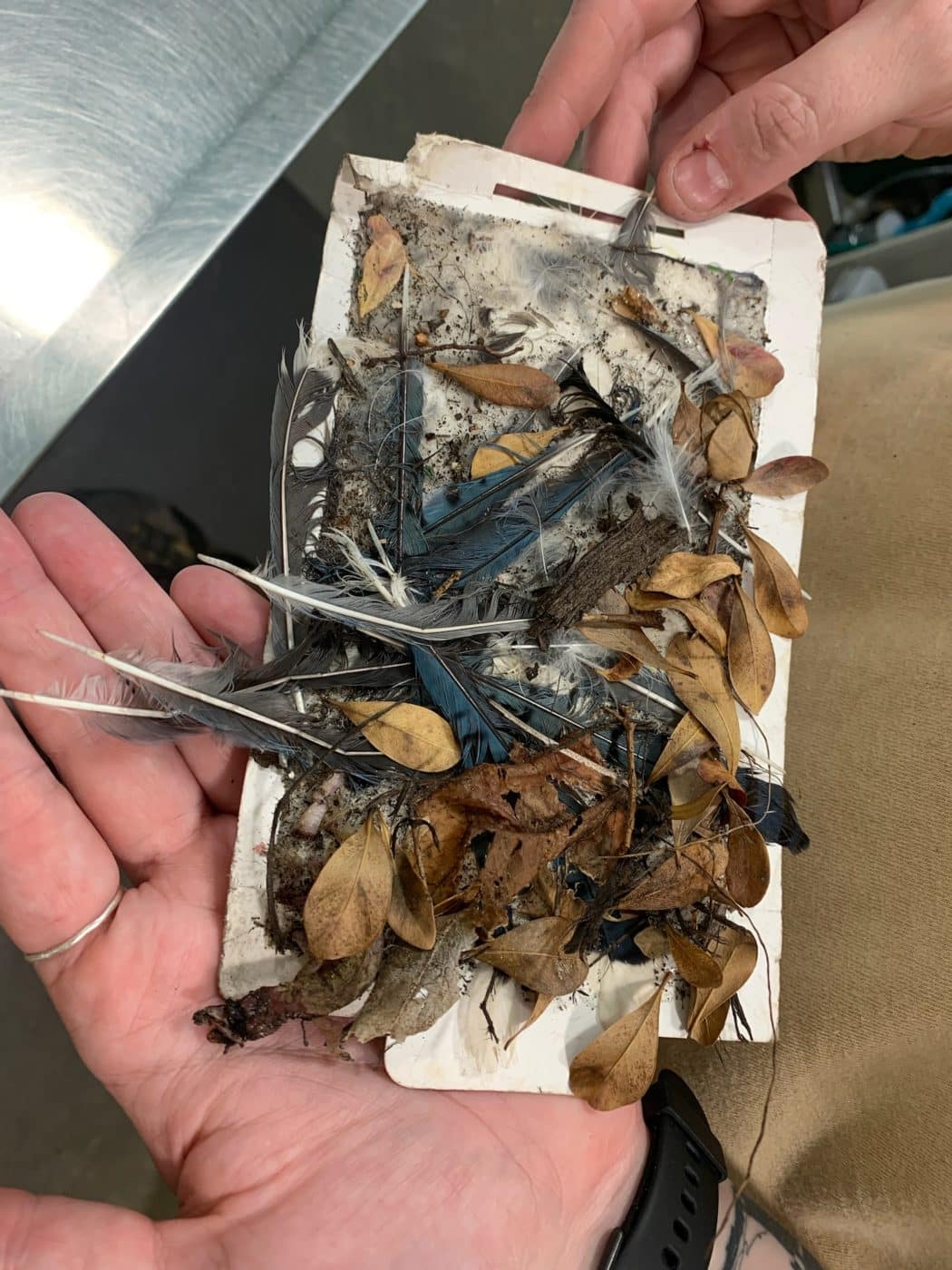 Compared to the lizard that died a painful death unable to free itself from the glue trap, the blue jay was fortunate – it didn't die, but it faces weeks of stress being in captivity until its wing is healed and its feathers are in proper flight condition.
To compound the destructiveness of this situation, keep in mind many wildlife species are breeding and raising young. If the blue jay had nestlings relying on it for their survival, the jay is no longer in the wild able to care for its offspring. It's quite possible there are several more victims of that one glue trap.
Solutions for controlling rodent populations must focus on removal of the cause. Eliminate food sources, securely close trashcans, remove thick vegetation near your home, never feed pets outside and seal any holes that may allow rodents entry into your home. Hire a reputable pest control company to create a pest-management plan that includes protecting the health of local wildlife. Preventative measures and exclusion are the keys to long-term solutions.
Opossum Joeys Encounter Rodent Poisoning
The three opossum joeys were found in the car line at an elementary school in Golden Gate.
It is unknown how the joeys were separated from their mother. During the physical exam, staff noted the joeys were alert and active, in fair body condition, all weighed just under 100 grams, and had a slight bluish color along the edges of their ears, feet and tails. The joeys were weighed and placed in a snuggly flannel pouch to rest while staff prepared an animal intensive care unit.
As the staff member moved the opossums into the intensive care unit, she noted the opossums looked more debilitated although only a few minutes had passed. The joeys were hemorrhaging from their ears and bruising was visible under one joey's chin.
The symptoms indicated the joeys were suffering from anticoagulant rodenticide poisoning.
Staff administered vitamin K to help with blood clotting, provided antibiotics, electrolytes, pain medication and supplemental oxygen. Staff monitored the joeys throughout the day and by 8 p.m., the joeys' ears were no longer bleeding; the discoloration on the feet and tails had diminished.
The following day the three joeys were doing well, all things considered. Staff continued with the treatment plan and added arnica salve administered on the ears once a day. Staff offered a diet of opossum milk replacement formula and protein. The joeys' prognosis is guarded. A daily dose of vitamin K is required for a minimum of twenty-eight days along with continued supportive care.
Second Generation Anticoagulant Rodenticides (SGARs)
Second generation anticoagulant rodenticides (SGARs) are compounds that inhibit normal blood clotting resulting in excessive bleeding and death. SGARs are a very common form of rodent control. The poison bait kills rodents, but can also cause mortality in non-target species of mammals and birds either through primary exposure (eat the poison bait) or secondary exposure (eat a poisoned animal). In the case of the joeys, their mother ingested the poison and they were exposed to the anticoagulant rodenticide through their mother's milk.
Animals admitted to the von Arx Wildlife Hospital that have suffered and/or died due to second generation anticoagulant rodenticide poisoning include burrowing owls, bald eagles, great horned owls, barn owls, Virginia opossums, raccoons and red-shouldered hawks.
Rodent control is a difficult issue with no quick and easy solutions, but these two cases exemplify the negative effects and suffering caused by various pest control methods and highlight the need for changes. Preventative measures, such as storing pet food or birdseed in sealed containers and exclusion from homes, garages and other structures are long-term solutions to rodent issues that don't compromise environmental health. As the dangers of SGARs and the ramifications they have on native wildlife is revealed, cities around the U.S. are implementing restrictions to protect wildlife. Stay informed, take actions to protect native wildlife. Visit https://www.raptorsarethesolution.org for more information.
Recent Releases
A common grackle, a northern cardinal, three eastern cottontails, a mourning dove, a pileated woodpecker, six double-crested cormorants, seven brown pelicans, a ruddy turnstone and a marsh rabbit were released this past week.
Special Thanks
The team at Bartlett Tree Experts eagerly helped with a screech owl renesting on a local golf course last week. Hospital volunteers couldn't reach the top of a tall palm tree where they suspected the owl nest and more owlets were located. Kenny Tuttle and Ivan Vasquez from Bartlett Tree Experts searched several palms; while the nest and owlets weren't found, their willingness to make time during their busy workday to help was sincerely appreciated.
The staff and students at Sea Gate Elementary deserve a shout out this week for their amazing wildlife protection efforts. A killdeer laid eggs in a mulched area on their playground and a rabbit nested under a slide. The staff and students are committed to protecting these nests and keeping the animals safe! This school's conservation ethic provides hope for the future! Thank you all.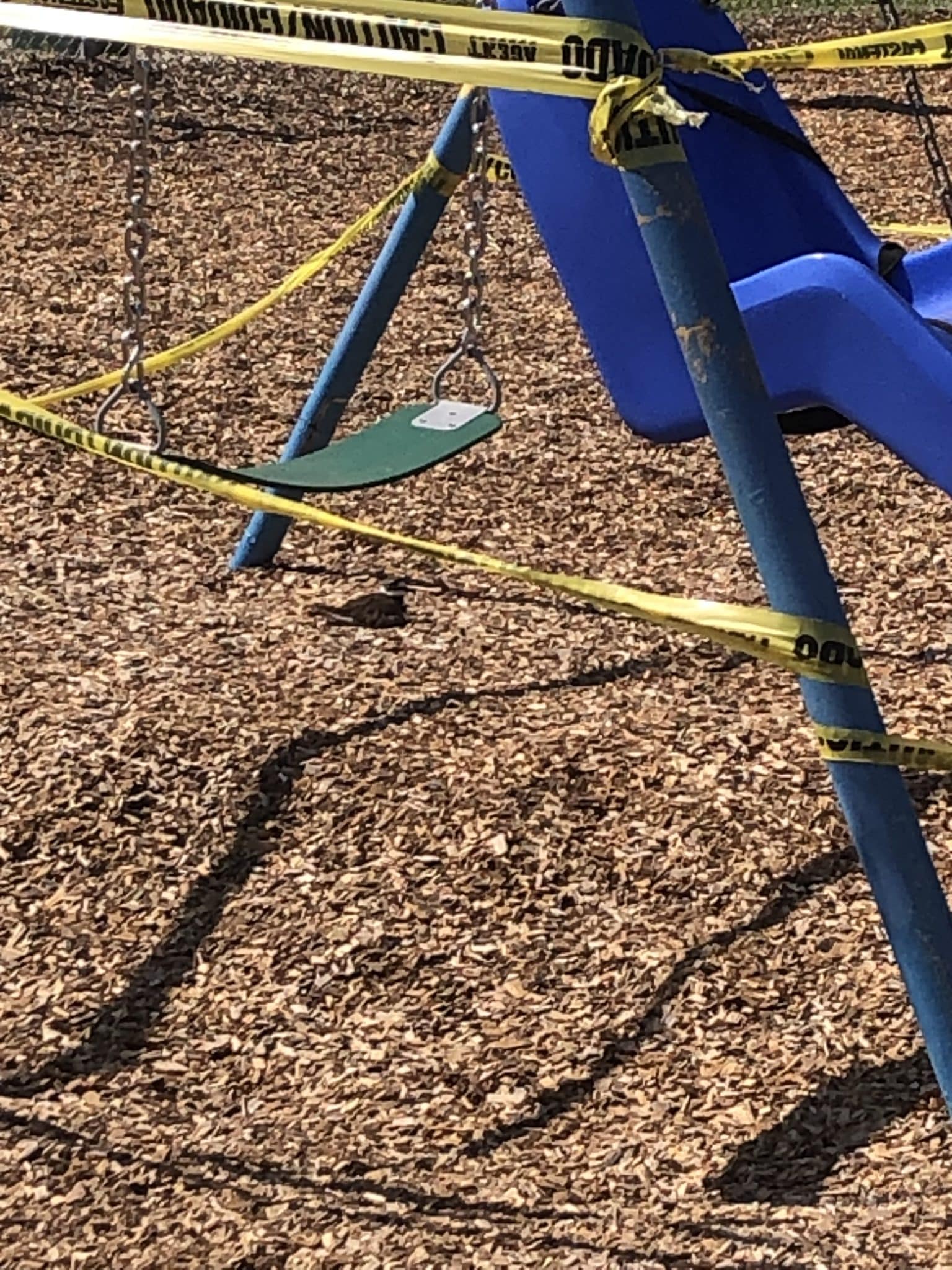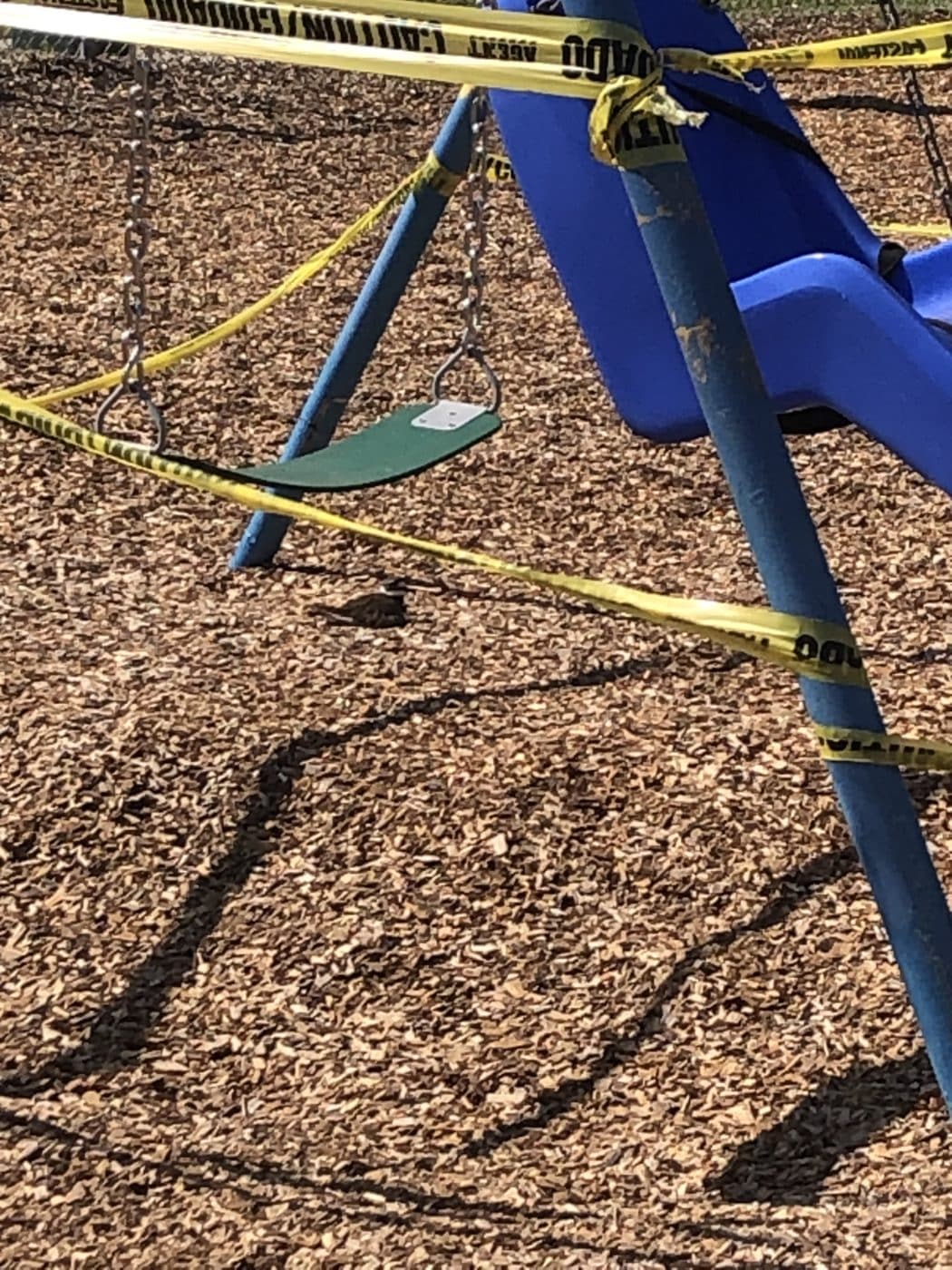 Earth Day Festival
The Conservancy of Southwest Florida will host its annual family friendly Earth Day Festival from 10 a.m. to 3 p.m. on Saturday, April 22th. The free event will include live presentations and animal encounters, Kid Zone crafts and activities, electric boat tours, food trucks, nature walks, the Learning Adventures Bus (LAB), local exhibitors and vendors, Conservancy of Southwest Florida program tables and more. Join us for a day of fun.
Opportunities to Help
Please visit our website at www.conservancy.org to learn about opportunities to get involved. If you are unable to give of your time as a volunteer, become a member or donate. Your support will help the Conservancy continue to protect Southwest Florida's water, land, wildlife and future.
Joanna Fitzgerald is the Director of the von Arx Wildlife Hospital at the Conservancy of Southwest Florida, 1495 Smith Preserve Way, Naples, Florida 34102. Call 239-262-2273 or see conservancy.org.