A wood stork and a Florida softshell turtle were among the fifty-one animals admitted to the von Arx Wildlife Hospital at the Conservancy of Southwest Florida this past week. Other admissions include two Florida box turtles, an evening bat, a common gallinule, a burrowing owl, a common snipe, a yellow-bellied sapsucker, a fox squirrel and a great blue heron.
Von Arx Wildlife Hospital staff received a phone call from local resident, Kathryn Kassapides, regarding a pelican stuck in a storm drain. Kathryn was walking when her dog pulled her toward the drain. Kathryn looked through the drain grate and saw scores of dead fish. She saw a slight movement, took a closer look and realize a bird was floating amongst the dead fish. Kathryn sent a video of the situation asking for guidance. When hospital staff saw the video we realized it was a wood stork, not a pelican, stuck in the drain.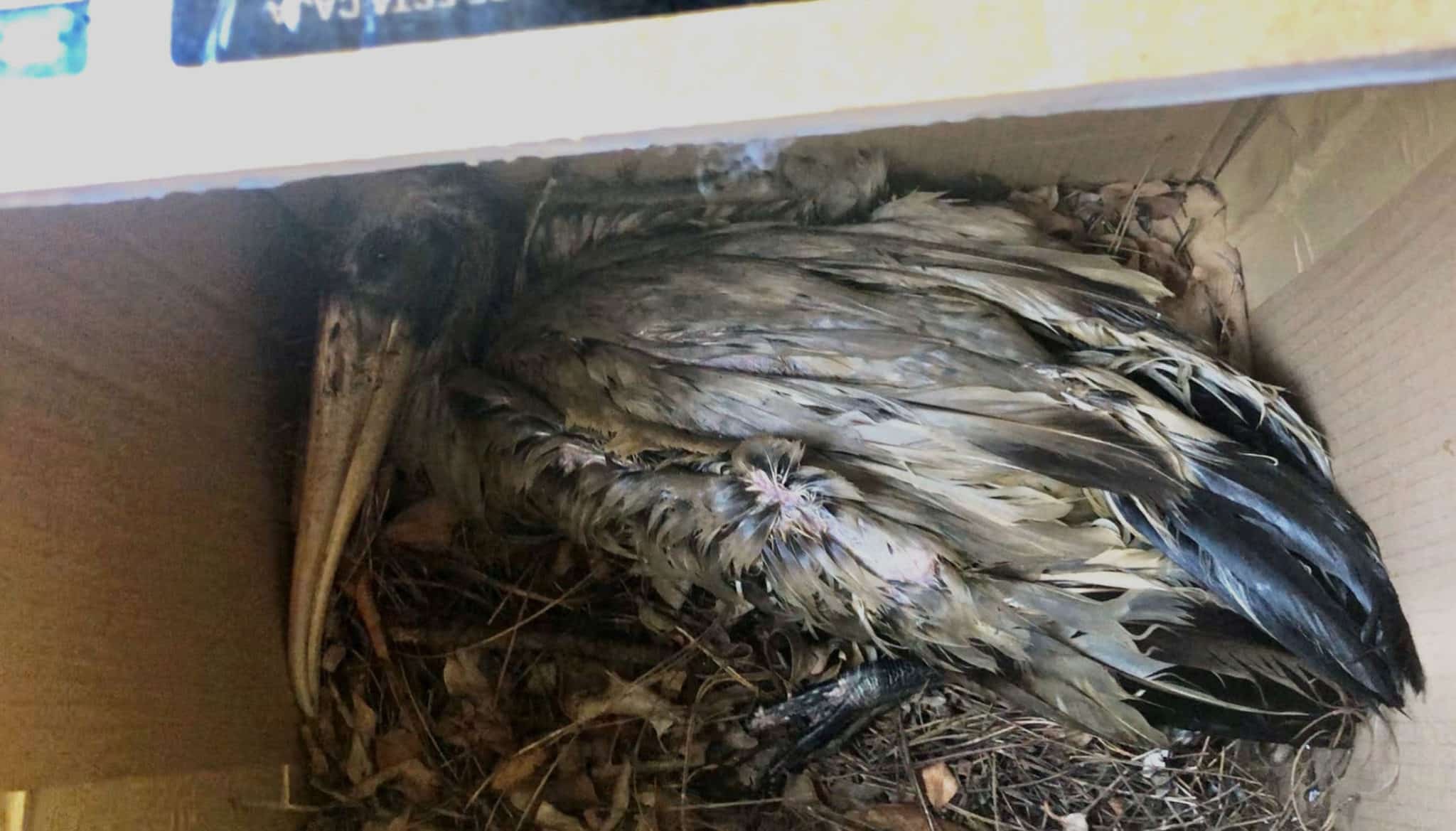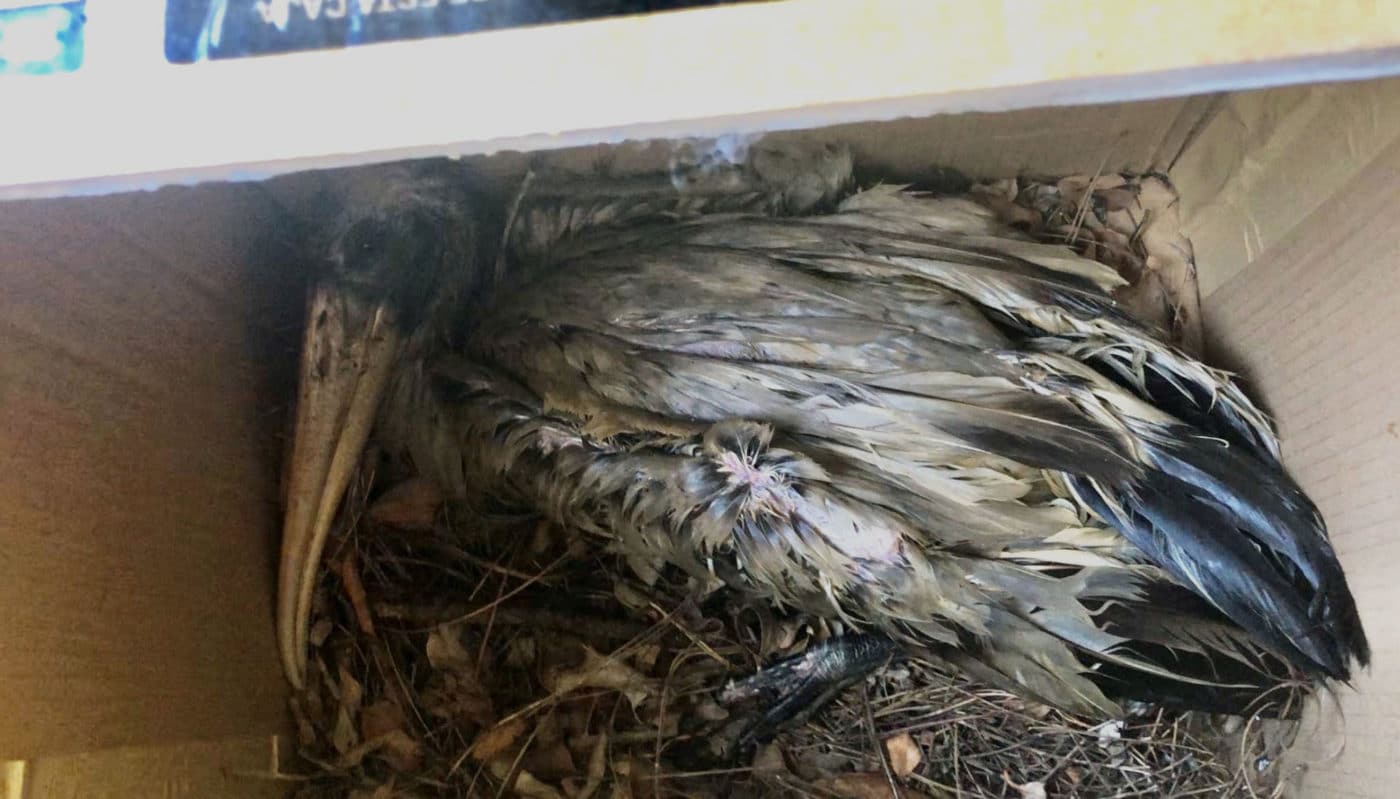 Kathryn and her boyfriend, Michael Fish, worked to save the stork. They removed the storm grate and used a rake to carefully position the stork within Michael's reach. The stork was exhausted and weak making it easy to handle. The couple contained the stork in a box and transported it to the von Arx Wildlife Hospital for immediate assistance.
The stork was in critical condition when it arrived. The stork was dull, unresponsive and hypothermic; the storks feathers were soiled and saturated and emanated a foul, toxic odor.
Staff placed the stork in an animal intensive care unit and worked to slowly raise its core body temperature. Despite hours of emergency medical treatment provided, the stork did not survive.
Kathryn and Michael illustrate the absolute best qualities of human nature. Their compassion, empathy and willingness to help an animal in need was truly amazing and left hospital staff in awe of their kindness.
Please, if you see a sick, injured or orphaned animal, take action; your efforts will undoubtedly mitigate the suffering an animal endures. Call the wildlife hospital if you are unsure of how to offer assistance. Staff can help determine the appropriate course of action.
The Florida softshell turtle was one of two softshell turtles admitted last week; both injured when hit by vehicles. The woman rescued the turtle from the road late at night and called the hospital for assistance and got our voicemail message that gives detailed instructions asking the animal be kept in a quiet, dark area of your home if it is found after business hours. The woman left a message stating she understood our instructions and would bring the turtle to the hospital the following day when we opened at 8am.
When admitted, the softshell turtle was alert, reactive and had redness indicative of "road rash" on its plastron. The turtle was using all of its legs and no significant findings were noted in its radiograph. The turtle was placed in the reptile recovery room at the von Arx Wildlife Hospital and has designated time in a shallow water soak where it can swim, eat and rest. When not soaking, the turtle has been basking under a heat lamp.
Attempting to cross roads puts turtles in extreme danger. Whether they are crossing to find food or moving from one water source to another as available water sources dry up, it puts them in harms way. If you encounter a turtle attempting to cross the road, please safely pull over and offer assistance if possible.
When picking up a turtle it is best to cover its head and body with a towel. The turtle will not like the feel of the towel touching its body so it will be more likely to tuck its head and legs into its shell.
If the turtle is uninjured, place it out of danger in the direction it was headed. Never put a turtle directly in a lake or pond, instead place it near the edge of the water. Turtles are often misidentified and a land turtle or tortoise may drown if put in the water. If the turtle is injured, please bring it to the wildlife hospital for immediate medical assistance. Always call the staff at the wildlife hospital for guidance if you have any questions.
Recent Releases
A gray catbird, three eastern cottontails, three grey squirrels, a black-and-white warbler, a Cooper's hawk, a marsh rabbit, three Virginia opossums, two white ibis, an eastern screech owl, three laughing gulls, a great horned owl, a Florida red-bellied turtle and nine black-bellied whistling ducks were released this past week.
Von Arx Wildlife Hospital staff offer a special thanks to the staff at Audubon's Corkscrew Swamp Sanctuary for providing access to a safe release site for the nine black-bellied whistling ducks. The ducklings were rescued from the Ft. Myers Airport prior to Hurricane Ian and were transferred to the Conservancy from CROW Wildlife Hospital on Sanibel. After several weeks of care, the ducklings were old enough to fend for themselves and ready for release.
Staff at Corkscrew Swamp Sanctuary arranged to meet Wildlife Hospital Volunteer, Tim Thompson early one Sunday morning to release the ducks into a wetland restored by Corkscrew Swamp as part of the marsh and prairie restoration effort. The habitat was ideal; flocks of black-bellied whistling ducks frequent that area of the sanctuary. Partnerships such as this are vital to our rehab efforts and sincerely appreciated. Check out Corkscrew Swamp Sanctuary's Facebook page to see a video of the duck release.
Opportunities to Help
Visit the Conservancy to view all of the amazing volunteer opportunities at the Conservancy of Southwest Florida. Volunteers help in many different capacities. If you could dedicate one shift a week to help in the hospital, contact our volunteer office and get involved. Currently we are in desperate need of volunteer help during our evening shift from 5pm to 9pm. Your volunteer time, donations, and memberships are truly vital and allow us continue our work to protect Southwest Florida's water, land, wildlife and future.
Joanna Fitzgerald is director of the von Arx Wildlife Hospital at the Conservancy of Southwest Florida. Call 239-262-2273 or see conservancy.org